Contemporary and comfortable height design. The seat-lid closes silently. The siphon jet flush feature is ideal for water conservation. Our affordable bidet toilet
  easily installed and easy to keep clean. The glazed surface is self-cleaning, simplifying maintenance.
Feature: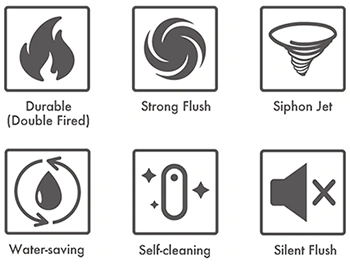 Modern, compact one-piece design. Perfectly suitable for any bathroom.
Siphon jet flushing: Fully glazed flush. Super-quiet and powerful flush with no clogs. Leak-proof.
Note that this toilet is designed for floor mounting.
A nice glazed surface inhibits the growth of stain and odor-causing bacteria, mold, and mildew on the surface.
100% factory flush tested.
Easy to install and keep clean. The self-cleaning glazed surface is both attractive and easily maintained.
CUPC and WaterMark certified.