This water-saving version of the industry-leading toilet brings a graceful, streamlined design to the bath. Our dude toilet bidet with gentle curved shape compliments all bathroom suites and decor. The porcelain material, with its sleek white exterior, is durably constructed to be resistant to stains and abrasions.
Features: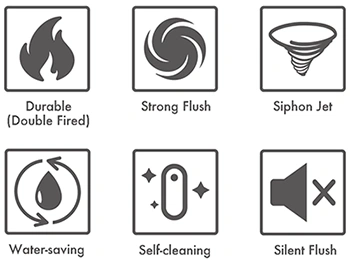 Modern, compact one-piece design. Perfectly suitable for any bathroom.
Siphon jet flushing: Fully glazed flush. Super-quiet and powerful flush with no clogs. Leak-proof.
Note that this toilet is designed for floor mounting.
A nice glazed surface inhibits the growth of stain and odor-causing bacteria, mold, and mildew on the surface.
100% factory flush tested.
Easy to install and keep clean. The self-cleaning glazed surface is both attractive and easily maintained.
CUPC and WaterMark certified.