Ultra-High Efficiency for water savings, this high bidet toilet gives you the choice of either a full or partial flush for maximum water savings. This one-piece toilet is made from high-quality ceramic that extremely resistant to scratches and stains, and will not fade over time, integrate the tank and bowl into a seamless, easy-to-clean design.
Features: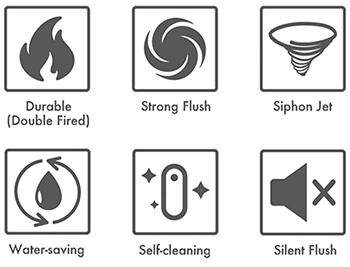 Modern, compact one-piece design. Perfectly suitable for any bathroom.
Siphon jet flushing: Fully glazed flush. Super-quiet and powerful flush with no clogs. Leak-proof.
Note that this toilet is designed for floor mounting.
A nice glazed surface inhibits the growth of stain and odor-causing bacteria, mold, and mildew on the surface.
100% factory flush tested
Easy to install and keep clean. The self-cleaning glazed surface is both attractive and easily maintained.