In our ever-evolving world of technology and innovation, even the most mundane aspects of our daily lives are getting a high-tech upgrade. Enter the smart toilet – a marvel of modern engineering that transforms the once-simple toilet into a sophisticated, automated, and highly convenient fixture in our bathrooms. In this article, TONA will take a closer look at what a smart toilet is and explore its various features and benefits.
The Evolution of the Toilet: Beyond Basic Functionality
The humble toilet has come a long way from its basic function of waste disposal. Smart toilets are at the forefront of this evolution, incorporating a range of electronic and automated features to enhance hygiene, comfort, and convenience.
Bidet Functionality: One of the standout features of smart toilets is their bidet functionality. A built-in water spray nozzle allows users to enjoy a personalized and thorough cleansing experience. With adjustable water pressure, temperature, and spray patterns, bidet functions offer superior cleanliness and comfort.
Heated Seats: Say goodbye to the shock of a cold toilet seat on chilly mornings. Smart toilets often come equipped with heated seats that can be set to your preferred temperature, providing a cozy and luxurious experience year-round.
Automatic Flushing: Smart toilets take the hassle out of flushing. Some models have sensors that detect when you've finished using the toilet and automatically flush, eliminating the need for manual flushing.
Self-Cleaning: Cleaning the toilet is a chore that nobody enjoys. Smart toilets, however, have self-cleaning features that use UV light or electrolyzed water to disinfect and clean the toilet bowl, reducing the need for hands-on maintenance.
Deodorizers: Unpleasant odors are no match for smart toilets. Many models are equipped with built-in deodorizers or air purifiers that keep your bathroom smelling fresh.
LED Lighting: Smart toilets often feature LED lighting within the toilet bowl. This soft illumination serves both practical and aesthetic purposes, making nighttime bathroom visits easier and doubling as a subtle nightlight.
Touchless Operation: Hygiene is a top priority in modern bathrooms. Smart toilets offer touchless operation, with sensors that allow you to activate features like flushing or the bidet without physical contact.
Remote Control: Some smart toilets come with remote controls or smartphone apps, giving users the ability to customize and control various functions remotely, adding an extra layer of convenience to the user experience.
Water-Saving Features: Smart toilets also play a role in water conservation. Many models include water-saving flush options, helping reduce water consumption, which is not only environmentally responsible but also cost-effective.
Customizable Settings: Smart toilets are all about personalization. Users can often fine-tune settings such as water pressure, temperature, and seat temperature to match their preferences perfectly.
Health Monitoring: Advanced smart toilets may include health monitoring features, such as checking urine or stool for certain health indicators. This functionality can be a valuable tool for individuals monitoring their health.
Entertainment Features: For those who seek luxury in the bathroom, some high-end smart toilets come with entertainment features like built-in speakers, Bluetooth connectivity, or even integrated screens for watching videos or listening to music.
Smart toilets have revolutionized the way we think about bathroom fixtures. They offer a harmonious blend of technology, convenience, and hygiene, making them an increasingly popular choice in modern bathrooms. While the features and sophistication of smart toilets can vary, their common goal is to enhance our daily routines and provide a more comfortable and convenient bathroom experience. As technology continues to advance, it's exciting to see how smart toilets will continue to evolve and improve our lives one flush at a time.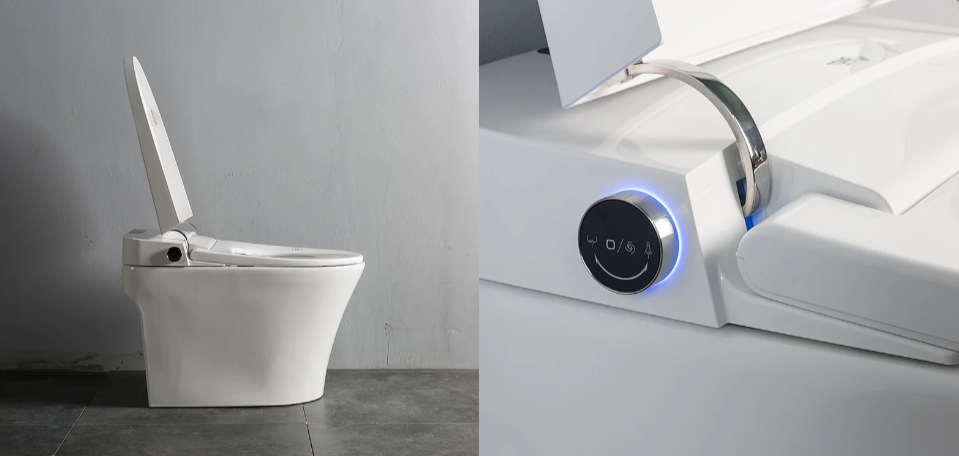 Are smart toilets difficult to maintain?
Smart toilets are designed to be relatively low-maintenance, but like any complex appliance, they may require some care and attention to keep them functioning optimally. Here are some factors to consider regarding the maintenance of smart toilets:
Self-Cleaning Features: Many smart toilets come equipped with self-cleaning features that use technology like UV light or electrolyzed water to disinfect and clean the toilet bowl. These features are designed to reduce the need for manual cleaning and maintenance.
Regular Cleaning: While self-cleaning features can help keep the toilet bowl clean, it's still essential to perform regular cleaning of the exterior and other components of the smart toilet. Use mild, non-abrasive cleaners to clean the toilet's surface and controls. Avoid using harsh chemicals that could damage the toilet's finish.
Check for Leaks: Periodically inspect the smart toilet for any signs of leaks, especially around water connections and hoses. Leaks should be addressed promptly to prevent damage to the toilet or surrounding areas.
Maintain Water Supply: Ensure a steady and clean water supply to the smart toilet. Filtered water can help prevent mineral deposits and clogs in the bidet function or other water-related components.
Electrical Maintenance: If your smart toilet has electrical components (such as heated seats, LED lighting, or remote controls), make sure the electrical connections are secure and free from damage. Check the power source and batteries if applicable.
Follow Manufacturer's Guidelines: Always refer to the manufacturer's maintenance instructions provided with your smart toilet. These guidelines will offer specific recommendations for your particular model, including maintenance intervals and cleaning products to use or avoid.
Professional Service: In case of technical issues or problems beyond your ability to troubleshoot, consider contacting a professional technician or the manufacturer's customer support for assistance. Attempting DIY repairs on complex electronic toilets can lead to further damage.
Regular Use: Regularly using the various functions of the smart toilet, such as the bidet and self-cleaning features, can help keep the internal components in good working condition. Long periods of inactivity may require additional cleaning and maintenance.
Smart toilets are designed to make your life more convenient and hygienic, and they typically require less maintenance than traditional toilets. However, they are not entirely maintenance-free. Regular cleaning, checking for leaks, and following manufacturer recommendations will help ensure your smart toilet remains in good condition and continues to provide the benefits it was designed for.