A Quadrant Shower Enclosure (aka Round Sliding Shower Enclosure) is a shower enclosure that fits a quadrant shaped shower base, usually with sliding doors. (Quadrant means a quarter of a circle.) The lengths and widths range from 80 to 120cm (31.5 to 47 inches). The standard length for adult is 90cm (35.4 inches). The height ranges from 180 to 220cm (71 to 87 inches). The rails and wall profiles are made of aluminum alloy or stainless steel, with chrome or matt finish. The panels are made of tempered glass.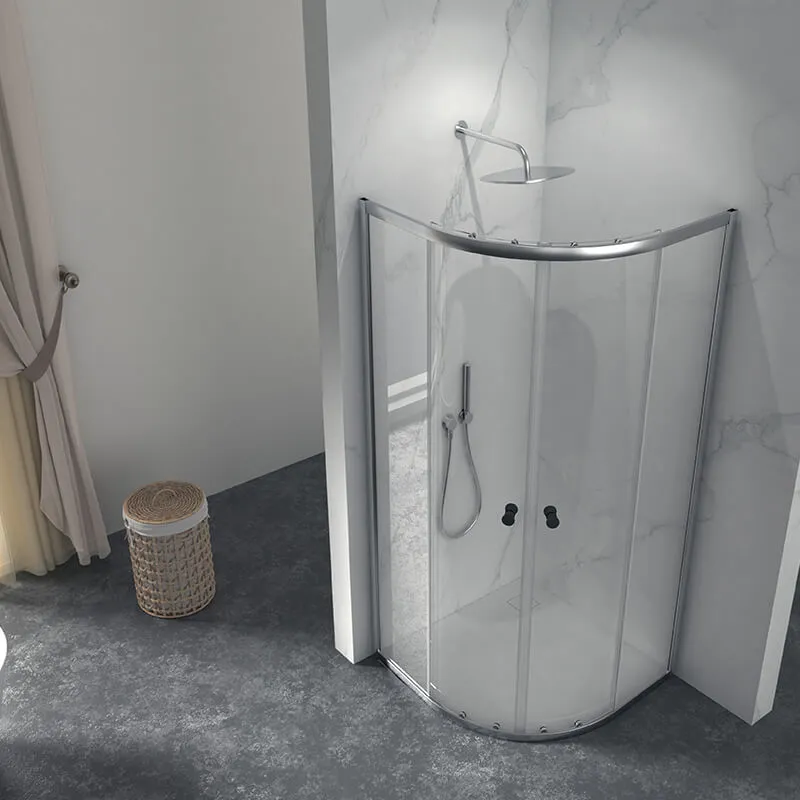 Quadrant Shower Enclosure GWC06-22S
Components of A Quadrant Shower Enclosure
Rails (top, bottom)
Wall Profiles
Fixed Glass Panels
Sliding Doors
Door Handles
Seals (rubber, magnetic)
Rollers (top, bottom)
Screws
Washers
Caps
Wall Plugs
Components Picture: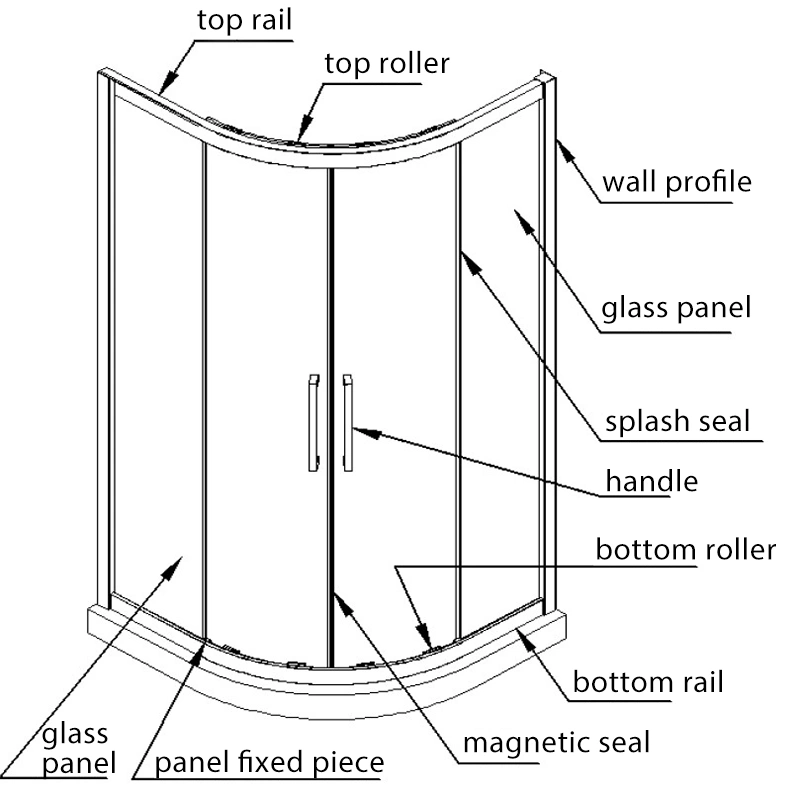 Materials
Glass panels (doors): tempered glass
(Tempered or toughened glass is a type of safety glass processed by controlled thermal or chemical treatments to increase its strength compared with normal glass. –Wikipedia: https://en.wikipedia.org/wiki/Tempered_glass)
Hardware (rails, profiles): stainless steel, aluminum alloy, zinc alloy, fine copper.
Plastics: ABS (caps), POM (rollers), PVC (seals, washers).
Sizes of A Round Shower Enclosure
Common Base Sizes are: 800x800mm (few), 900x1000mm, 900x1200mm, 1000x1000mm, 1000x1300mm, 1000x1100mm, 1200x1200mm. (31.5x31.5 inches, 35.4x39.4 inches, 35.4x47.2 inches, 39.4x39.4 inches, 39.4x51.2 inches, 39.4x43.3 inches, 47.2x47.2 inches.)
Height ranges from 180cm to 220cm (70.9 to 86.6 inches).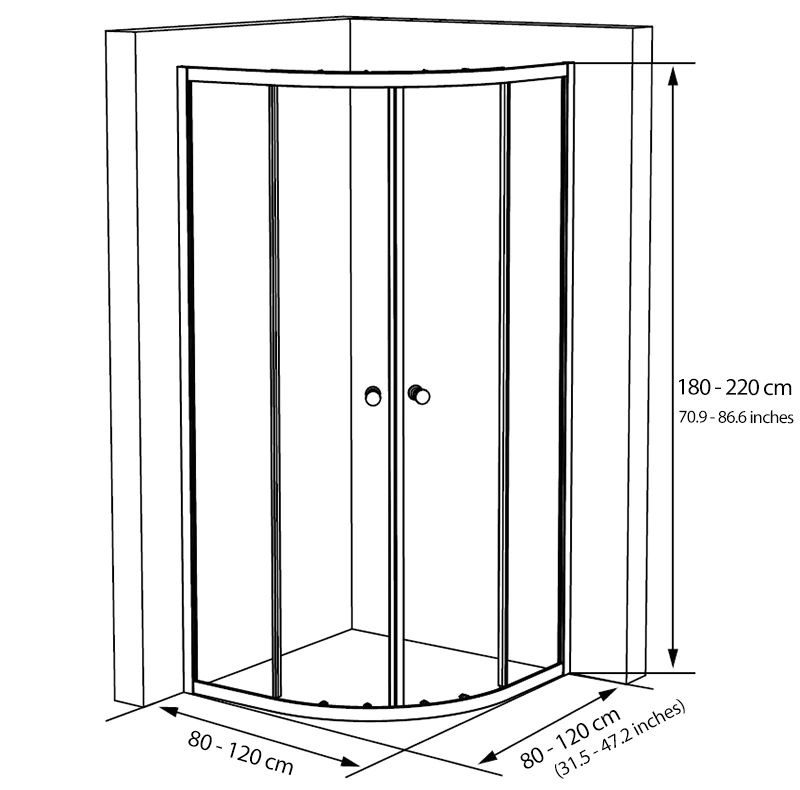 Pros of A Quadrant Shower Enclosure
Space-saving
Different from rectangular shower enclosures, a quadrant shower has sleek curvy radius, which makes it a perfect fit for small bathrooms, without making concessions on the internal shower space or style. The compact sliding doors does not open outwards or inwards into the space, leaving you more room when in and out of the enclosure, without infringing on the floor space.
Smooth Open & Easy to Clean
The sliding doors have sprung top & bottom rollers to achieve a smooth gliding operation as you open or close the door. The rollers are also designed for quick release, making it a lot easier to do the spring clean!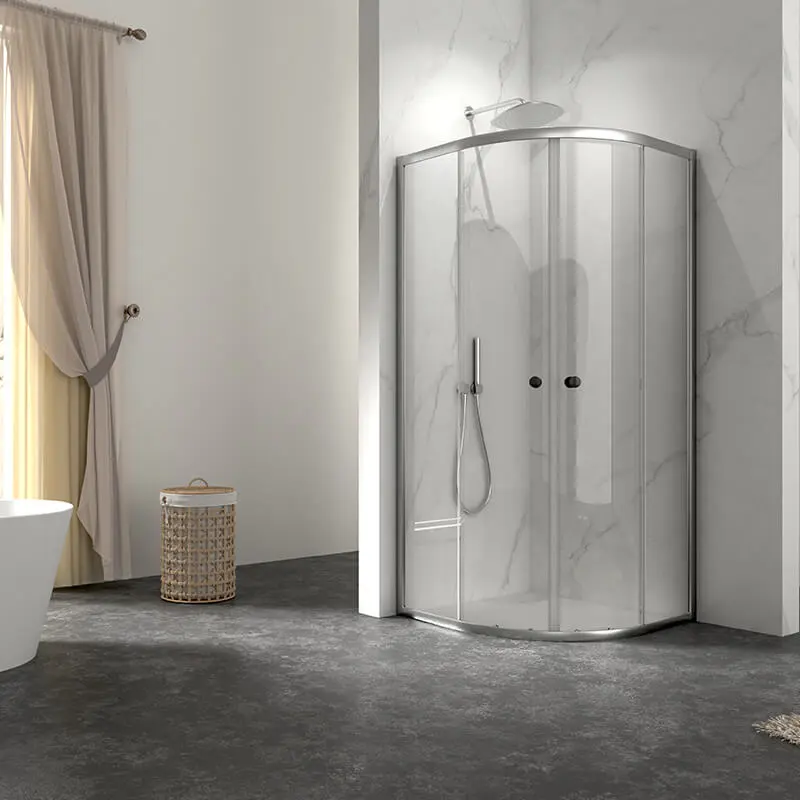 Things to Consider When Buying A Round Shower Enclosure
Shower Tray
We recommend you to buy the quadrant shower WITH a tray. The reason is that the coordinated tray is designed particularly for the specific enclosure, which almost eliminates the possibility of water leakage. Purchasing a bundle of shower enclosure and tray also means you don't need to consider the tray size.
Glass Thickness
Common glass thickness: 4mm, 6mm, 8mm, 10mm (0.16 inches, 0.24 inches, 0.31 inches, 0.39 inches).
If you are tight on budget, go for 4mm (0.16 inches), which is cost effective for small enclosures.
6mm (0.24 inches) is for larger enclosures.
8mm and 10mm (0.31 inches and 0.39 inches) deliver high levels of style and fantastic luxury.
Smooth Rollers
Needless to say, you want the rollers to work as smooth as possible.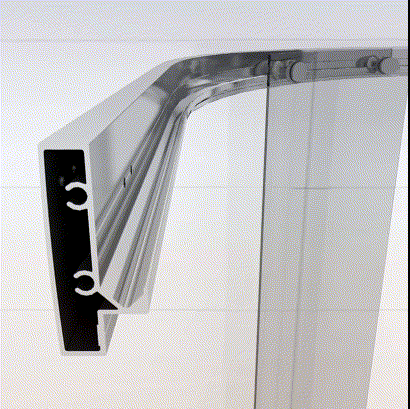 In general, there're five points: sleek look, smooth & quiet sliding, good seal, safe, easy to clean.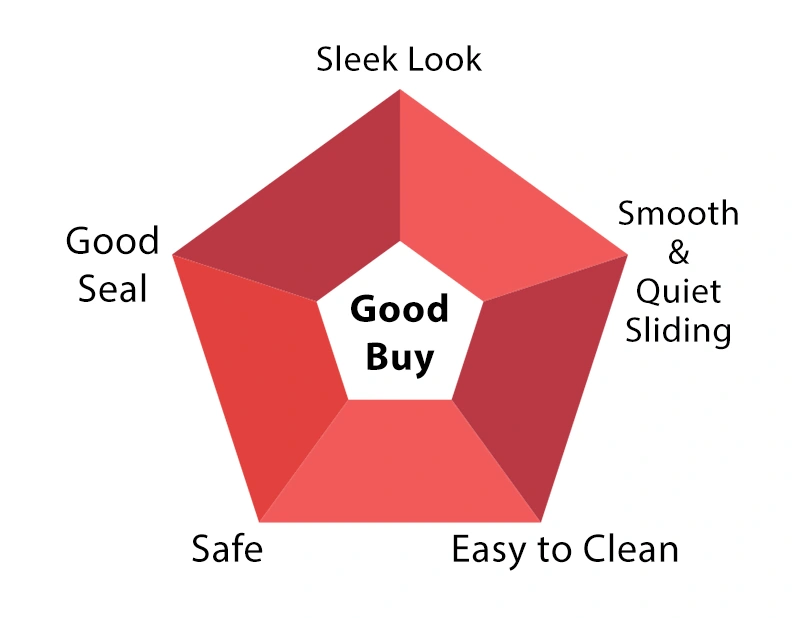 The Lifespan of A Quadrant Shower
| | |
| --- | --- |
| Product | Lifespan |
| Quadrant Shower Enclosure | 10+ years |
| Shower Tray | 10+ years |
| Taps | 5+ years |
| Shower Head | 1+ years |
| Shower Seat | 1+ years |
Maintenance for Longer Lifespan
Glass shower enclosures could be prone to mildew and get sticky on the surface when you're in the shower.
We recommend you to use natural cleaning products, which are handy and less expensive than commercial cleaners, to ensure the glass panels stay clean. For example, you could use vinegar, lemon juice or baking soda. You could use the three articles together for a deep clean. Steps are as follows:
Begin with the acid: Spray or splash some vinegar or lemon juice on the glass panel.
Blend baking soda with water to form a paste, then dip in a sponge.
Use the sponge to wipe the glass with some strength. Some fizzing can be observed as the acid and alkali combine.
Rinse the glass with clean water.
For a nice shine, use old newspaper or squeegee to get rid of the last bit cleaner and water.
More Bathroom articles, read below:
How to Install a Freestanding Bathtub - Tona Bath
Can A Bathroom Mirror be Wider Than Vanity? | Bathroom Q&A
Bathroom Mirror Installation Guide - So Simple Even Your Kids Can Do It