From December 1st to 5th 2021, Heim+Handwerk 2021 will be held. Once again it will become a reliable meeting place for all design lovers, interior design enthusiasts, and trend spotters.
This time, our German designer Oliver Kessler is attending the fair with Tubler, an 2021 iF Design Award winner, the bathtub butler.

(Oliver Kessler is an award winning German industrial designer and owner of Oliver Kessler Design in Munich. He won several awards and is an alumnus of the re-known Art Center College of Design in Switzerland, one of the most prestigious design colleges worldwide. Oliver has 25 years of experience in design services for global clients. He is one of the lead designers with Tona.)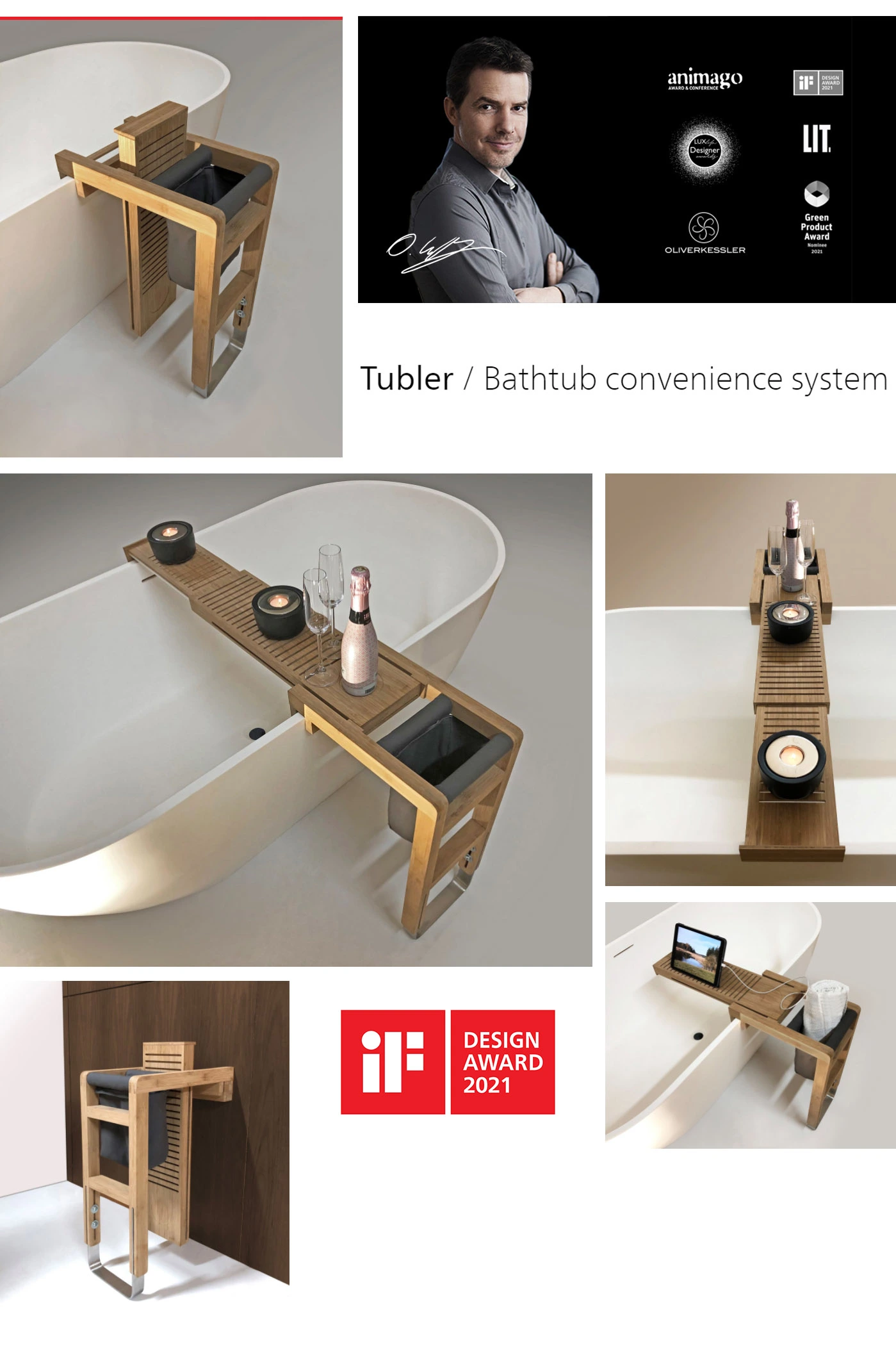 Bathtubs, in particular stand-alone ones, offer little to no space to store items like towels, shampoo, books, glasses, and tablets.

TUBLER, the bathroom butler, is a flexible piece of furniture for stand-alone bathtubs that can also be used with built-in bathtubs.

TUBLER is manufactured mainly from eco-friendly bamboo, cotton, and stainless steel, withstands the bathroom environment, and is fully recyclable.

TUBLER is a space-saving, highly practical combination of shelf and table for almost all bathtubs on the market.
If you are in Europe...
Here's the pre-sale link: www.goomliving.com

* IMPORTANT: Remember to add the webpage to favorites to stay tuned. 
  Tubler will be sent from Germany.

About Heim+Handwerk
For those of you who are not familiar with Hei+Handwerk. Below is the introduction.

Heim+Handwerk is Southern Germany's largest trade fair for living & furnishing.

It is the fair where dream homes become reality.

More than 1,000 exhibitors, craftspeople, and homeware professionals — nowhere else will visitors find such a wide variety of experts in the field of living, furnishing, and building in such a short time, who provide personal, independent, and free advice without the need for an appointment.

This event offers Home accessories, manufactories, and lifestyle, exclusive home design, living and sleeping, health and fitness, construction and finishing, energy, interior design and bathrooms, kitchen culture.

Heim+Handwerk website: https://www.heim-handwerk.de



Find out more about TONA on:

www.facebook.com/tonabusiness
www.linkedin.com/company/tona-bathroom-furniture
www.instagram.com/tona_bath
www.youtube.com/channel/UCs_kTC6C-xUnITFGDXW9pIQ