Modern bathrooms are undeniably beautiful—characterized by glossy tile, luxury finishes, minimalist design and sleek style. However, it's easy to get caught up in the notion that a modern bathroom "should" look a certain way, with clean lines and neutral colors. This is the most common way to design a contemporary space, but it's not the only way to create the perfect modern getaway. In fact, there are hundreds of ways to tweak your bathroom and still achieve the modern result you desire.
Modern Bathroom Vanity
When choosing a modern bathroom vanity, opt for neutral colors and minimalist design. The less ornamentation, the better. The best materials for modern vanity tops are marble, granite, and tile. For a more natural and earthy modern bathroom design, opt for wood or concrete vanity tops.
Modern Color Scheme
Think the only way to design a modern bathroom is in black and white? Think again! Although black, white and shades of grey are the most popular color options for modern bathrooms, you shouldn't limit your design to what is most common. Earthy colors like jade, emerald green, deep blue and turquoise can really pop in a modern bathroom. Even bright, non-traditional colors like bright yellow and fire engine red can look stunning on the walls, floors or cabinets. When choosing colors for your bathroom scheme, go with what makes you feel happy and refreshed—that's what matters. Then choose updated modern finishes to match.
Don't be afraid to go against the grain when it comes to making your space feel like home! When it comes down to it, it's your opinion that matters most. Read on to learn unique ideas for designing a modern bathroom that stands out.
Natural Wood Bathroom Vanity
To add an earthy vibe to this modern bathroom design, the interior designer opted for natural wood bathroom vanity. The grain of the wood provides a lovely natural contrast against the gray flooring and white countertop. The back-lit circular mirror illuminates the room and the golden pendant incorporates an artistic touch.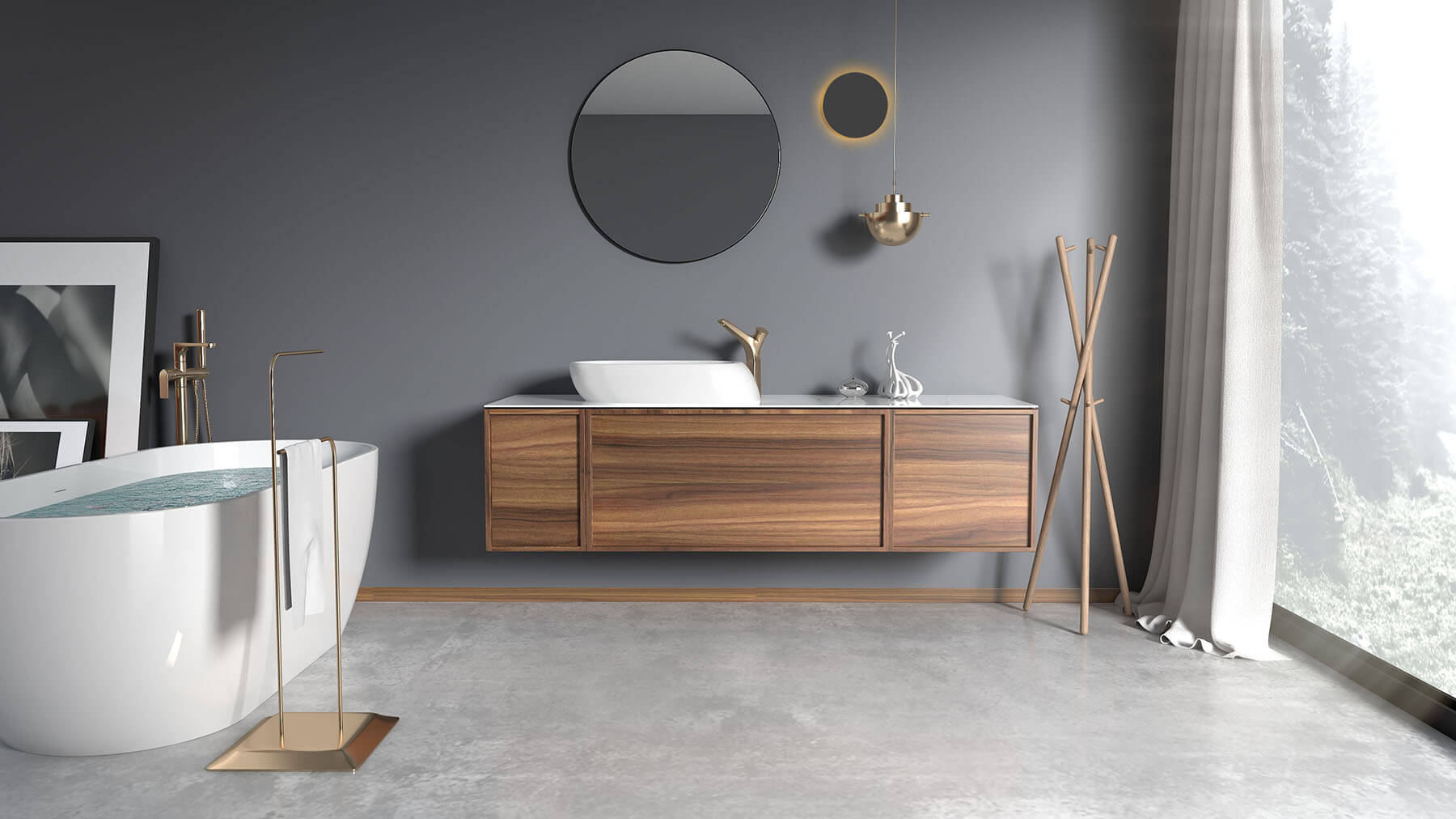 Circular Mirrors
One way to add some visual interest to a basic modern bathroom is to install circular wall mirrors in lieu of the traditional rectangular style. Both practical and affordable, circular mirrors are a nice way to add some artistic flair to your bathroom wall. To take the design a step further, match the frame of the mirror with the bathroom hardware. Or even better, choose a frameless back-lit LED mirror, which coordinates with various styles.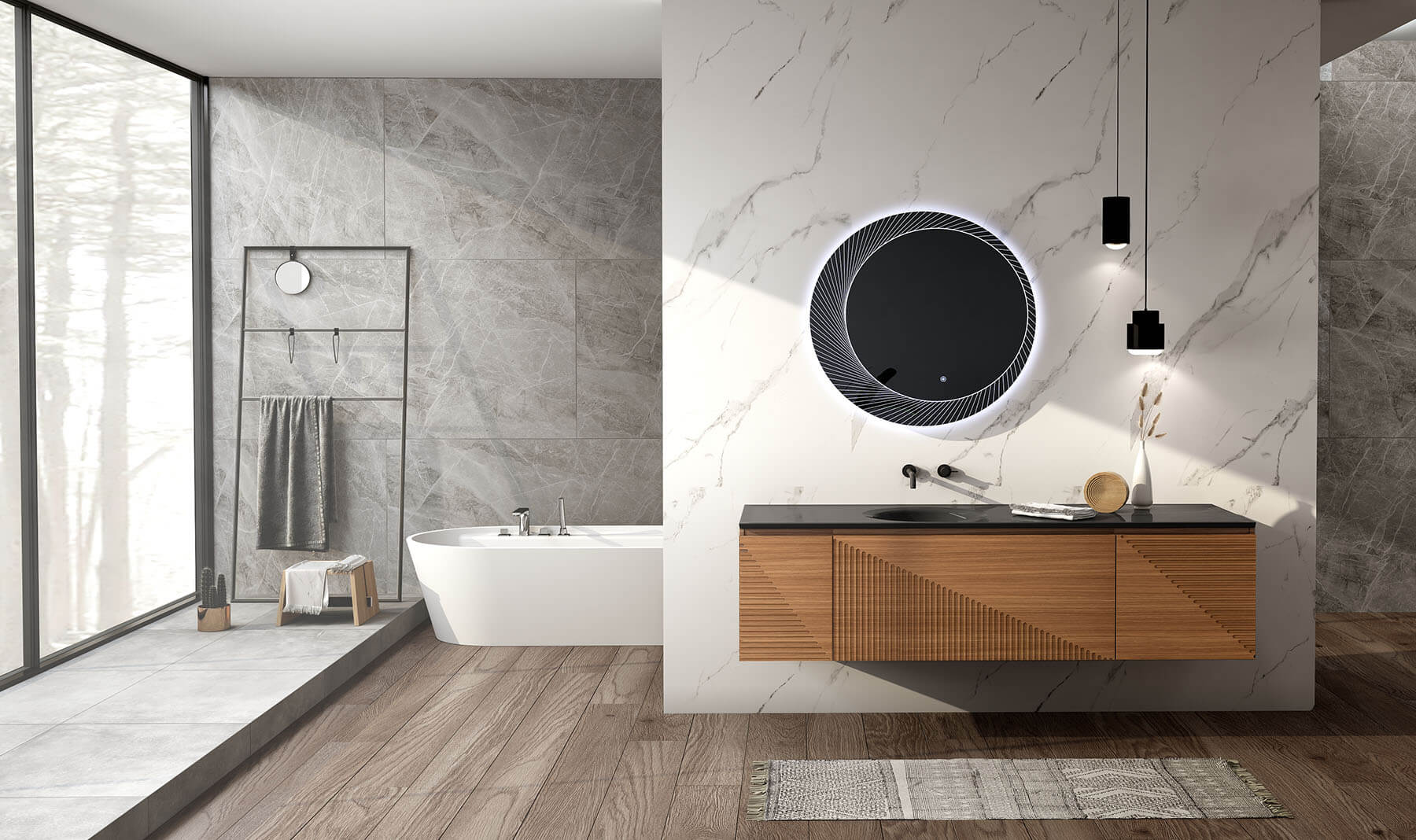 Black-Framed Shower Doors
Shower doors with black frames have become increasingly popular in modern bathroom design. They offer a unique blend of modernism and industrial style. This designer paired them with white marble walls and gray flooring, which contrast the dark colors to create a dramatic color palette. The result is a contemporary spa fit for a king.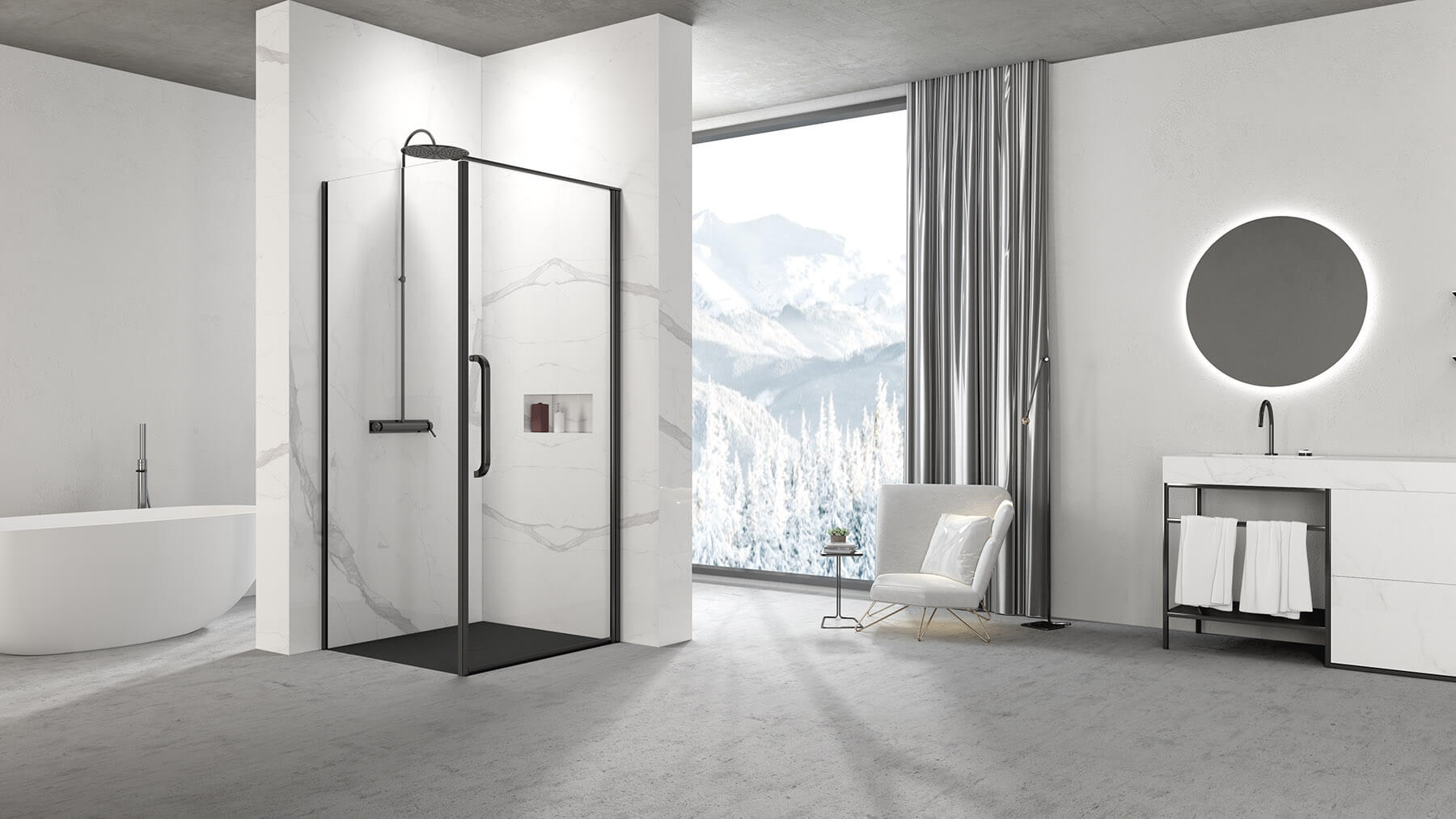 Subdued Color Palette
A subdued color palette gives a modern bathroom a more gentle and inviting feel. Especially in small spaces, lighter neutrals like white and grey can play in your favor as they make the room feel larger. This modern master bathroom features grey and white and chromed hardware. The result is a simple space that carefully balances delicacy and intrigue.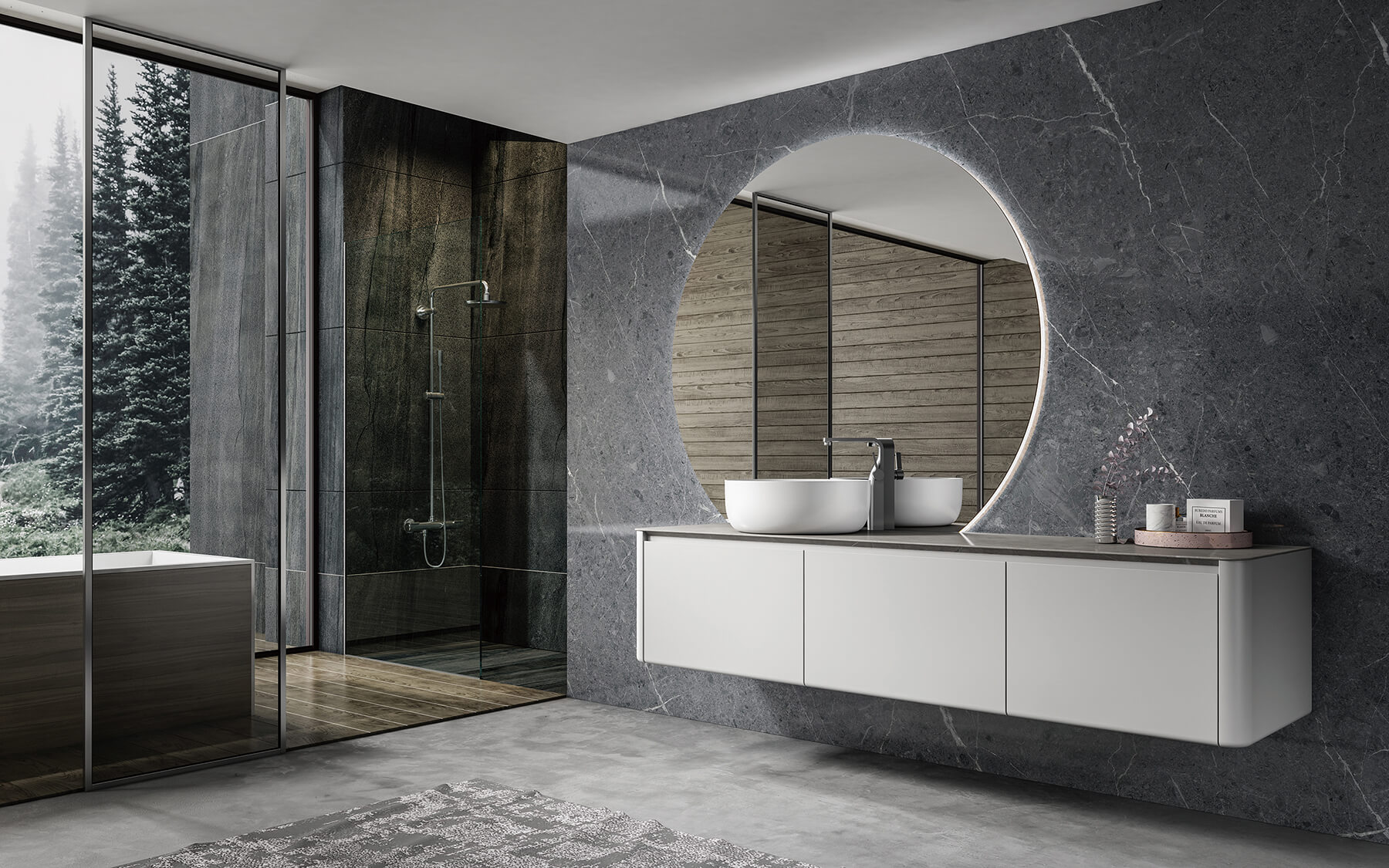 Bath-Friendly Greenery
The "modern jungle" style has become wildly popular in contemporary bathroom design. If you browse bathroom ideas on Pinterest, you'll notice a common theme of greenery. Indoor plants not only give a space a refreshing feel, they purify the air. They're arguably the best home decor—they're affordable and improve your health! Common plants for bathrooms include ferns, air plants, dracaenas, pothos and bromeliads. All of these species thrive in low light and high humidity, making them perfect as bathroom decor.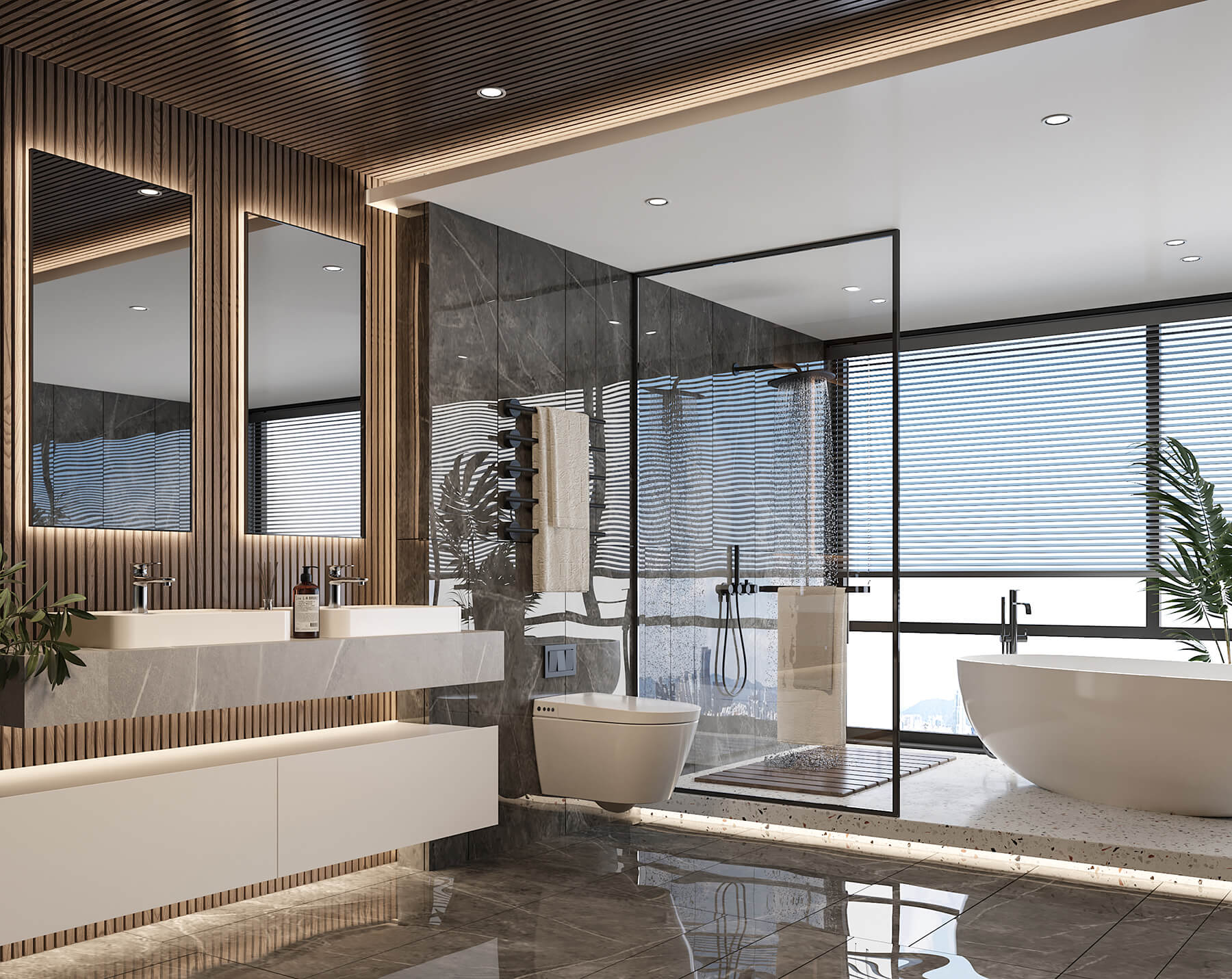 Back-Lit Mirror
Update your modern bathroom mirror with soft back-lighting. The subdued glow creates optimal lighting to apply makeup or style hair. It also turns the mirror into more of a statement art piece. This is an affordable and easy way to give your modern bathroom a custom touch. The light keeps the room beautifully illuminated without distracting from the overall design.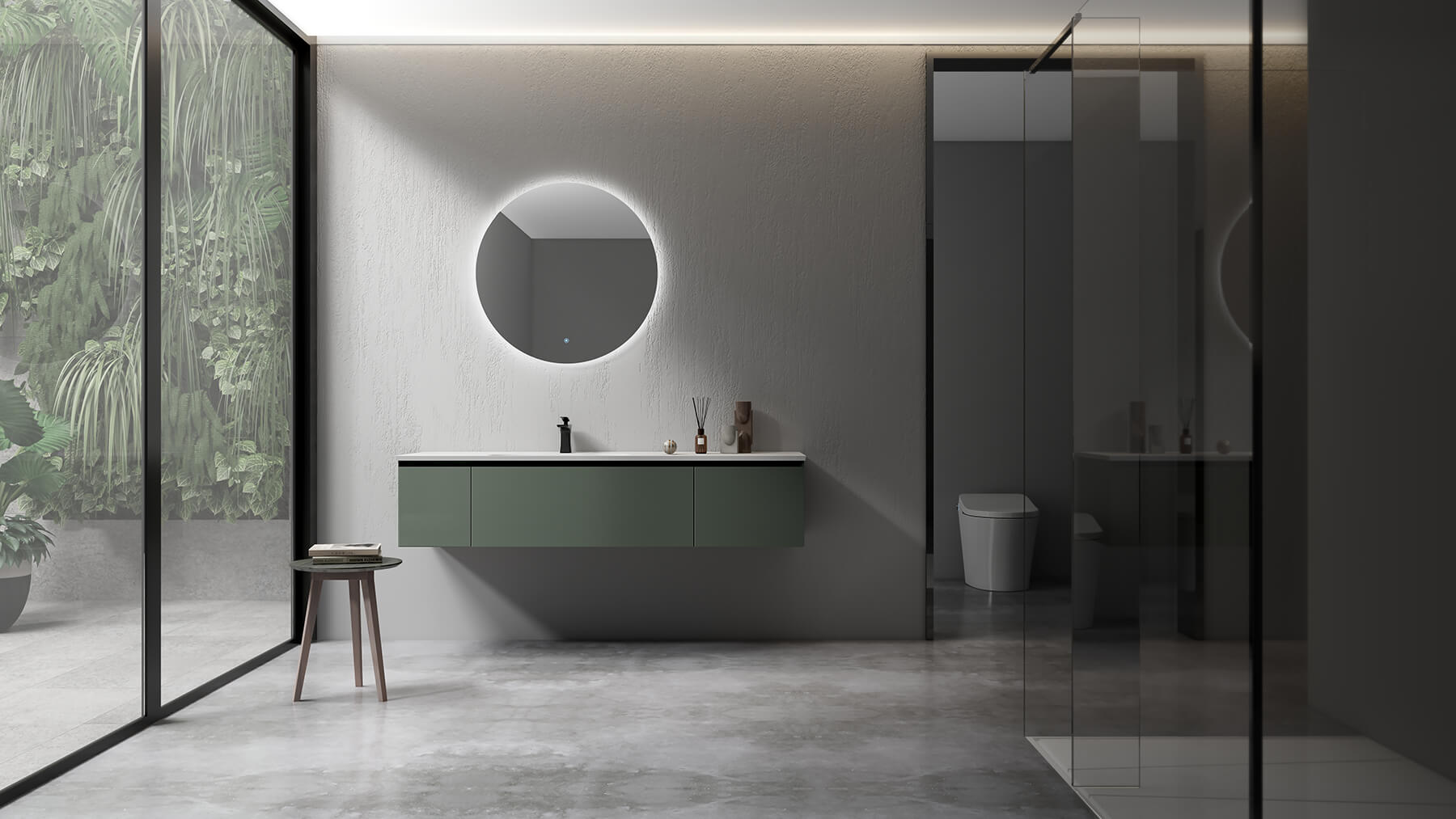 More articles:
Modern Beige Bathroom Idea 2021
Discover Your Treasure
Freshen Up Your Bathroom This Summer