When you are building or remodeling your bathroom, choosing the right sized bathroom vanity from among the staggering amounts of designs and sizes within the market isn't so simple. You soon realize that choosing the proper sized vanity is never as easy as you thought at the start. Hopefully, this article will provide you with enough information to upgrade your shopping experience about choosing your bathroom vanity size.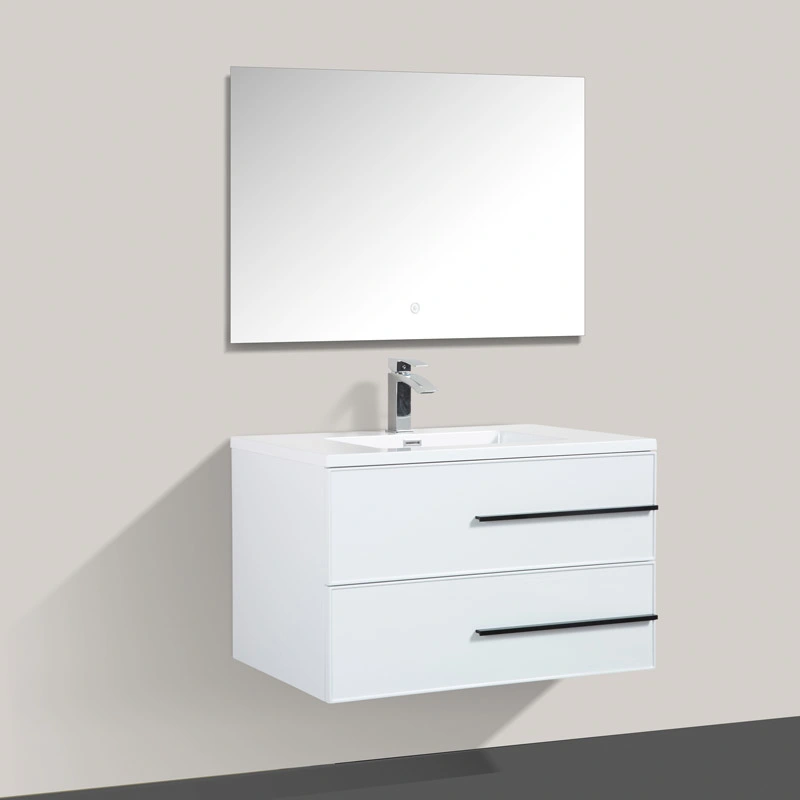 What is the standard bathroom vanity size?
For single bathroom vanities, the standard sizes are 24, 30, 36 and 48 inches (or 610, 760, 910, 1220 mm) width.
For double bathroom vanities, the standard sizes are 60 and 70 inches (or 1520, 1780 cm) in width.
The standard vanity height is 32 and 36 inches (or 810, 910 mm).
The standard vanity depth is 21 inches (or 530 mm).
Let's explore more about the standard vanity dimensions and to help you find the ideal one for your bathroom.
When you go to the local furniture market many times, or check many online furniture stores, you'll find that the dimensions of bathroom vanities vary between certain ranges. It is really a matter of your personal choice.
With the standard bathroom vanity dimensions provided above, these sizes can be customized, based on the type of cabinet and the basin you intend to install.
Bathroom vanities come in various styles, freesstanding, floating, built-in.

Free standing vanities are useful for little spaces and come in various styles. Built-ins are better for bigger spaces. It usually provides more countertop space and storage. You can pick what will suit your favored washroom design.
Large Vanity Size: normally 48 to 96 inches (or 1220 to 2440 mm). Suitable for double sinks with additional storage and for large showers.
Medium Vanity Size: suitable for a single bathroom with additional capacity and all the more counter space.
Small Vanity Size: suitable for single basin and small compact bathroom
You can pick the most reasonable measurements for your vanity dependent on the uses given previously.
How tall are bathroom vanities?
(How high are bathroom vanities?)
In traditional houses, the bathroom vanity height varies from 30 inches (760 mm) to 32 inches (810 mm).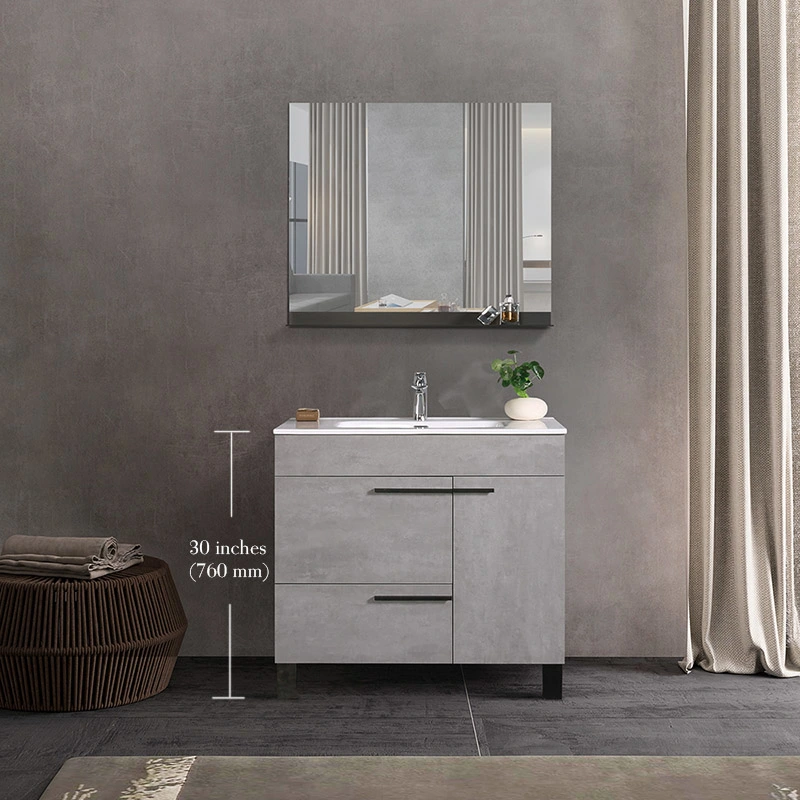 (30 inches high Gill)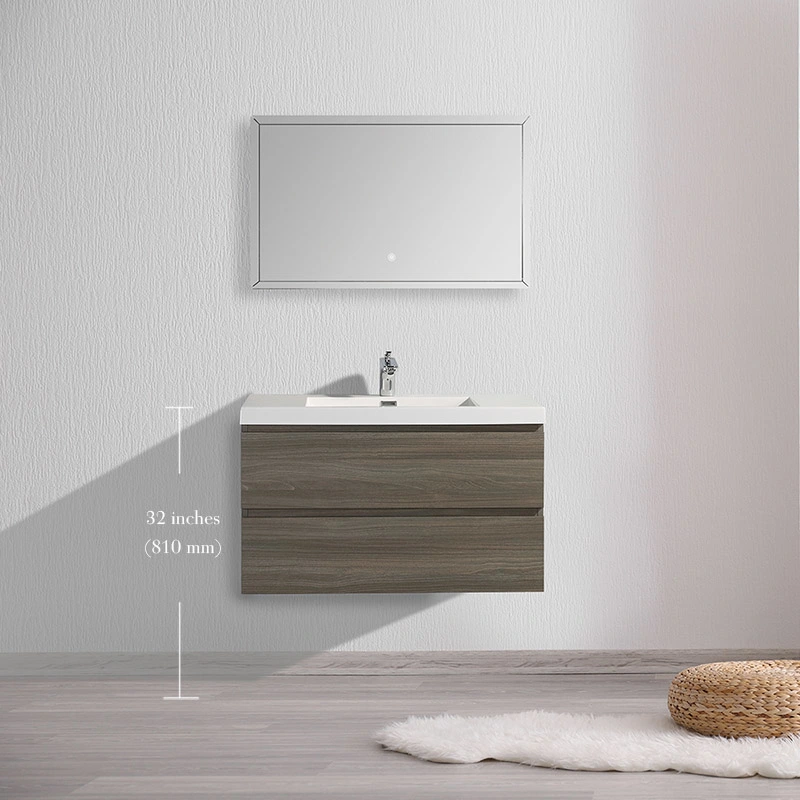 (32 inches high Angela)
 
In modern homes, the vanity height tends to be higher, up to 36 inches (910 mm).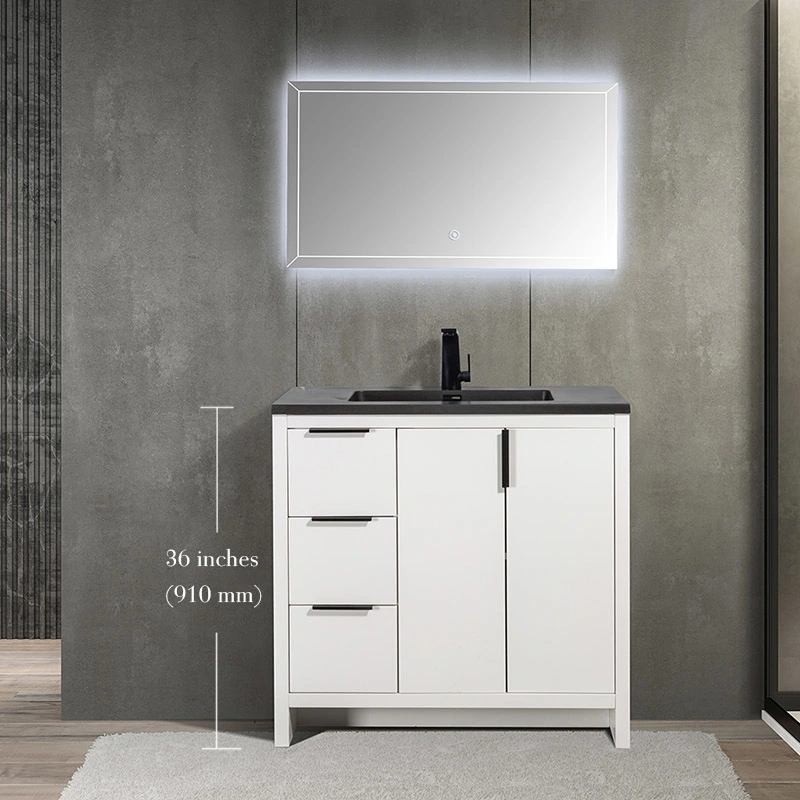 (36 inches high Evana)
Generally, there are three kinds of vanity heights: standard height, comfort height and vessel sink height.
Standard vanity height is always disputed and there is no really regulatory "standard height height". The standard height of the vanity is usually determined by the average of the most common heights of the bath vanity.
Comfort height is trending in modern bathroom vanities. Comfort height vanities are usually taller than standard vanity height so as to reduce the pain of bending to wash up.
If you are using a vessel sink (the basin over the countertop entirely), consider making the vanity itself low, so the top edge of the sink is around 36 inches (910 mm) high.
The advantages of high vanities include more storage under the sink, more comfortable height for cleanliness and a modern look. Downsides are uncomfortable for short people, and especially in small bathrooms, including a look that may seem unbalanced.
At the end of the day, it all comes down to what makes you feel comfortable. Many people compromise and make the vanity high. If you have space for double sinks, you can have one high and one low to fit your families. Or if you have two bathrooms, you may have each counter at a different height.
More bathroom articles:
Why are Bathroom Vanities so Expensive?
Can Bathroom Vanities be Painted? How?
Are Bathroom Vanities Waterproof?