Bathtub shopping may be enjoyable—until you are presented with an overwhelming number of options that make choosing even more difficult and time-consuming. When building a new bathroom or upgrading an older one, you want to get the ideal bathtub the first time.
Whatever your top goal may be—design, usability, material, or price — it's vital to consider all of your alternatives and the big picture. Don't restrict yourself to one kind, otherwise, you could have to replace your tub a year or worse only a few months after buying it.
This straightforward yet thorough bathtub buying guide can help you avoid the buyer's problem and make your purchasing easier.
Contents
Before purchasing a bathtub, consider these questions.
How do you want to utilize your bathtub?
Your response will decide whether you need a higher-quality bath with improvements or a more basic, less expensive design. For instance, a whirlpool or air bath includes jets or channels that offer massaging air, whereas a regular soaking tub merely fills with water. The only extras commonly seen in soaking bathtubs are armrests or headrests, grab bars and slip-resistant floors.
More amenities, such as adjustable jets, ambient underwater lighting, aromatherapy features, heated fans, and automatic cleaning systems, are available with whirlpool, air bath, or combination tubs. Your tub will cost more the more intricate it is.  
How much room do you have?
You need to be aware of what your bathroom can hold before falling in love with a certain style of the tub. Although there are several alternative bathtub sizes and shapes available, a normal tub is 60 inches long, 30 inches broad, and 14 inches deep.
Measure your bathroom and entrances carefully to establish the maximum size of your tub. Make a note of the location of the floor drain to make sure it complements the style of the tub you've chosen. Check before buying if a bathtub-shower combo is a must-have feature for your family because some tubs do not allow for a shower.  
Do you need to take any additional measures while installing a bathtub?
You must evaluate the pump, air switch, and electric timer if a jetted bathtub is something you're thinking about. Many pumps are designed to fit inside the tub unit, but some manufacturers now provide remote-location pumps that can be concealed in a vanity cabinet or closet up to 5 feet away from the tub. The non-electric air switch could be located on the tub unit. To comply with bathroom code standards, place the electric timer at least 5 feet away from the tub when installing it.  
Material
Price and comfort are the two deciding criteria when selecting the proper material for your bathtub. Since you'll be spending a lot of time in your bathtub and want to enjoy it, you should try out several materials to see which one feels the most comfortable to you. However, the most comfortable material could also be rather expensive and a little bit heavy, so before making a purchase, you should find out what your bathroom can withstand.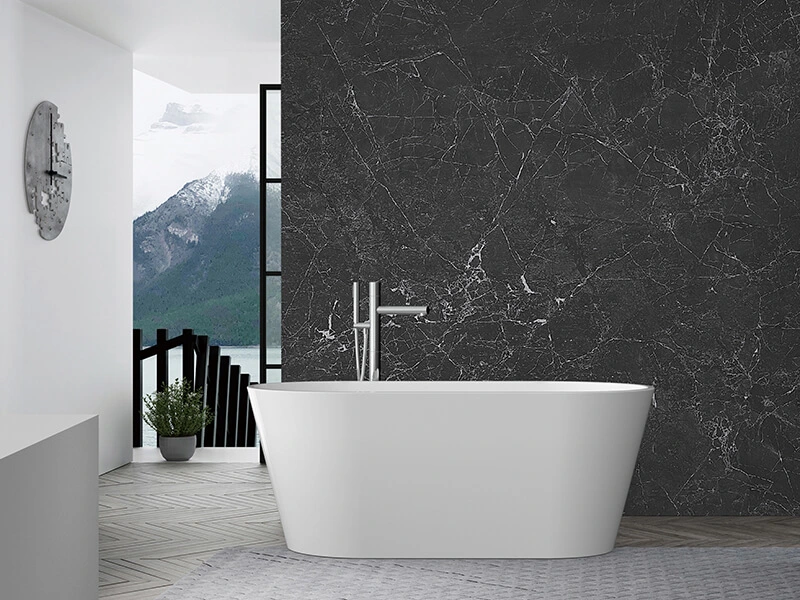 Acrylic
Acrylic is made in a manner similar to that of fiberglass by heating a solid sheet of petrochemicals, stabilizers, resin, and the proper color, then shaping it into the shape of a bathtub, which is then reinforced with fiberglass. Acrylic is a well-liked material for both drop-in and freestanding bathtubs since it is lightweight and is offered in a variety of designs and sizes. Although the material resembles fiberglass in appearance and feel, it is not porous, which increases its durability significantly over that of fiberglass. Although it is resistant to heavy impacts and chipping, you should generally still avoid throwing things at your bathtub.
Ceramic
Numerous ceramic tiles are molded together to create ceramic bathtubs until the material solidifies. This type of construction has the advantage that ceramic is relatively close to clay, meaning it is available in more designs and sizes than any other material on the market. The disadvantage of this is that ceramic needs constant upkeep or it would ultimately degrade and disintegrate.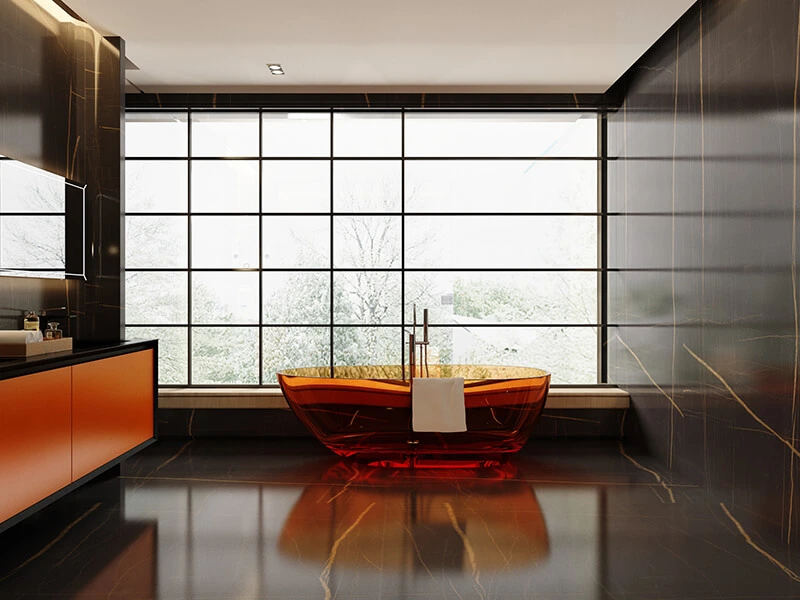 Fiberglass
Fiberglass, the least expensive material for bathtubs, is made from reinforced plastic sheets that are then molded into the shape of a bathtub. Although highly resilient, the material has the undesirable property of being porous, which makes it vulnerable to chipping from strong blows. It is porous because it routinely absorbs water, which causes the material to gradually bend over time and become more unstable.  
Porcelain
Cast iron or pressed steel is layered with porcelain enamel, a combination of powdered glass and substrate heated into a durable coating, to create porcelain. Because they are non-porous and hence highly robust, these bathtubs won't deform or degrade with time. Be careful not to drop anything on the porcelain coating, though, since it is rather sensitive to harsh impacts and may leave some very obvious imperfections on its surface.  
Cultured Marble
This substance is as timeless as ancient Rome and is made of crushed limestone and resin. It has a wonderful pearlescent gloss, is fairly durable, and holds heat well. The many drawbacks of this substance, however, prevent it from being extremely well-liked. Cultured marble is pricey, beginning at $700, hefty material that makes installation more difficult. Finally, cultured marble will start to brown and stain if regular care is not kept up on it.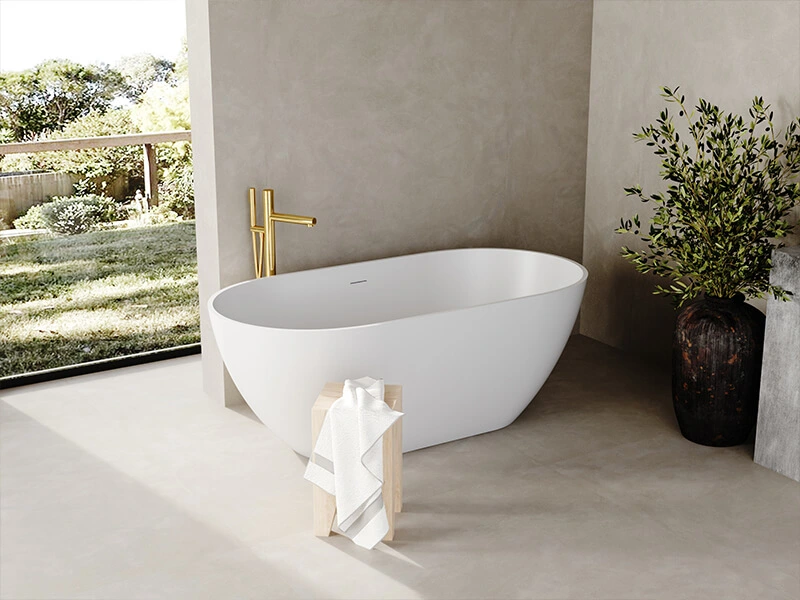 Stone Resin
Stone resin is a substance made of crushed natural stone linked together with glue to create a composite material that resembles genuine stone in appearance and feel without adding weight or expense. Stone resin is a well-liked option because it strikes a good balance between price and quality. It is non-porous, has outstanding durability, and retains heat very well. Stone resin's lack of stylistic options in comparison to other materials on the market is its main drawback.  
Size
The size of your bathtub is another crucial factor. Size is a crucial consideration since your bathroom may not require a larger bathtub if one that is smaller would serve. A bigger tub is often advised if your house can sustain it and you have the space for it. If you have the necessary room, go ahead and select a standalone or corner bathtub. Alcove, drop-in, and soaking might be better options for you if your space is more constrained, though. A bigger bathtub may appear more attractive on the surface, but it will cost more to fill than a smaller one, resulting in a higher water bill.
Smaller sizes are also available in more practical variations, such as the Japanese soaking style, which enables you to soak while sitting comfortably. The rebuttal to this is that smaller bathtubs are not for everyone, and some people could feel constrained in a smaller bathtub due to its compact size.
Tub Style
There are many different bathtub types to fit almost any bathroom, and each style emphasizes two essential elements: space and substance. What style is best for you will be greatly influenced by the amount of space you have. While you may be drawn to an oval freestanding bathtub, you may only have room for a round bathtub.
In addition to complementing the space, the material will also have an impact on the style because some materials, like copper and natural stone, are only produced in a particular manner.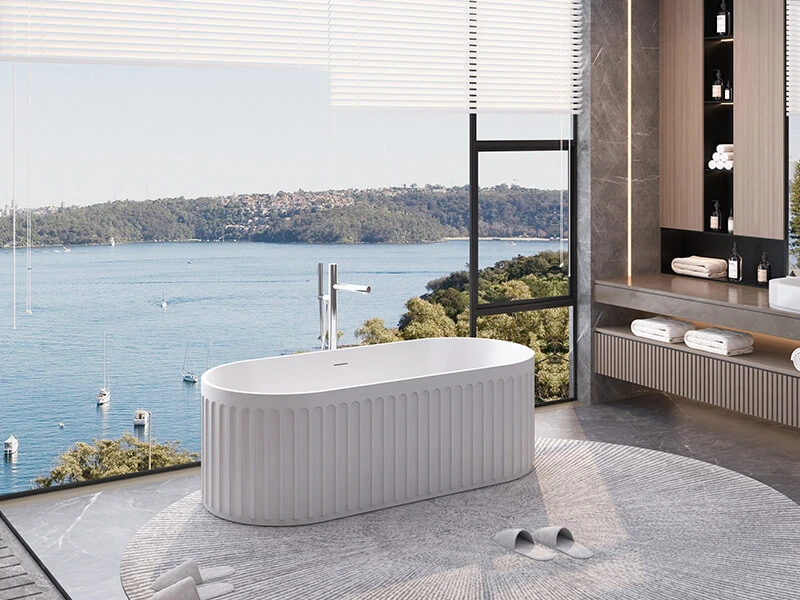 Freestanding Bathtubs
Freestanding bathtubs are perhaps one of the most popular designs, and it is easy to understand why. Freestanding bathtubs don't need connecting walls to be erected and may fit almost anywhere. In comparison to most drop-in tubs, they also offer a more colorful focal point for your bathroom and are priced similarly to the other alternatives available.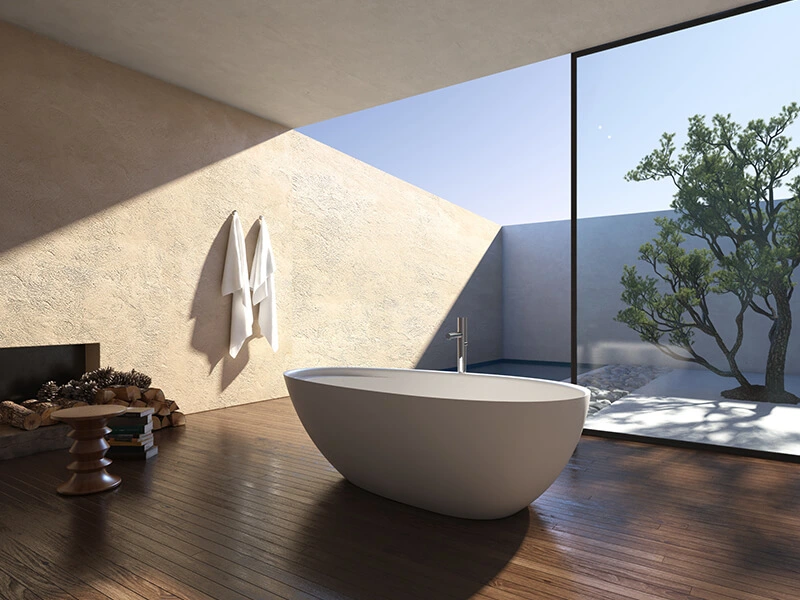 Oval Bathtub 
The clawfoot bathtub is a more traditional style; the oval bathtub is not. These bathtubs have symmetrical, circular shapes that resemble water basins. These bathtubs have a more contemporary appearance that contrasts nicely with the sharper corners and edges of the rest of your bathroom. They are quite popular in flats or smaller houses when space is at a premium.
Angled Tub 
The angled style is the last option for individuals who like something a little different from the conventional or angled design. A slightly steeper slope on one side of an angled bathtub is intended to provide support for your neck and back while you're taking a bath. These are quite adaptable in terms of size; you may get them larger than both the oval and typical freestanding forms or in sizes that are comparable to an oval bathtub.
Clawfoot Bathtub 
A clawfoot bathtub is a freestanding bathtub with four legs or "claws" on the bottom. It is a classic bathtub design. This style was first used in bathrooms in the early Victorian era and is still quite popular today.
Alcove Bathtub 
Tubs that are put in a recess of three adjoining walls with one completed side are called alcove or recessed tubs. Since they don't take up much room and many of them may be connected with a shower, these bathtubs are typically seen in apartments or smaller residences.
Corner Tub
The corner tub is like an alcove but considerably bigger. Although these bathtubs are significantly broader than the traditional alcove bathtub, they nonetheless fit in the same area. Bathtubs put in alcoves often have a window and three connecting walls. These bathtubs are more like hot tubs than regular bathtubs, making them better for treatment and relaxation.
Drop-in Bathtub
Since the rim is covered, under-mount bathtubs are positioned beneath the adjacent deck or entrance, giving your bathroom a more unified appearance. In order to make the rim of drop-ins more noticeable, they are fitted by dropping them into a carved-out space and sealing it. There aren't many differences between an under-mount and a drop-in bathtub aside from aesthetics. Both of them are space-saving, are available in a wide range of designs and materials, and many of them may be equipped with powered jets for a more peaceful bathing experience or paired with a shower for multifunctional usage.
Soaking/Japanese style
A bathtub that is designed in the "Japanese" or "soaking" style is often either round or circular. These are designed to allow you to soak luxuriously while sitting comfortably in position. They are often a good bit higher than typical bathtubs. These bathtubs also often come in a broad range of sizes, with longer, more opulent models for bigger houses and, of course, much smaller models for smaller households. In general, people choose the smaller size as a bathtub for apartments.
Walk-in
A walk-in bathtub is a bathtub with special fittings that make it possible for the user to enter it without worrying about sliding. In general, there are hand handles to help with balance and stability as well as grooves and notches along the inside of the tub to offer a walking grip. These are especially common in households with senior residents since they enable them to take a shower without further help.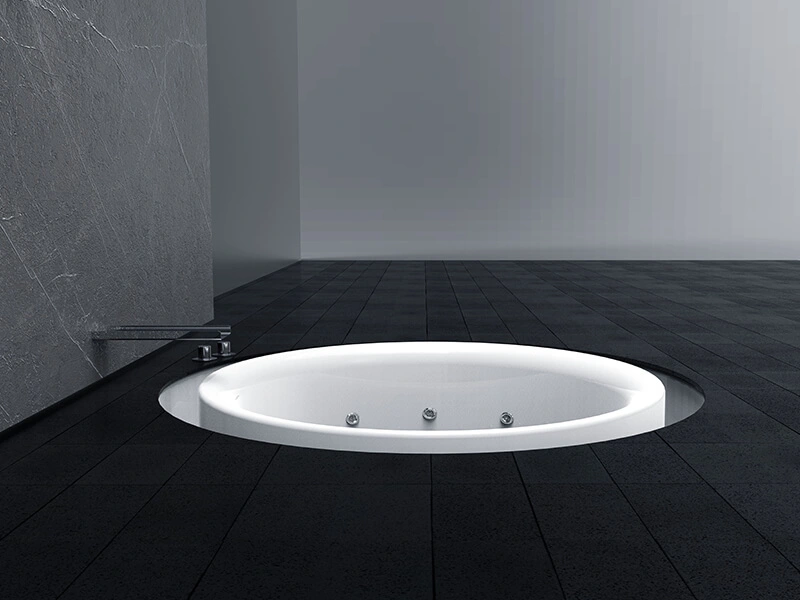 Whirlpool
An enclosed jetted bathtub is known as a whirlpool tub. Whether they are air or water jets, the main objective of these devices is to massage the user for both health and relaxation. While water jet whirlpools feature fewer, bigger jets that propel water at high speeds, air jet whirlpools have dozens of tiny jets that pump warm air through to produce air bubbles. A whirlpool tub's main benefit is that it produces a more intense massage than any other tub on the market.  
Installation
Depending on the size and form of your tub, installing a bathtub can be a pain, so it's vital to know which styles are the simplest to install and which require a little more work. Generally speaking, corner and freestanding tubs are more difficult to install than alcove and drop-in bathtubs, however, this might vary based on the material and total weight of the bathtub you're trying to install. It is better to contact a professional to install it for you if it appears too hefty.  
Freestanding Installation
A freestanding bathtub has the extra benefit of being positioned nearly any place in your home, provided you have a functional drain and water source. Since it doesn't require neighboring walls or a carved-out entry like most other bathtub forms, a freestanding tub is self-sufficient in this situation.
Even while they may be simple to set up any place, these bathtubs often have the largest sizes and, depending on the material used, the heaviest total weights. Because of their shape, they may store a lot of water weight, so make sure your floor can support the extra weight.  
Drop-in Installation
When compared to other bathtubs available on the market, drop-in bathtubs may be the simplest to install. They drop in, as their name implies. These bathtubs are typically installed in an entrance or specially created area; all that is needed to be done is to connect the necessary plumbing.  
Alcove Installation
An alcove bathtub is built against three walls and has one completed side, similar to drop-in bathtubs. The bathtub would simply be placed in the prepared entrance or alcove area, and then the necessary piping would be connected, and you would be finished. These tubs are also relatively feasible to install with just one or two individuals because to their size.  
Corner Installation
Corner bathtubs feature a few more moving components than other bathtubs on the market, making them possibly the most challenging to install by yourself. This sort of bathtub will require a greater installation space than any other bathtub and you might need more assistance putting it because of its broader form. If you are not familiar with plumbing, you might need to contact a professional to handle the additional water settings on corner bathtubs.
Price
As was previously said, the cost of a bathtub is influenced by the material's quality and your aesthetic preference. Smaller bathtubs will almost always be less expensive than bigger ones, but it does not imply that a larger or smaller bathtub is of higher quality. Here, the substance is what really matters.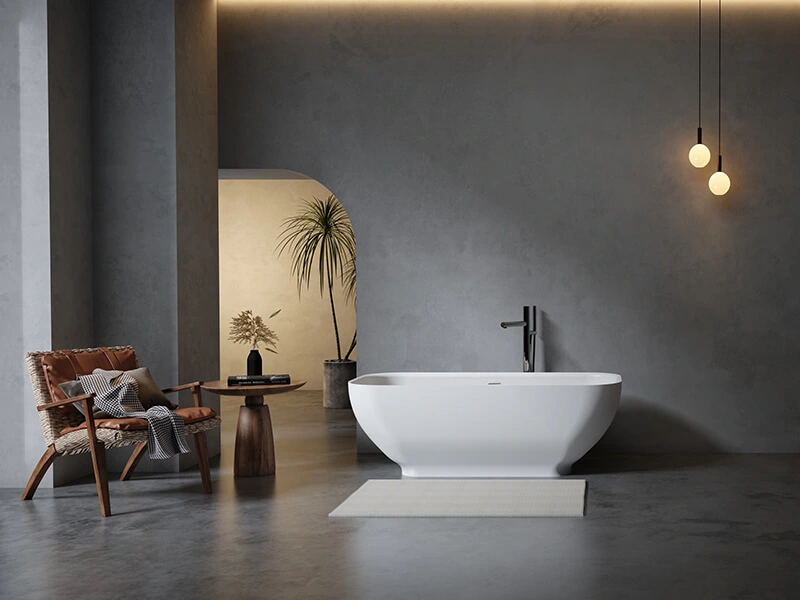 Price per Material
A typical freestanding bathtub costs, on average, between $500 and $2,000, depending on the price of the material. Since fiberglass is the least expensive material, the price range falls in the $200–500 range on average. The pricing range for acrylic is more standardized and starts at roughly $500. Porcelain has a larger price range, with some bathtubs starting at approximately $300 and going up to $1500. With an average price range of $300–500, fiberglass, acrylic, and porcelain are typically considered to be more cheap materials on the market.
Materials like cast iron, steel, and copper are on the upper end. The initial cost of a cast iron tub is about $500, but it may easily rise to over $2,000 as it is a material that is far more durable than fiberglass, acrylic, or porcelain. Following cast iron comes steel, which starts at $300 and is significantly less expensive, but this is primarily due to the material's weight.
If your home can support it, the extra weight isn't much of a drawback, but keep in mind that you do get what you pay for. Usually, the more economical elements of it outweigh the added weight. Due to the fact that these bathtubs are always constructed to order, the cost of copper is last and starts at about $1500. Of course, there are less expensive options available, but they often lack the same level of quality as their more expensive counterparts.
Price per Style
Because each type is priced differently depending mostly on size, style affects pricing as well. Without counting installation, the typical price range for freestanding bathtubs is between $600 and $3000. Alcove bathtubs typically cost between $400 and $800. This does not include installation, which is an additional $300 to $400 if you don't do it yourself because the 'alcove' space needs to be measured and prepared.
Drop-ins are less complicated and cost between $300 and 900; there is also much less preparation required because you can usually install them yourself. The corner bathtub is the last option and is a little more expensive because it often has extra features akin to a hot tub. The initial price for them will normally be about $700.  
Lifestyle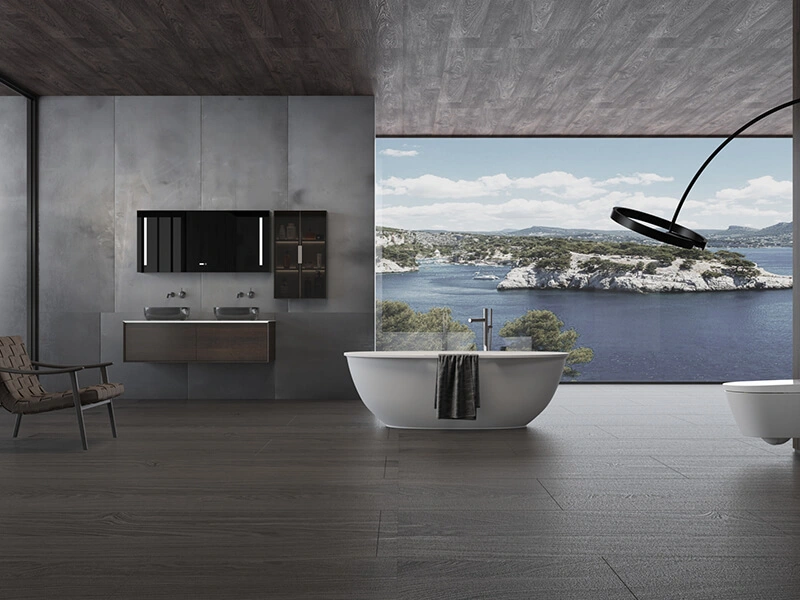 The persons who will be utilizing the bathtub are a crucial factor to take into account while purchasing one. A weird phrase, yet you should take into account all of the bathers' requirements. If you pick a higher bathtub, for instance, that allows for longer soak times, it could be difficult for smaller kids to enter and depart without help. The elderly are likewise subject to this restriction.
If you want to spend a little extra money, many bathtubs may be constructed with a walk-in door, allowing the person to sit comfortably while they wash and also incorporating grips to avoid slipping. The Japanese design or circular bathtubs are especially popular for the elderly. There are several bathtub alternatives available for disabled or handicapped people, therefore keep in consideration the user's height and physical limitations while selecting one.
The best course of action is to conduct research before making a purchase because there are several elements to take into account when selecting the ideal bathtub for you, including size, cost, and comfort. You will without a doubt locate the ideal bathtub for your house if you measure your available space and take the demands of the people living there into account.  
Sum it Up
You can't determine whether a tub suits your budget just by looking at the price tag. You must be ready to pay more expenditures if you want a bathtub in your house. The cost of a tub can vary from $900 to $14,000; the more intricate the tub, the more costly. It's a good thing that some tub materials are designed to hold heat, which saves water and power. Some bathtubs also have cost-effective technology, allowing you to make long-term financial savings.
Review the tub's specs in detail to see how much electricity it consumes, how much water it needs to be filled, and any other costs you need to be aware of. Some installations can also need extra money spent on installing the tub's deck or altering plumbing lines.
More bathroom articles:
Minimalist Gray And White Bathroom Design
White Grid Tiles Bathroom Design Idea
Modern Gray and Pink Bathroom Design Idea