Looking for small bathroom ideas that will make the whole space seem larger? The lack of square footage, restricted natural light, and plenty of fixtures to squeeze in make a small bathroom one of the more challenging spaces to decorate. But done right, the whole room can look brighter and more spacious. And no, you won't need to spend a billion dollars to carve a window into the wall.
Today we have a small bathroom idea that goes beyond making the most of the available space and proves that bold design elements can be right at home in even the tiniest rooms. Your small bath may just be your next favorite room.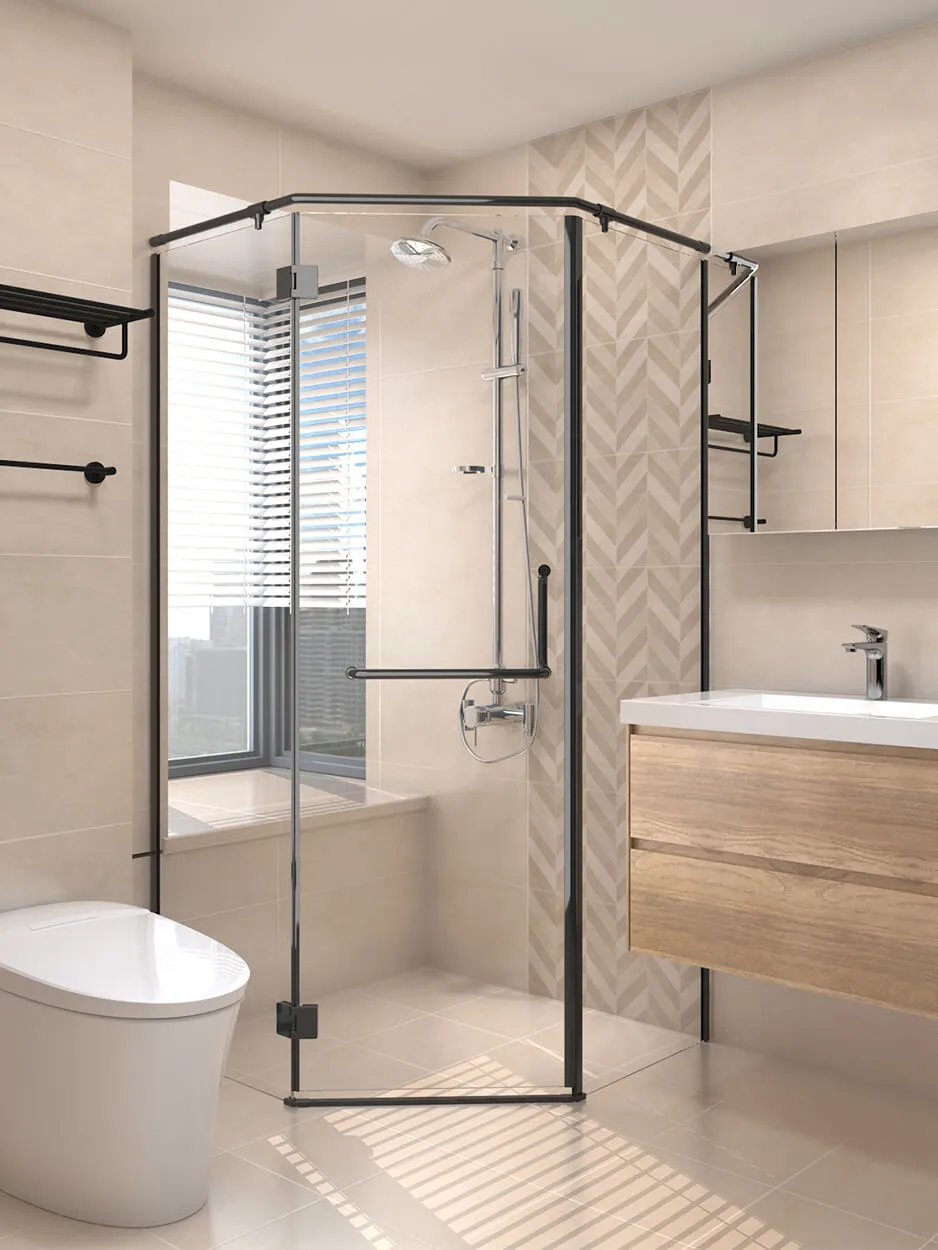 Keep Colors Light and Warm

The beige floor and a wood vanity give this city bathroom a warm and serene feeling. The natural light shoots through the neo-angle shower enclosure effortlessly, making the room feel more open, so does the bay window with white blinds, which allows maximum light to enter.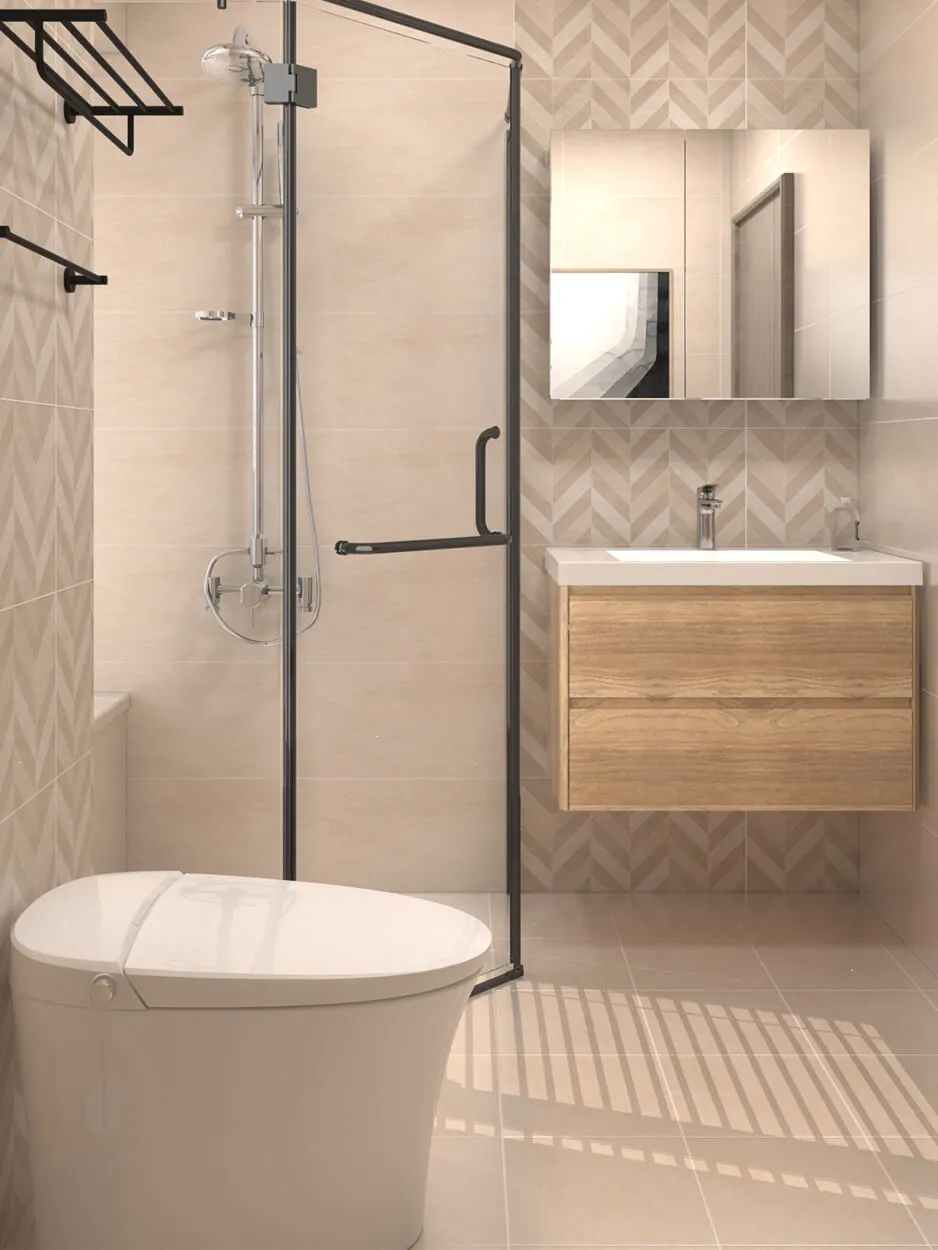 Hang a Mirrored Cabinet

A mirrored medicine cabinet reflects and amplifies light from the interior fixtures, brightening up the space, with extra storage space.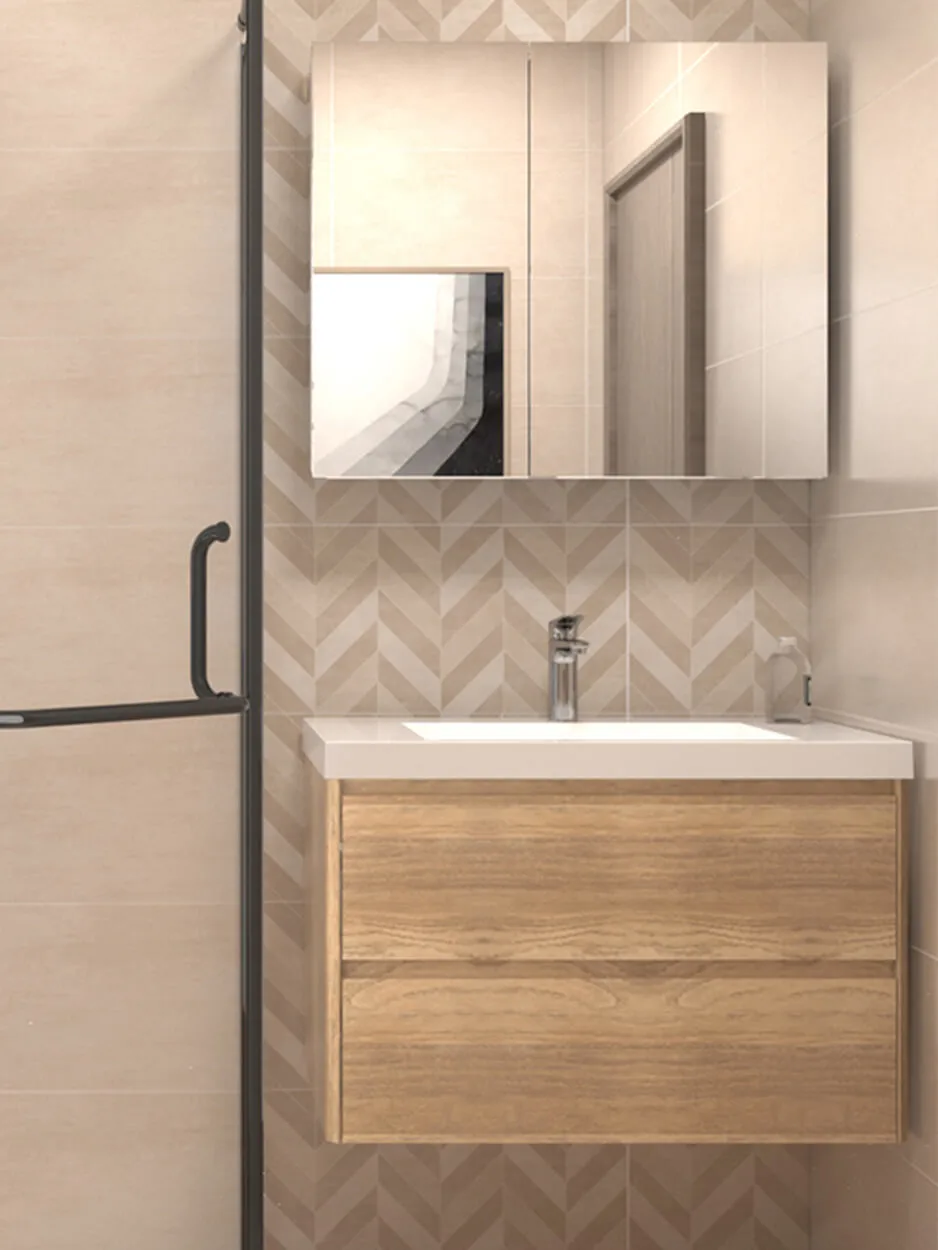 Choose a Glass Shower Door

If you're starting your small bathroom design from scratch, consider scrapping the curtain entirely. Glass shower doors in a small bath are recommended, as it will help to open up the space.
Take on Tile

Tile is a durable way to add impact and can be used from floor to ceiling.
In this case, the herringbone wall tiles gives the illusion of a larger and warmer bath, making the room interesting without feeling dull. For smaller bathroom walls, ceramic tile is a good choice for its less expensive price and great performance.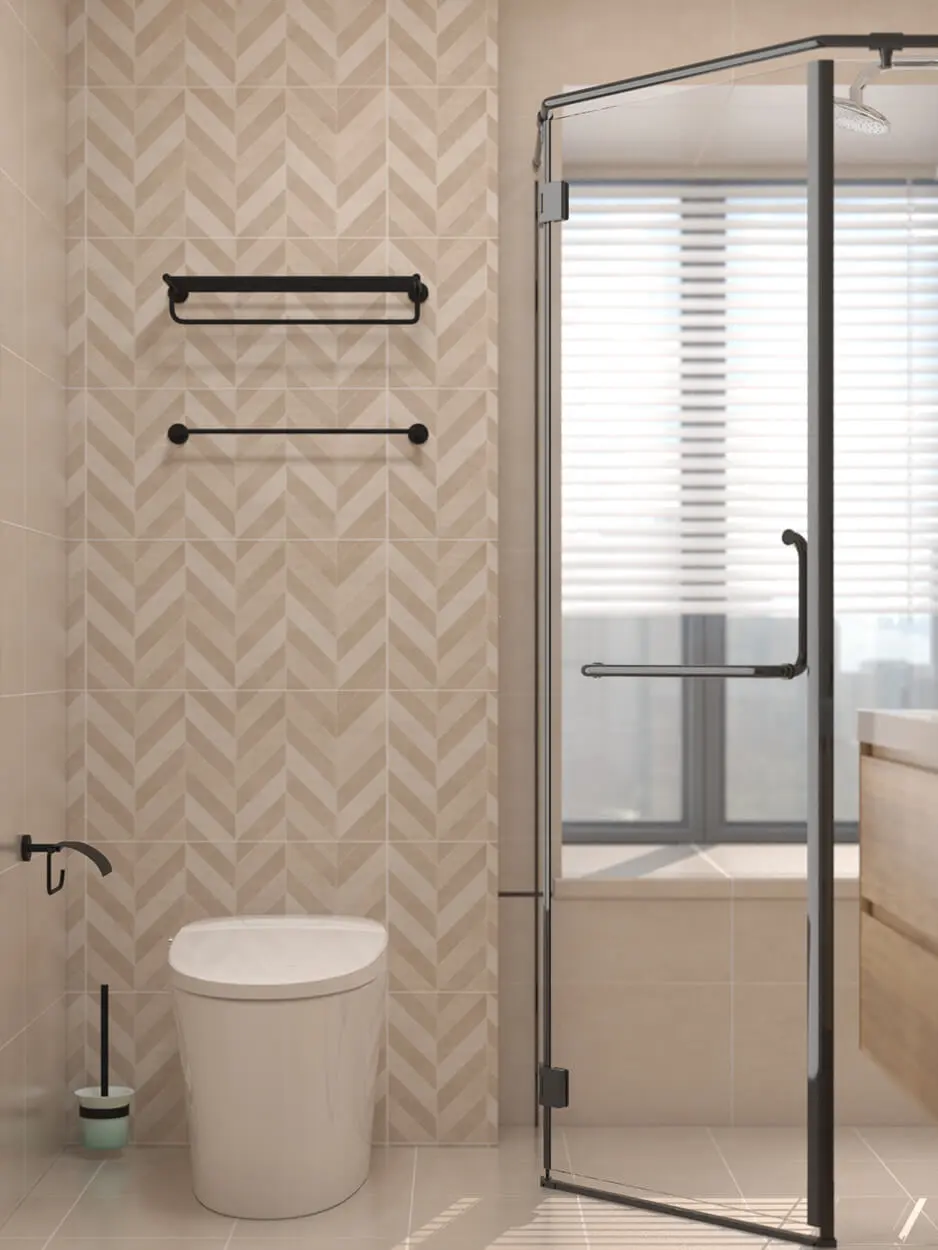 Move Your Towel Bar

Two towel bars are mounted above the tankless smart toilet to utilize the wall space cleverly.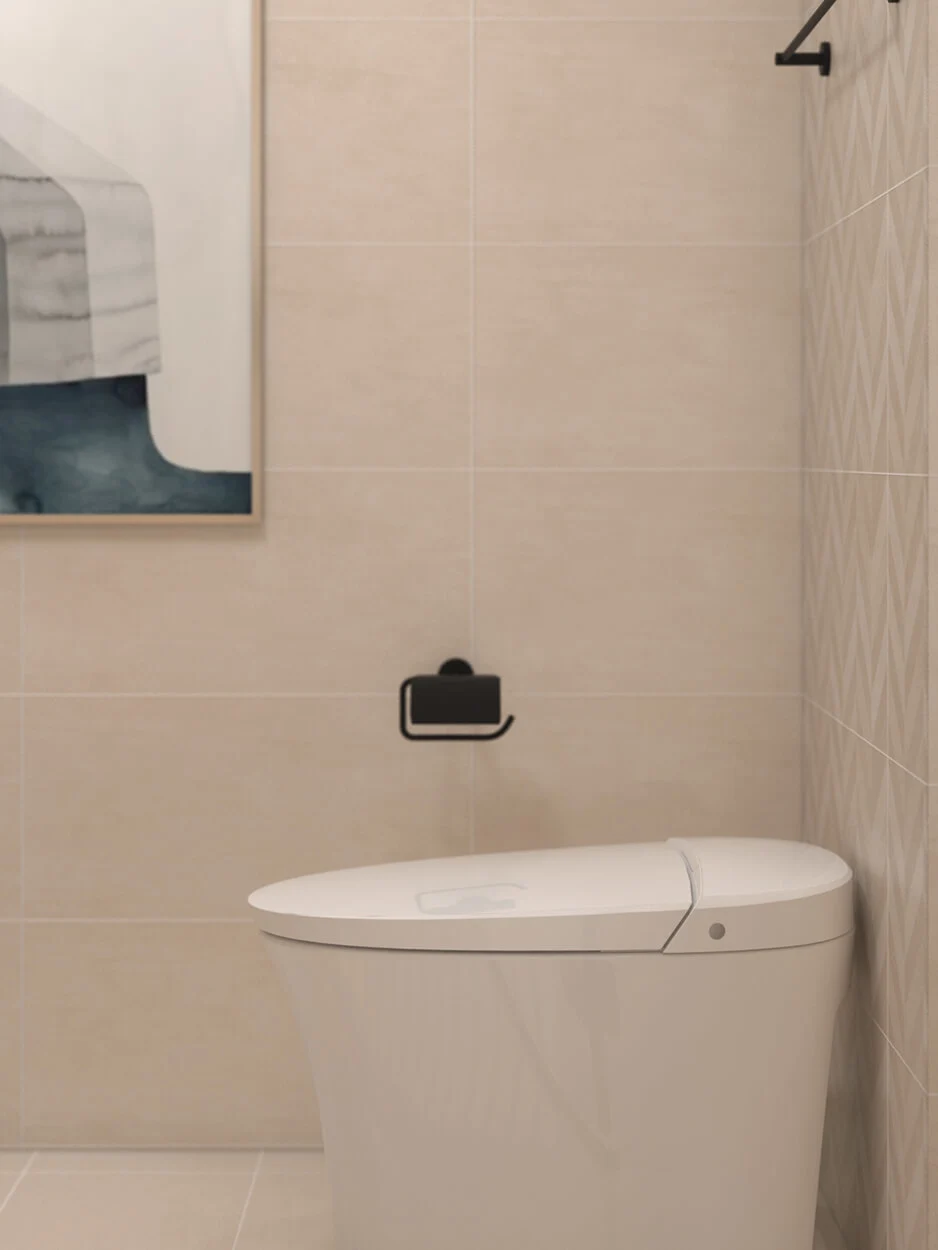 For bathrooms of other styles, read below:
The Bathroom That Proves All White is Still Totally In
Minimalist Modern Bathroom Decor Idea | Bath Inspiration
Bold Red Bathroom Design Idea | Bath Inspiration