Navy blue as a color does not really need any special 'lift' and homeowners are inherently happy to use it in various rooms and across styles all year long. It is a color that is 'perennially in trend', it is only natural that we share more inspirations that include blue to help out our fans. Today, we delve into the fabulous world of navy blue bathroom vanities; dashing additions that add color and charisma to the bathroom without going over the top. From the understated to the extravagant, the stylish bathroom vanity in navy blue comes in all forms and finishes.
 
1. Navy Blue Floating Double Bathroom Vanity
When it comes to bold bathroom paint colors, navy blue is clean, classic, and noteworthy. When paired with white, it creates stylish contrast. Navy blue can inspire all kinds of bathroom styles including nautical, traditional, and preppy.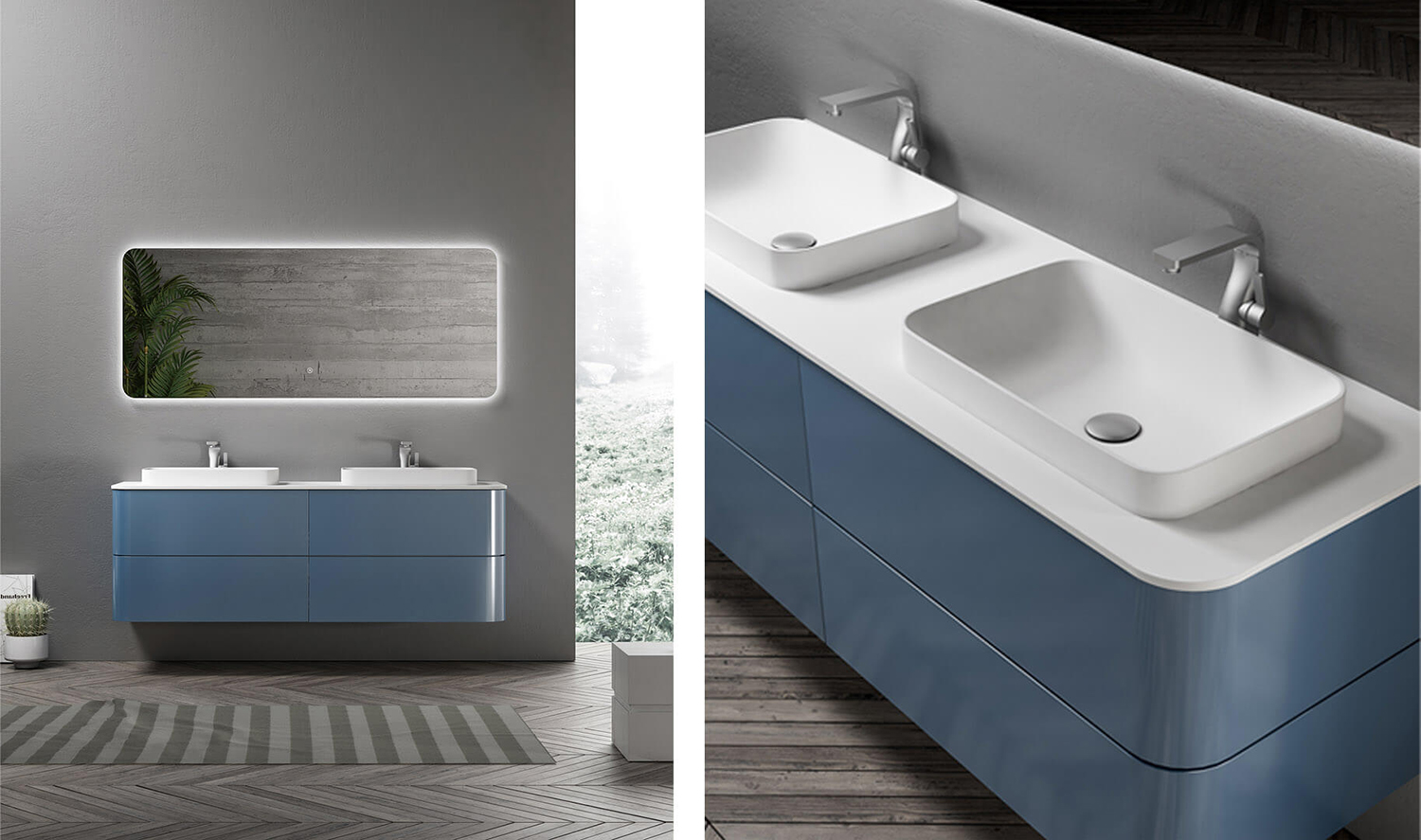 (Capparo)
 
2. Navy Blue Single Freestanding Bathroom Vanity
Featuring an elegant and simple bathroom sink vanity. This bathroom vanity is focused on design and functionality. It's a perfect piece to enhance modern or contemporary bathroom settings. This vanity is made of the finest select birch solids, high-end furniture-grade construction, made with 100% solid wood and plywood only.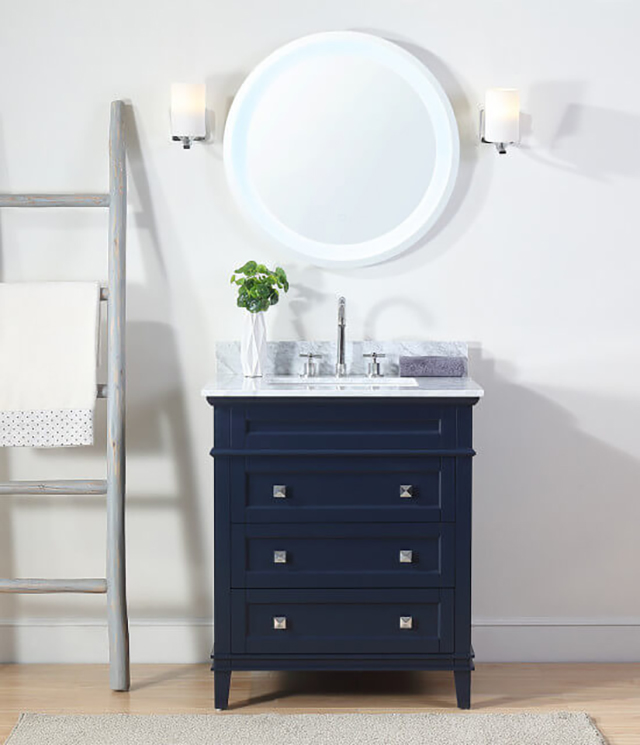 3. Navy Blue Freestanding Bathroom Vanity (with Open Space)
The Santa Fe series is designed with a bold clean style and built with strong, top-notch materials including designer handles. It offers an abundance of storage space and state of the art technology with its soft closing drawers. Featuring a high-quality solid wood with a zero-emissions, finish that will last for years to come.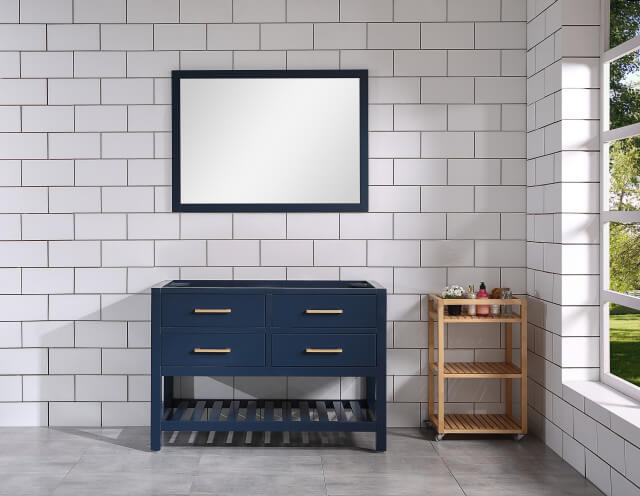 4. Navy Blue Single Bathroom Vanity (with Vessel Sink)
The 36" Newport vanity in navy is the perfect find for the minimalistic bathroom. Topped with luxurious white marble top and white marble basin creates a refreshing look in any bathroom. Stylish for any guestrooms or half bath for its modern and sleek design.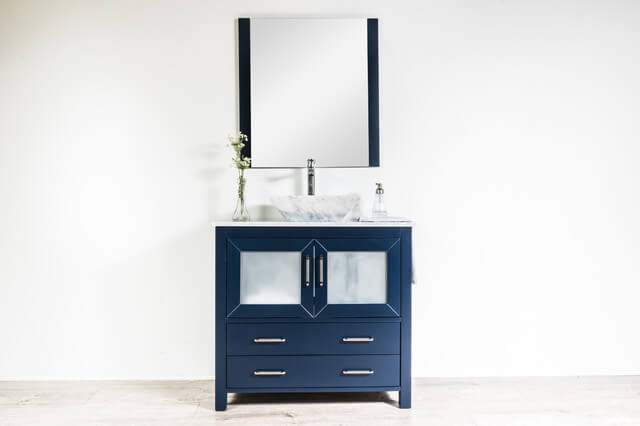 5. Navy Blue Single Wall-Hung Bathroom Vanity
The wall-mounted Geneva vanity in navy blue from Lexora is a beautiful blending of postmodern style and sensible functionality. Its simple, box-like design is complemented by a countertop that lends hints of classical style. When mounted on the wall, the Geneva vanity leaves ample space beneath for additional storage—ideal for bathrooms with limited space.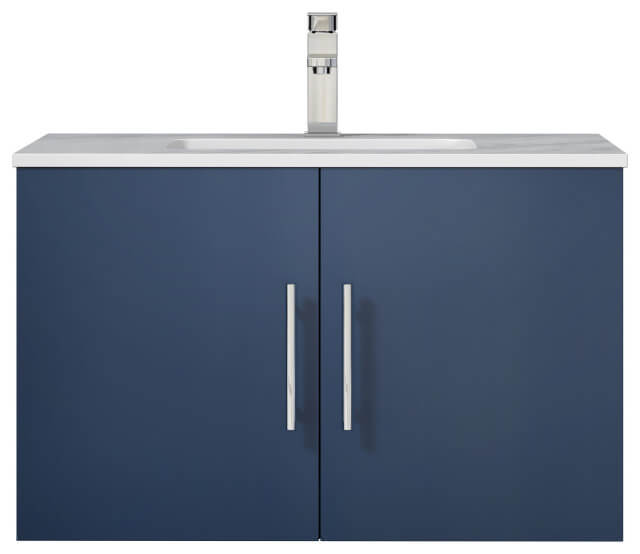 6. Navy Blue Double Bathroom Vanity
Modern angled characterize the 72-inch wide Manarola bathroom vanity. Featuring a matte navy blue finishing, this wall-mounted piece boasts two ample handleless drawers to store your essentials in style. A white countertop with beautiful pattern and two undermount sinks creates a sense of contrast and brings simple elegance to your bathroom space. Karton Republic transforms contemporary trends by blending simplicity, comfort, and luxury with the use of smooth profiles and surfaces in good texture.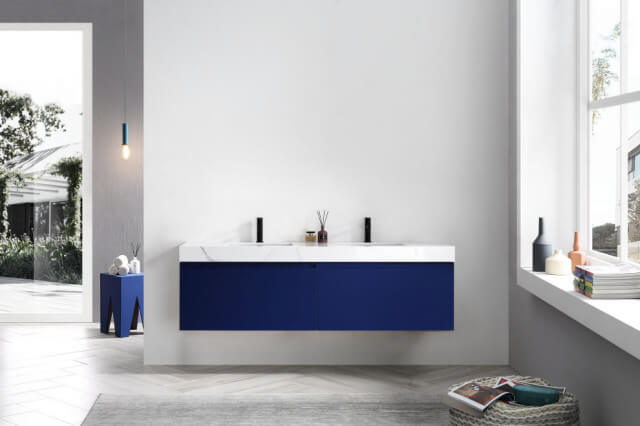 7. Navy Blue Double Freestanding Bathroom Vanity (with Backsplash)
This bathroom vanity set embraces luxury, decked with the latest trend. Featuring a fully integrated power outlet and a removable drawer organizer, the entire cabinetry is made from solid wood. The artistic style offers you an opportunity to individually enhance your bathroom to captivate an extraordinary elegance to perfectly fit for your modern home.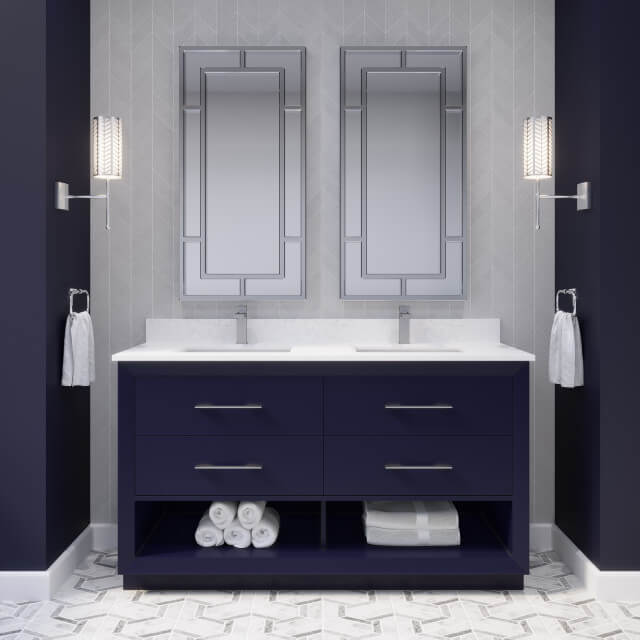 Common Q & As:
*
Q
: Will blue bathroom vanities go out of style?
A
: Blue is a pretty safe choice for your bathroom for the same reason it was a safe choice for Pantone. ... Even if you don't want to go all nautical with your decor, shades of blue are always a simple, easy option for lending a calming air to your space.
*
Q
: Is navy too dark for bathroom?
A
: Dark blue is a good color for the bathroom in the right setting. Depending on their surroundings, colors such as navy and royal blue can resemble an evening sky or rolling sea -- both fitting settings for a relaxing atmosphere. The bathroom's size and supporting colors make or break the look.
*
Q
: Are blue bathroom cabinets too trendy?
A
: Pantone's color of the year for 2020 is Classic Blue, and if that comes as a surprise, you probably haven't been paying attention! This bold, not-quite-primary blue has been skyrocketing in popularity in the last year, especially for use on cabinets in the kitchen and bathroom.
More articles:
Trendy & Chic Modern Bathroom Ideas | Bathroom Inspiration
Modern Beige Bathroom Idea 2021
Discover Your Treasure