LED bathroom mirrors are a popular choice for modern bathrooms due to their sleek design, energy efficiency, and functionality. Compared with regular mirror the LED mirror can be used with so many advantages. LED mirrors are highly energy-efficient compared to conventional mirror lighting options. LED bulbs consume less electricity, resulting in lower energy bills and reduced environmental impact. Which is also provide bright and even illumination, allowing for better visibility and eliminating shadows or dark spots on your face. This is particularly beneficial for tasks such as applying makeup, shaving, or performing intricate grooming routines. 
LED bulbs have a significantly longer lifespan compared to traditional incandescent or fluorescent bulbs. They can last for tens of thousands of hours, which means you won't have to worry about frequent bulb replacements. LED lights produce minimal heat, making them safe to use in the bathroom. This is especially important when applying makeup or styling your hair, as excessive heat can affect the durability and performance of cosmetics and hair products. Many LED bathroom mirrors come with adjustable lighting settings, allowing you to control the brightness and color temperature of the lights. You can choose between warm and cool lighting options to suit your preferences and create the desired ambiance in your bathroom. They can be wall-mounted or recessed, saving valuable counter space and giving your bathroom a sleek and modern look.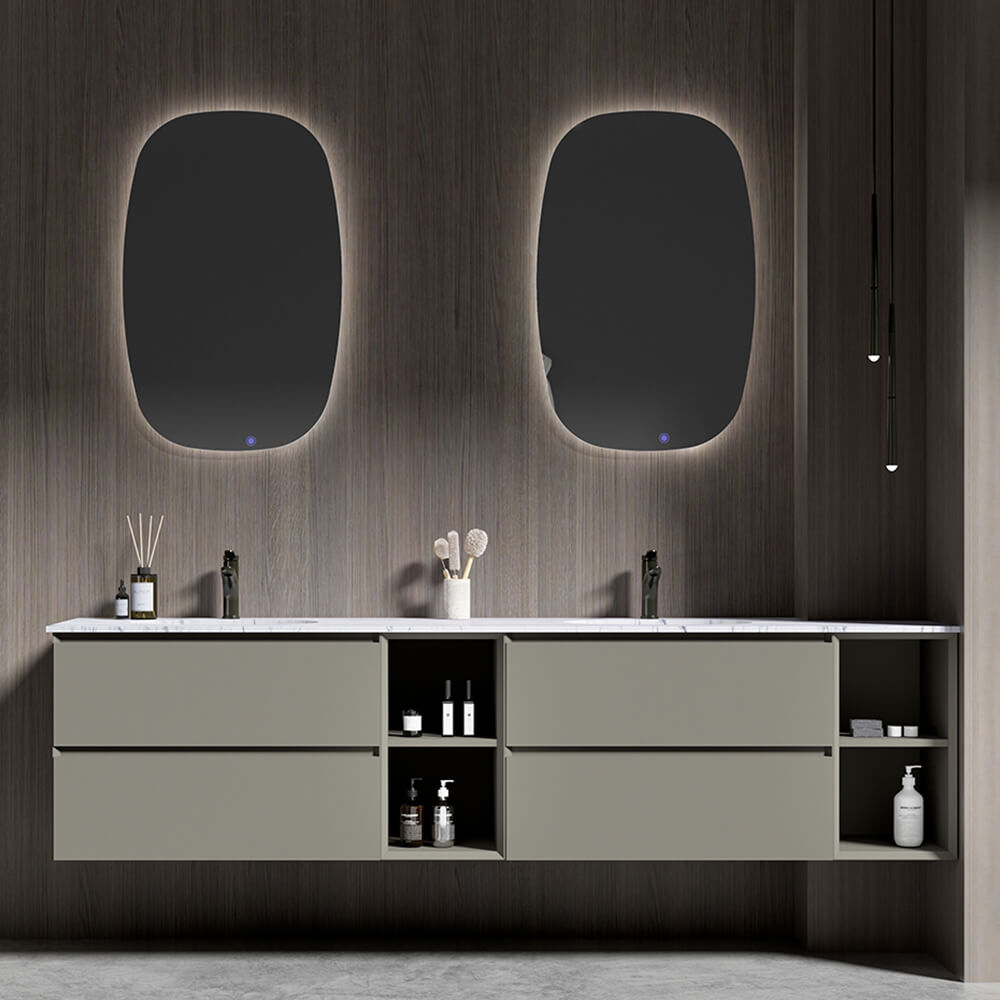 Some LED mirrors come with built-in features such as demisters, Bluetooth speakers, digital clocks, and touch controls. These additional functionalities enhance your bathroom experience and add convenience to your daily routine. LED mirrors can be visually appealing and serve as a stylish focal point in your bathroom. They are available in various shapes, sizes, and designs, allowing you to choose one that complements your bathroom decor and reflects your personal style. Here is a detailed description of various LED bathroom mirror designs, highlighting their features and benefits:
1. Frameless LED Mirrors: Frameless mirrors offer a minimalist and contemporary look, perfect for creating a clean and streamlined aesthetic in the bathroom. The LED lighting is integrated into the mirror's edges, providing an even and diffused illumination. These mirrors often have touch-sensitive controls for adjusting the brightness and color temperature of the lights, allowing you to create the desired ambiance. To adjust different environment in the bathroom.
2. Backlit LED Mirrors: Backlit mirrors feature LED lights positioned behind the mirror surface, creating a soft and gentle glow. This design creates an elegant and luxurious atmosphere in the bathroom. The backlit feature also provides indirect lighting, reducing shadows and glare, which is ideal for tasks like applying makeup or shaving. Some models offer adjustable lighting options, including color-changing features for added versatility. Multi purpose can be combinated with different types Backlit LED mirrors.
3. Illuminated LED Mirrors: Illuminated mirrors combine the functionality of a mirror with the practicality of integrated lighting. These mirrors feature a band or strip of LED lights embedded into the mirror frame or sides. The lighting evenly illuminates the mirror surface, ensuring excellent visibility for grooming activities. Many illuminated mirrors come with additional features such as built-in demister pads that prevent fogging, Bluetooth connectivity for playing music, and even built-in clocks or digital displays. Which is very intelligent bathroom accessory can be selected.
4. Infinity LED Mirrors: Infinity mirrors create a mesmerizing optical illusion with a seemingly endless tunnel of light. They consist of multiple layers, including a regular mirror, a partially reflective mirror, and LED lights positioned between the layers. When the lights are turned on, they reflect back and forth, creating the illusion of infinite depth. These mirrors serve as a focal point and conversation piece in the bathroom, adding a unique and captivating element to the space.
5. Smart LED Mirrors: Smart mirrors integrate advanced technology features for added convenience and functionality. These mirrors are equipped with Wi-Fi connectivity and touch-screen displays that provide access to various apps and features. They can display weather updates, news headlines, or even allow you to connect to your smart home devices for voice control. Smart mirrors often include built-in speakers for playing music and can be synced with your smartphone or other devices for a personalized experience. Which is a good mirror choice for your personalized and modern bathroom combination.
6. Magnifying LED Mirrors: Magnifying mirrors are ideal for close-up tasks like applying makeup, shaving, or intricate grooming. These mirrors have a regular mirror on one side and a magnifying mirror on the other. The LED lighting provides focused illumination, ensuring clear visibility and preventing shadows. The magnifying side can have different levels of magnification, allowing you to choose the most suitable option for your needs. Which is very suit for people who can not see very cleary for distance from the mirror. Or help them to focus on the details when makeup or shave or even about the uesers' body, face part, etc. 
7. Customizable LED Mirrors: As a professional all kinds of bathroom accessories manufacturer we can offer customizable LED mirrors, allowing you to select the shape, size, lighting features and additional functionalities that suit your bathroom at the best. These mirrors can be tailored to fit your specific design preferences and requirements, ensuring a unique and personalized addition to your space. We also provide OEM and OEM service for the products from our effcient factory. Just email us your ideal design and other details we can realize for that.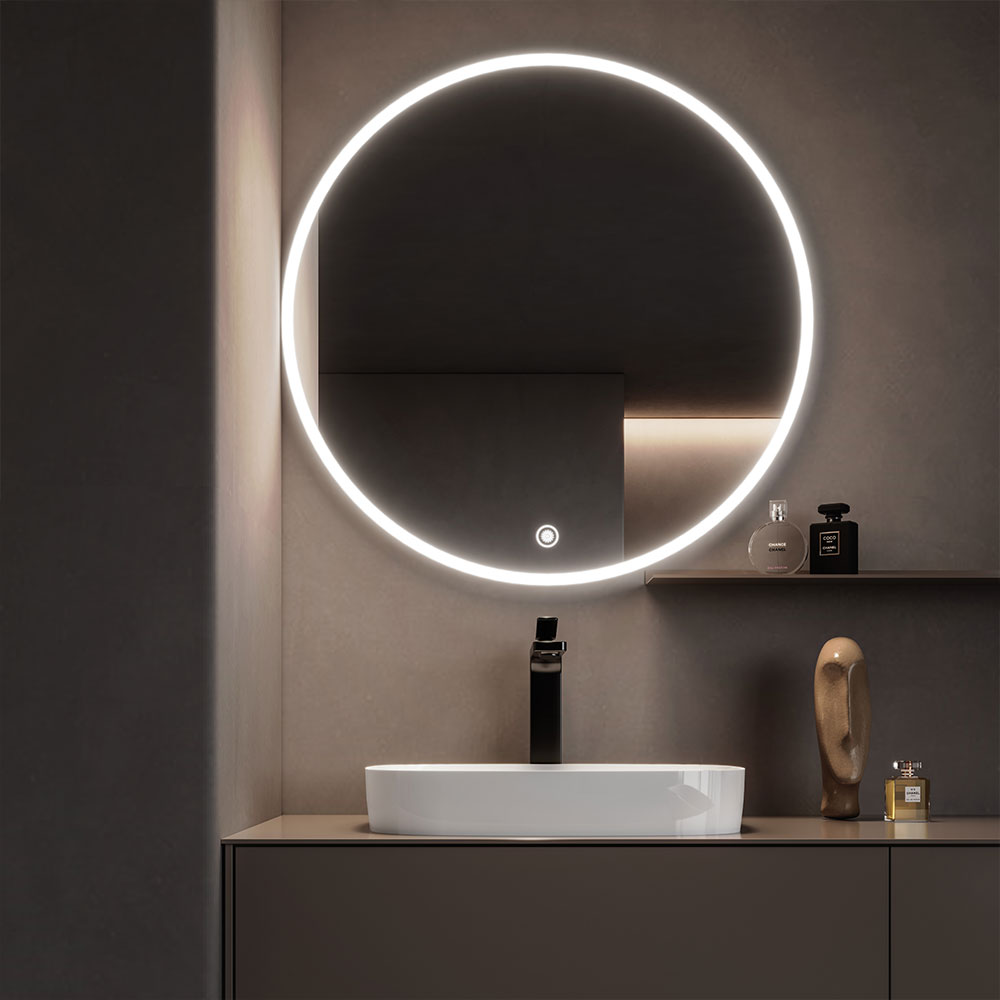 Tona LED bathroom mirrors

are be manufactured in various designs and types, which could be catering to different styles and preferences. Whether you prefer a sleek and frameless look, a backlit design for added ambiance, or advanced features in a smart mirror, there is a wide range of options available to enhance the functionality and aesthetics of your bathroom. Offer you the high quality and customized LED mirrors in competitive price. Professional sales team and sales service. Welcome to browse our website and get more details about our products.