The Bathroom mirror has been one of the hallmarks of elegance and beauty in bathroom since the 19th century. Homeowners and designers of various fashions and backgrounds assume the bathroom vanity mirror to be one of the most important design elements for a bathroom of any size.
Despite that, bathroom mirrors are still often overlooked. People who use the bathroom will notice their own reflection before giving a thought to the mirror, as far as its design and style are concerned. But once the idea of ​​choosing the perfect bathroom mirror gets in one's head, it can bring many questions and concerns on making the right decision.
Getting the right fit to suit our needs is an art. Here's a quick guide to help you choose the right mirror for your bathroom.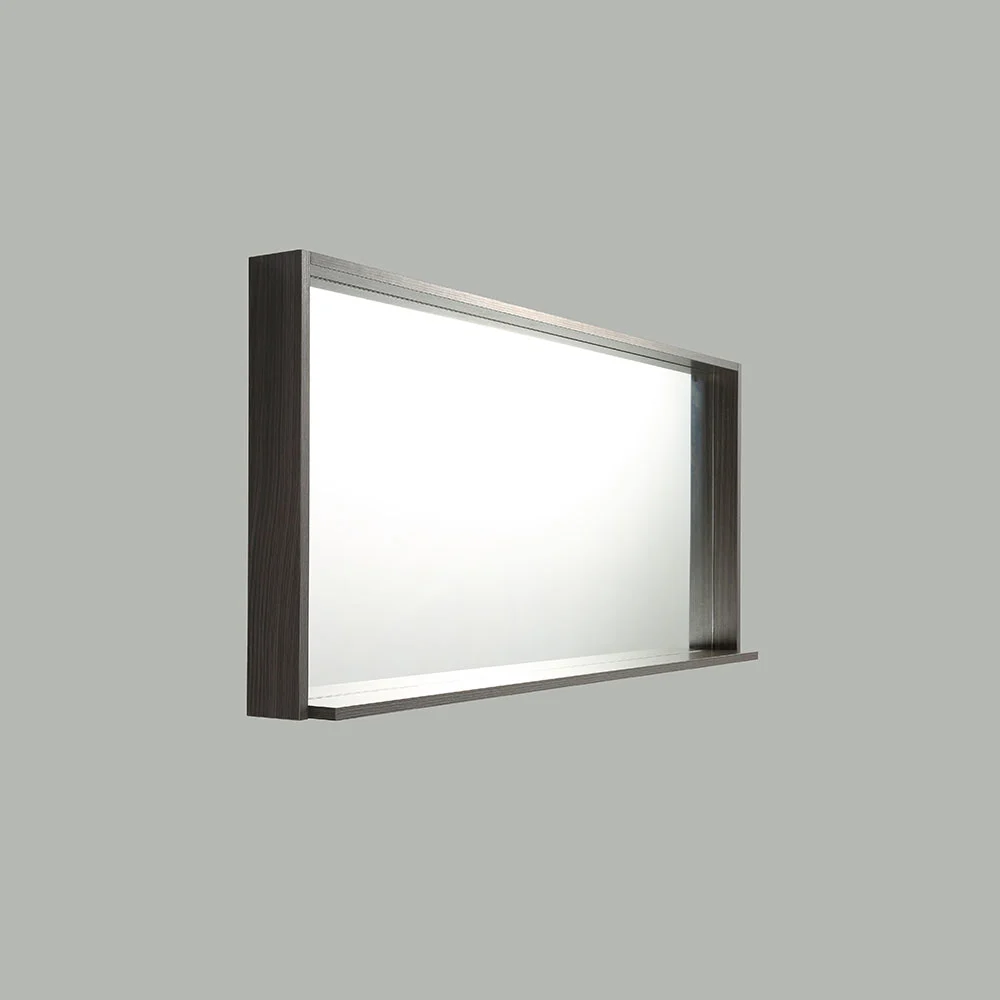 Location and Mounting

The first thing you need to decide is where you will mount your mirror. There is no point in choosing a mirror to find out that it will not work in your space or that it will be a pain to use (for example, only able to look at yourself standing in certain positions). Most mirrors in the bathroom will either be wall mounted or placed on a countertop. Countertop mirrors would be easier to choose because they can rotate to match different positions.
If you opt for the more common wall-mounted type, you should choose a mirror that is not larger than your vanity area because this will create an unbalanced look. Never play a guessing game when you don't have to, measure the sizes and decide how the mirror will be placed. How far is it from the wall to the edge of the counter? Do you stand or sit while using the mirror? Will the mirror be in a position that is protected from other fixtures? While this may seem boring, it is better than re-installation and a wall full of drilled holes!
Sizing the Mirror

The size of the mirror usually depends on the length of the countertop of your vanity. Designers usually choose a mirror that is 2 to 4 inches shorter than the vanity (which has a sink, a countertop and the storage around it).
Sure, the size of the vanity is determined by the size of the bathroom. Large master bathrooms will often use a his and her vanity, while in a smaller powder room, a single vanity is more appropriate. Narrow vanities are best suited for small bathrooms and usually only include a sink. A spacious bathroom space can have a single or double vanity that can occupy the entire length of the wall. The double vanity comes with two sinks, a countertop and the bottom storage space.
The mirror should be centered over the basin and measure a few inches smaller than the base cabinet or sink area.
*Tip: Buy your vanity set first. It's much easier to get a mirror to match a vanity than the other way around.
Single or Double?

This is a frequently asked question:
Is it better to have just one or two bathroom mirrors?
In fact, it depends on the size of your bathroom. Different bathroom vanity sizes can give different answers to the same question.
If your vanity is wide enough, you have the option of including two bathroom mirrors, or a single mirror that is wide enough to mount above both sinks. You can refer to the following guidelines:
If you want your bathroom to have a vertical design, you could invest in two vertical mirrors instead of one large one. This is a great option for a high-ceilinged bathroom.
If you want to emphasize the spaciousness of your bathroom, it is better to have a single wide-reaching mirror. This way, you and your guests will be able to see how spacious your bathroom is.
In some cases, you can use several mirrors in the bathroom even when there is only one vanity or sink. You can offer a balance of symmetrical and functional spatial design with the addition of a second mirror as long as it is parallel to the first. Adding a decorative touch, such as a light fixture between two mirrors, will also add another layer of depth and variety. You can create an artistic and elegant creation with the addition of decoration under the second mirror so that vanity looks nice and complete.
Lighting

When you decide where to place your mirror, think about the light. If your bathroom has a window, try hanging or placing a mirror next to it. Although natural daylight is the most convenient source of light, many bathrooms do not have one. This can wreak havoc on your shaving or make-up routine. Nonetheless, there are mirrors equipped with lights that solve this problem. LED lights are white and fluorescent, and provide the most authentic looking light than other bulbs.
Framed or Frameless

Frameless mirrors are a popular choice in the bathroom for a few possible reasons. One is that they are less expensive while often still pretty stylish. The second is that they offer a modern appeal, and the bathroom runs a bit more modern to achieve a always clean, airy, "spa-like" look, even in somewhat traditional homes.
Frameless mirrors work very easily in contemporary or modern and minimalist spaces without fancy decors. Mirrors with extended frames correspond to traditional spaces where other elements are also very exquisite and decorative.
For a nice balance that can suit almost any space, try a simple framed mirror that is a few inches wide and in a textural material, which is not too busy.

 

Shape

Common shapes are round and rectangle. 
Round mirrors can be a great way to bring a little softness and relaxed appeal to a bathroom, which often has hard surfaces and crisp lines.
Round mirrors are a great companion for pedestal sinks, as they often have curved lines themselves.
Round mirrors usually leave more negative space than a rectangular mirror at the "corner", which makes sense because the pedestal sink leaves some negative space around the pedestal base.
If you have an interesting wall finish to display like these beautiful, exotic wallpaper prints, the round mirror is also a great choice. It gives you enough mirror to see your face, but it exposes the wall a little more, and the curved lines will take on organic shapes in leafy or floral prints.
Magnification

Magnification is not always necessary but for some it can be very convenient. For those who wear glasses, you will understand the hassle of using the bathroom and steaming your glasses. Then you have to take off your glasses and try to pass your morning and evening regularity as best as possible. Magnification lets you look in the mirror more clearly. This can also be useful for people with full vision. Allows more precise application of make-up, specific shaving etc.
Mirrors with Shaving Sockets

As you can possibly figure, modern mirrors can be equipped with a lot of features. Not only are mirrors illuminated, flow free and plentiful, shaver sockets can also be attached to them. Now, this doesn't seem like a big deal compared to the issues mentioned earlier but listen to us. In the past, if you wanted space to use an electric shaver in your bathroom, you would have had to call your electrician. The electrician will install a socket on your wall for the shaver. However, this interferes with the decor you hope to achieve. This makes the idea of ​​plugging in a mirror more attractive.
Bluetooth Mirrors

Ready to completely modernize your bathroom? If so, Bluetooth Mirror is the way to go. Bluetooth mirrors will also appeal to music lovers to make an attractive gift choice. With Bluetooth Mirror, all you have to do is connect your phone to the mirror and your chosen music will be played with integrated speakers. Not only is music played, you can get news, podcasts, audio dio books, and more. And, since your phone could be in another room, you don't have to worry about splashing water or drop your phone accidentally.
Medicine Cabinet

Medicine cabinet is perfect for those who values functionality.
The mirrors of the medicine cabinet are best in recessed style - that way it won't stick out too much. A professional can guide you during a site visit as there may be some inset or partially inset cabinets in your wall cavity.
Otherwise, try using a few techniquess to let the cabinet visually shrink the room.
Cabinets with little or no frames will avoid the feeling of extruding too much, while adding under-lighting to the cabinets (as you would in a kitchen) will bring a glow that eliminates any dark shadows and makes the whole sink area feel more open.

Related bathroom articles:
What is the difference between MFC and MDF?
What is the Standard Bathroom Vanity Size?
Can Bathroom Vanities be Painted? How?