For common floating vanities (Length: 600 to 1500 mm ( 24 to 59 inches); Width or Depth: 480 to 520 mm ( 18 to 21 inches)), made of medium density fiberboard (MDF) or melamine faced chipboard (MFC) or plywood, the weight limit is 100 kgs (220 lbs). For solid wood cabinets, the load bearing capacity could go up to 150 kgs (330 lbs).
The prerequisite is that the installation of the wall hung vanity is done right. Many factors are at play here. Some factors increase the vanity load capacity, some reduce it.
Generally speaking, the wider or deeper the floating vanity is, the stronger the support brackets need to be. If possible, drill more holes and install more rods in the support bracket, because more rods usually mean more floating vanity weight capacity.
* Some people wonder,
Can a wallmount vanity hold the weight of child sitting on it?

Yes, for most normal weight (<100kgs) kids, who sit evenly and steadily on the countertop, not just a little on the edge.
Of course, it is better that children don't sit on the floating vanity at all. After all, that's what sofa and chair are for.
If you are still not very confident about the weight capacity, it is recommended to use a metal frame support. (see pictures below. The frame is custom made for our Edi.) Because it is only a frame, it does not cost an arm and a leg, but combines functionality with aesthetics.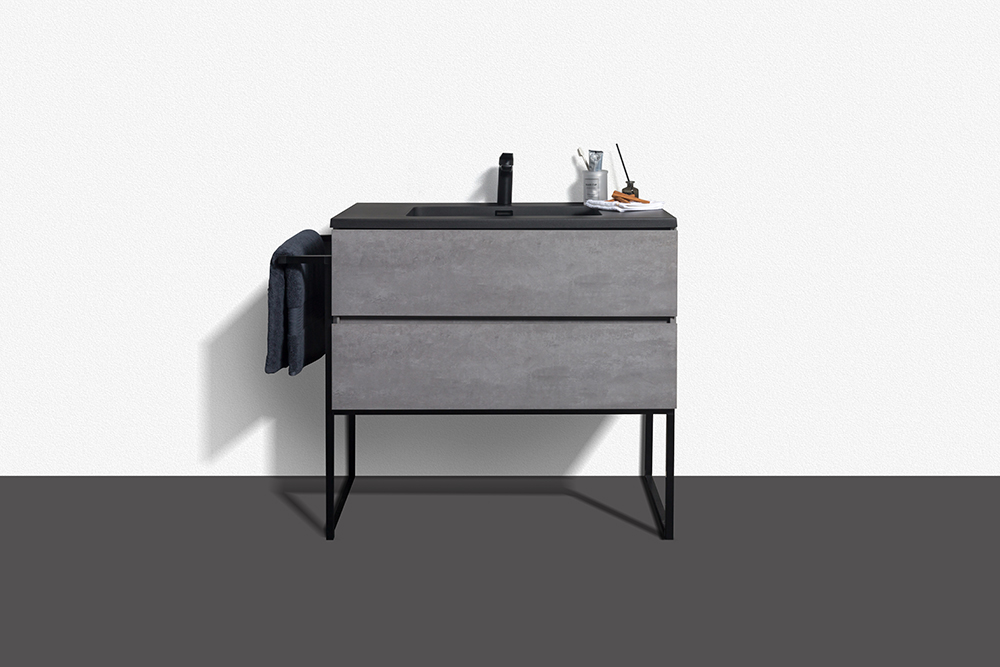 Bonus: How to Install a Wall-Mount Bathroom Vanity?

Here we have a simple generic installation instructions for wall-mounted bathroom vanity, if you haven't done the installation already.
Step 1. Drill holes (usally 4 to 6) on the wall.
Step 2. Put expansion bolts in the wall.
Step 3. Use screws to fix the bracket on the wall.
Step 4. Hang the base cabinet on the bracket. (Remove the countertop and drawers before you hang.)
Step 5. Install the countertop. (Use glue if you have to.)
Step 6. Install the drawers.
And we are done. Below is a short video for illustration.
 
We also have a more detailed PDF installation file. Please feel free to contact us here if are interested in the file. Or email us directly.