The Canton Fair is an internationally renowned event that has been held in Guangzhou, China since 1957. It is the largest trade fair in China and one of the largest in the world, covering over 1.2 million square meters of exhibition space. The fair is organized into three phases, with each phase covering different industries and products.
 - Phase 1: April 15 - 19, 2023
 - Phase 2: April 23 - 27, 2023
 - Phase 3: May 1 - 5, 2023
The first phase of the Canton Fair focuses on electronics, household appliances, and lighting products. The second phase covers consumer goods, gifts, and home decorations, while the third phase showcases textiles, garments, and footwear.
For TONA, the first phase of the fair are the perfect opportunity to showcase our latest collection of bathroom furniture. Our designs are renowned for their modern and minimalist style, and the upcoming collection promises to be our best yet. We are excited to connect with industry professionals and share our passion for quality craftsmanship and innovative design.
During the fair, visitors to our booth will be able to see our newest designs up close and personal. We will be displaying a wide range of bathroom furniture, including vanities, cabinets, and mirrors, all featuring our signature modern and minimalist style. Our representatives will be on hand to provide information about our products and answer any questions visitors may have.
We take pride in using only the finest materials in our products. Our bathroom furniture is built to last, and we believe that quality should always be a top priority. Our commitment to quality craftsmanship is reflected in every piece of furniture we produce.
We believe that the Canton Fair is an incredible opportunity for businesses to connect with buyers from all over the world and showcase their products. The fair is a platform for businesses to expand their markets and learn about the latest trends and innovations in their industry.
As we prepare for the Canton Fair 2023, we are excited to be a part of this dynamic event and share our passion for bathroom furniture design with the world. We believe that our latest collection will inspire and energize visitors, leaving them with new ideas and fresh perspectives.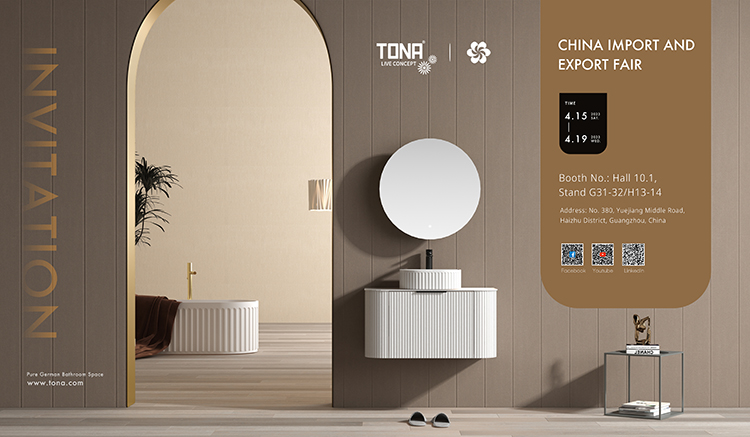 TONA Booth: Hall 10.1, Stand G31-32/H13-14
Date: April 15-19, 2023
Address: No.382, Yuejiang Zhong Road, Guangzhou, China
We invite you to join us at the Canton Fair 2023 to experience our latest collection of modern and minimalist bathroom furniture. We look forward to connecting with industry professionals, building new relationships, and sharing our passion for quality craftsmanship and innovative design.