Technically, YES, you can install a bathroom mirror wider (or bigger) than the vanity, with or without professional help. But as a general (but not strict) rule, the mirror should NOT be wider than the sink or vanity.
(The same answer applies to questions like, can a bathroom mirror be bigger than the sink? Can a bathroom mirror be too big?)
Generally speaking, the mirror is suggested to measure a few inches less than the vanity or basin area. For instance, if you have a 60" double vanity, you will want to choose a mirror that's width (if it has frame, frame included) doesn't exceed 60 inches. It is recommended to aim for 52-54 inches mirrors.
Why?
Mainly, it is for the sake of aesthetic. If the mirror is wider than the vanity, the mirror will overpower the room and make other things in the bath appear smaller. 
And in most cases, admit it, wider-than-vanity mirror makes the space unbalanced (even ugly). With only a few exceptions, say you have a tiny bathroom, and you just want the room to look bigger.
Example of Mirror Wider Than the Vanity: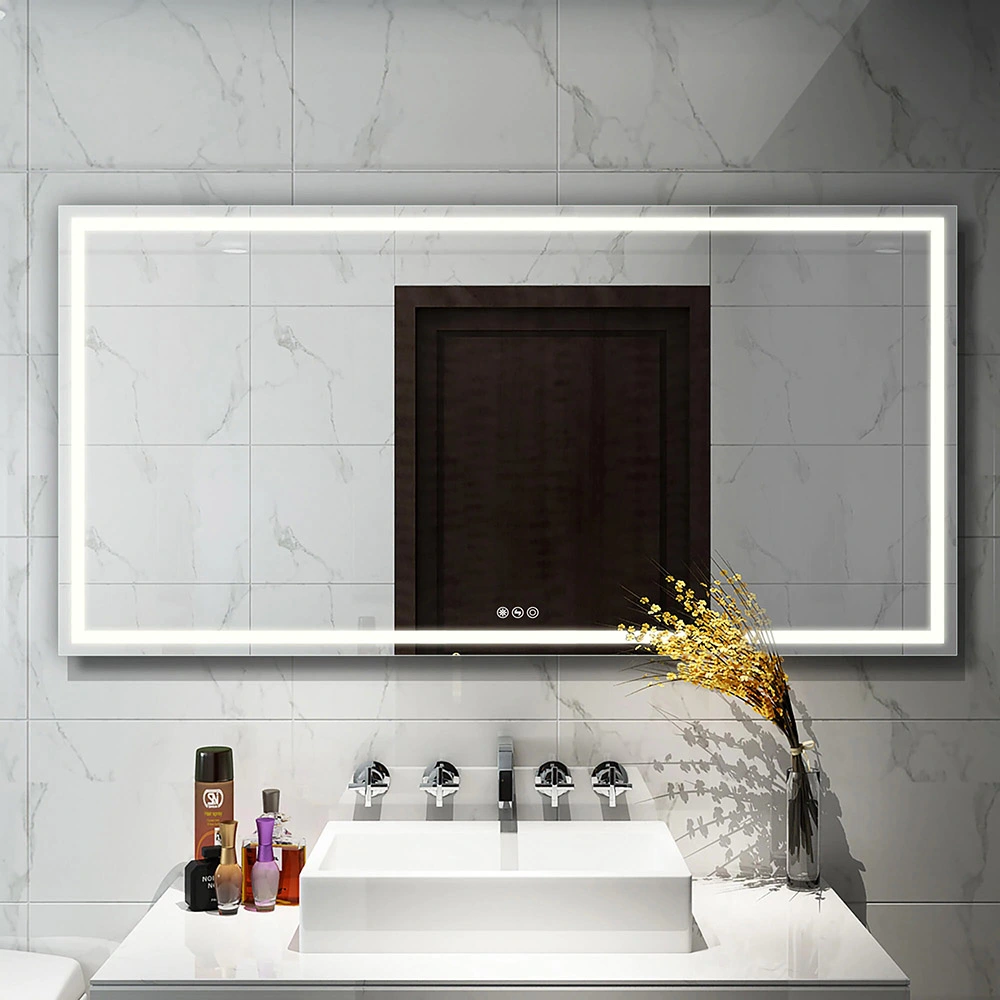 Source: https://thd.co/2PRn8VA
Example of Mirror NOT Wider Than the Vanity:


Bonus Tips
Tip 1: Match Small Vanity with Vertical Mirror

Vertical mirror is a perfect match for small vanities. Its width is less than the vanity's, and it fully uses the space on the wall. Not to mention it's beautiful.
 
Tip 2: To Make Mirror Look Larger, Use Frameless Mirrors

Frameless mirrors are trending in bathrooms. Because it has no frame, the mirror appears boundless and larger. They often tend to be less expensive while often still stylish. Frameless mirrors work most easily in contemporary or modern and minimalist spaces without a lot of busy decor.
We has just released our new 2021 bathroom mirror catalogue. Frame, no frame. With or without LED. You name it. We have got them all. We also provide custom service.
Contact us to get the catalogue or for inquiry.