1. Q: What's your material?
A: Lacquered finish or Thermo foil on MDF / MFC (melamine faced Chipboard)/Multi-layer solid wood.
2. Q: Do you have any certificate for cabinet?
A: Board is with E1 standard, quite low formaldehyde Emission, eco-friendly. FSC certified board is also available upon request
3. Q: Certificates?
A: ISO9001, ISO14001, BSCI, FSC, CE, CUPC.
4. Q: What's your MOQ?
A: 10pcs/item/colour/size, minimumone full container, and our price is based on a 40 HQ container, so if you choose 20 ft. we should charge 5% extra fee for the inland cost.
5. Q: What' your delivery time?
A: Normally 60days, melamine products take 45-50 days.
Capacity: About 180 containers loading / month.
6. Q: Leadtime is bit long, Could you make it shorter?
A: As color of bathroom furniture and componentsare various, it takes time to prepare all the raw material. Painting finish takes time as well. 50-60 days isnormal for furniture manufacturing.
7. Q: Payment term? And which port?
A: FOB Ningbo, 200 km from our factory to the port.
8. Q: How many layers of your lacquered products? And hardness?
A: Normally 3 layers for the base, and 2 layers for the surface.
We have Italy imported painting machine, Markor, which ismore efficient and stable.
Hardness: 2 H
9. Q: What's your standard packing?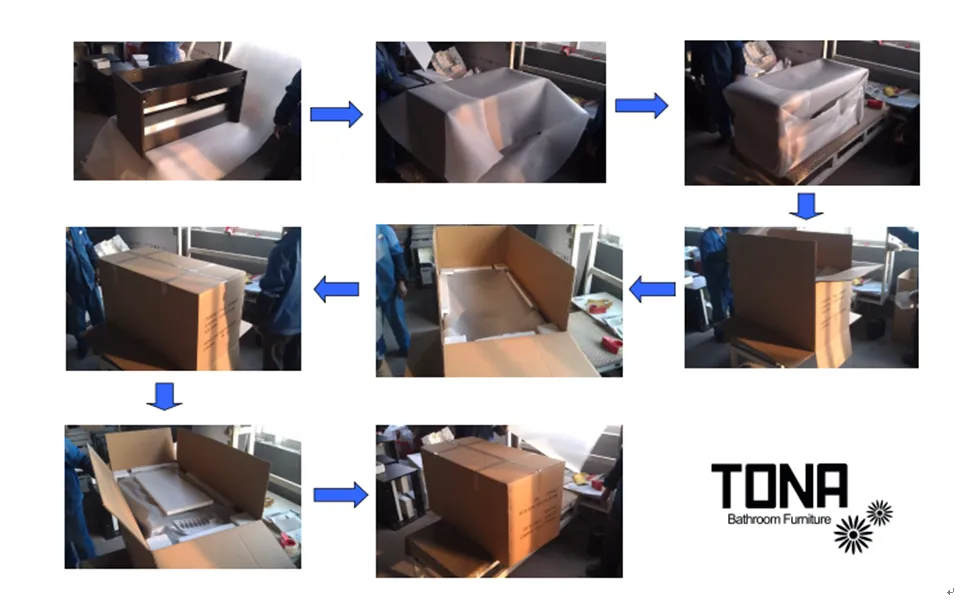 10. Q: What slides do you use?
A: DTC brand has been tested and found out to be more suitable in terms of quality and price. For DTC brand, we can choose DTC wooden drawer, DTC luxury metal box and DTC slim metal box.
11. Q: What's your hanger system?
A: We have 3 different hanger systems of cabinet: H90(adjustable metal hanger), H45(45°oblique cut hanger bar), and H00 (screws goes into the wall directly(most for freestanding cabinet). Subject to the design of the cabinet and country where the products delivered to.
12. Q: Can you develop the cabinet for us?
A: Yes. The cost is calculated upon request.
13. Q: Can you customize the basin for us?
A: Yes, we need to make the mold of your basin. Two molds in TONA:
1). Steel mold:
High-end version, TONA's basins are all made from steel mold.
Pros: flatness surface, smooth line, accurate angle, and non-shrinkable.
Process time: 2 months.
2). Wood mold:
Mostly picked
Cost: 800mm basin takes about 800USD
Process time: 30-45days.
14. Q: What colours can we choose of the basin, and what's the material?
A: Glossy white basin(Gel-coating ) is made of resin and calcium carbonate. H≥40
Matt white basin( Solid surface ) is made of resin and aluminum hydroxide.
Matt black basin is made of resin and black quartz sand. H≥55