Every Bathroom has a mirror, from small powder rooms to spacious master bathrooms. A bathroom mirror (usually bathroom vanity mirror) is a bathroom essential that is highly functional and decorative. Daily routines like brushing teeth, washing face and styling hair, all relies on the mirror.
Today we have a tutorial of installing (hanging) bathroom wall mirror. Really, it is an easy task to hang a bathroom mirror, even your kids can do it. 
It's not rocket science!
So sit back, relax, read our guide to learn how to install a bathroom mirror.

We also have a video of creative installation mode for wall mirrors (eccentric adjustable disc design) later in the article.
Bathroom Mirror Install Kit & Tools

Before the installation, you need to check if you have all the materials and tools required, of which most tools are not supplied with the mirror.
 - Tape measure
 - Pencil
 - Screwdriver
 - Insulating gloves
 - Safet goggles
 - Multimeter
 - Electric drill
 - Electrical tape
 - Level ruler
 - Plastic expansion bolt
 - Screws
 - Regulator discs
 - Mounting kit (clips)
How High Should a Bathroom Mirror be Mounted?

You may already know where you want to hang your mirror, but if not, you will need to make a decision.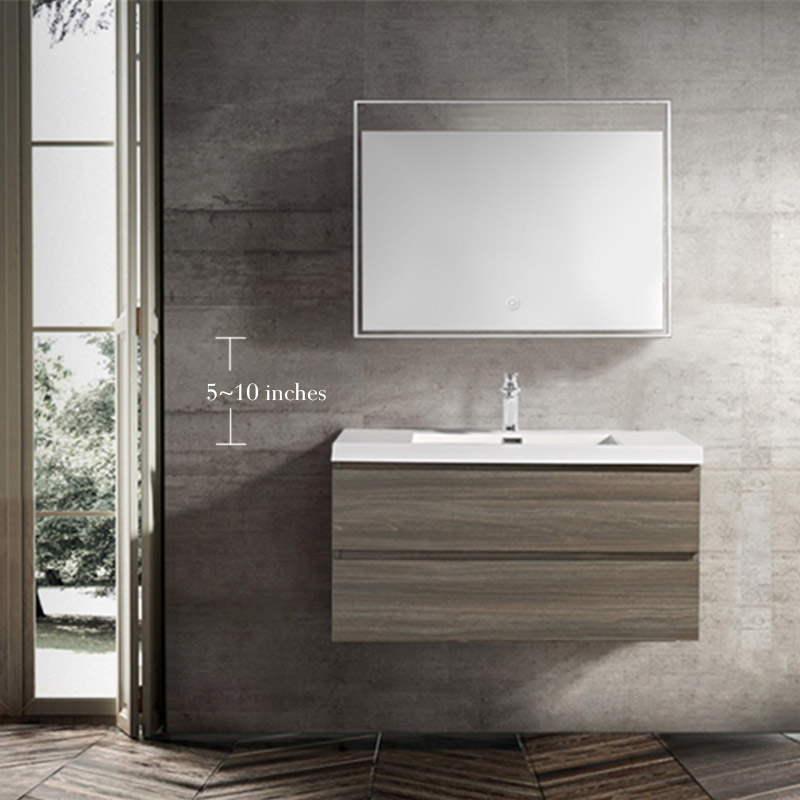 (Angela)

You need to measure the mirror installation height. Typically, a bathroom mirror is hung over a bathroom vanity. If you have a single vanity with a sink, you should focus your mirror over the sink. With double vanity, your mirror can be centered between two sinks. Usually, the mirror is installed 5 to 10 inches over the sink. You also need to consider the light fixtures, if it's a hanging pendant or common ceiling light.
If possible, choose a place with studs on the back of your wall. Studs can be found using a stud finder. You should also be careful about any plumbing or electrical that may be in the way when installing the screw.
Install Bathroom Mirror Mounting Rail (Discs)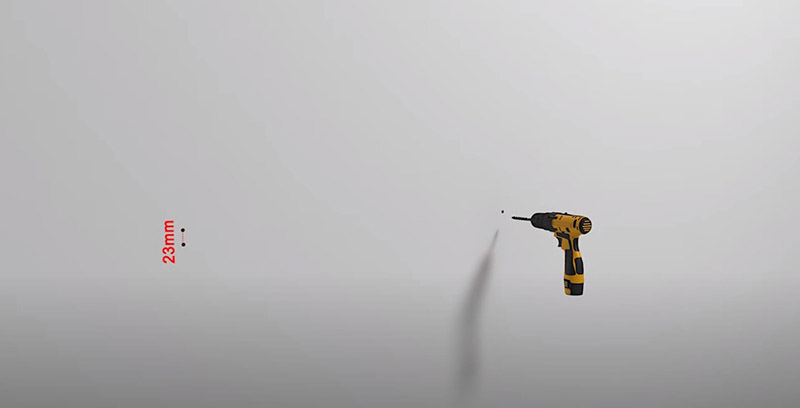 Drill holes in the wall. Nail expansion bolts into the wall (or the studs). Use the screws to fix adjustable discs to the wall.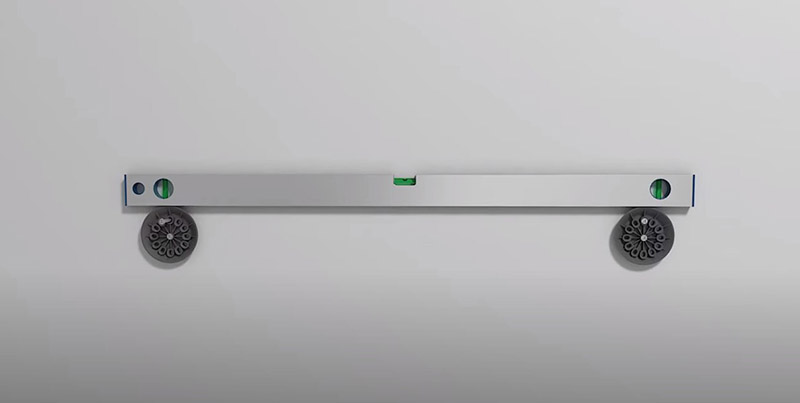 Fix one disc at first, then rotate another to make the two discs on the same level, so the mirror would be level, not tilted.
Hang the Mirror

Place the mirror carefully on the rail or discs, then adjust it to make sure that it hangs evenly.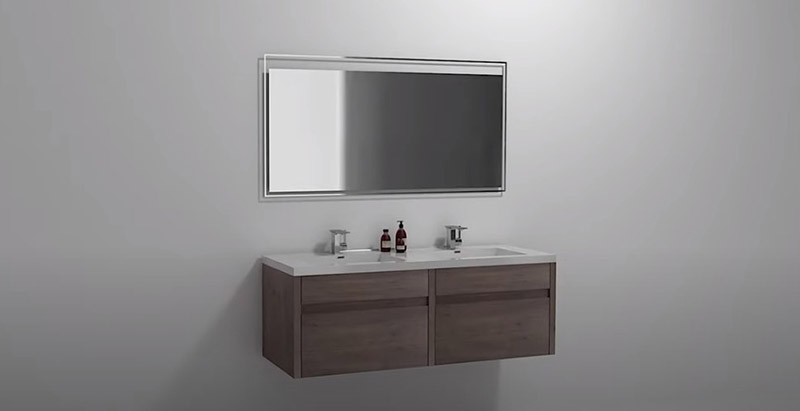 Video:
Trendy Tips

Some people wonder, what is the best lighting for a bathroom mirror?
There are various bathroom task lighting, including vanity lighting fixtures, shower lighting, ambient lighting, recessed lighting, and dimmable lights.
It really depends on your needs and personal preference.
But...
Nowadays, bathroom mirrors with integrated LED lights are on trend. The backlit LED provides indirect light, which doesn't dazzle your eyes and wake you up naturally in the morning, or doesn't wake you up in the middle of a night.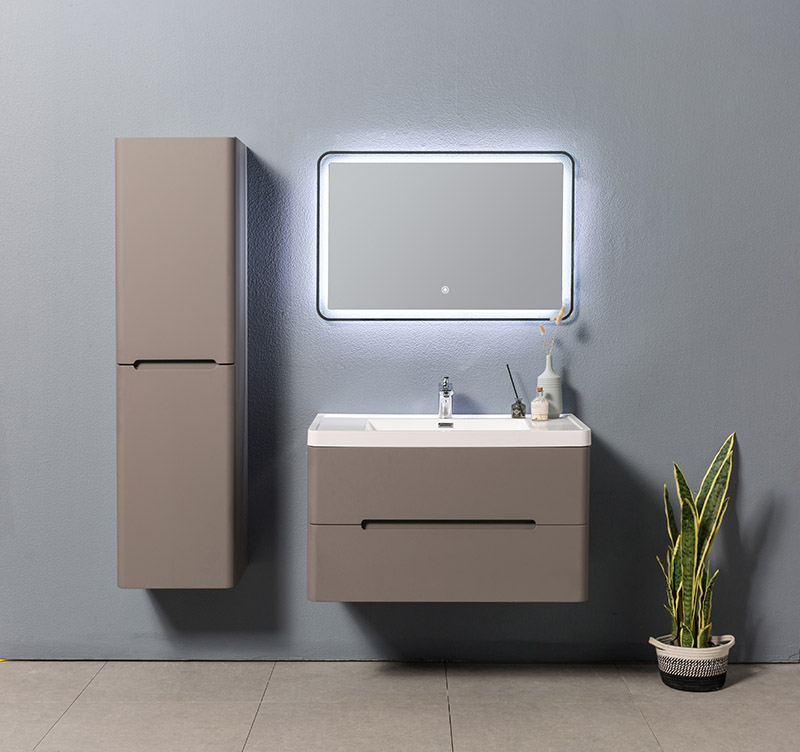 (River)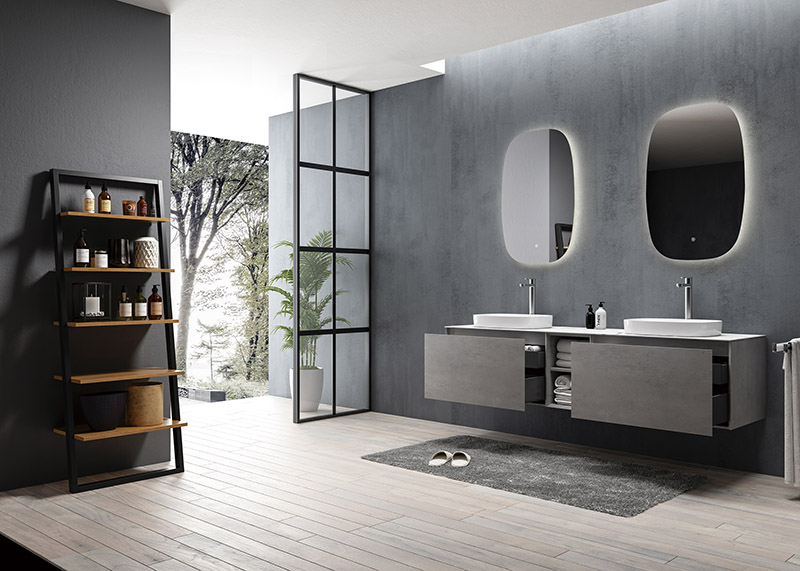 (Inalco)
 
* Bonus: Popular Mirror Story:

At last, we have an anecdote about bathroom mirror that is on trend on social media.
Here it goes:
More than 9 million people watched Samantha Hartsoe's journey as she discovered an unoccupied apartment behind her bathroom mirror in her NYC apartment.
A woman in New York City went viral on TikTok Wednesday after posting a video series documenting her journey to discover a secret unoccupied apartment behind her bathroom mirror.
In the first video of her four-part saga, Samantha Hartsoe said she was trying to find the source of cold air that was blowing into her Manhattan apartment. When she discovered that the air was coming from behind her bathroom mirror, Hartsoe said she removed it from the wall.
What Hartsoe said she found was a large square-shaped hole in the wall that peered into a dark room — a scene that watchers compared to the Oscar-winning film, "Parasite" and the 1992 horror film "Candyman," where a murderous spirit appears after victims repeatedly call his name into the mirror.
Hartsoe ultimately decided to venture into the other side of her bathroom.
"Curiosity killed the cat, curiosity is going to kill me," Hartsoe told NBC New York. "I can't not know what's on the other side of my bathroom."
The videos showed Hartsoe, clad in a face mask, headlight, and hammer, twisting her body into the hole, much to the dismay of her roommates.
"My roommates definitely thought I was going to be dead," she said. "Every corner I would walk normal and then be like [moving her head] to check."
On the other side of the hole was an entire apartment that appeared to be unfinished and unoccupied, the video showed. Bags of trash and an uninstalled toilet littered the floors.
After investigating both floors of the apartment, Hartsoe locked the front door to the empty apartment and returned back to her apartment through the hole in her bathroom.
"When I came back [my roommates] were excited," she said.
More than nine million viewers have watched Hartsoe's mysterious journey on TikTok as of Friday afternoon.
Hartsoe added she has not contacted her landlord yet, but has contacted the maintenance department to fix the hole behind her mirror.
Story Source: //nbcnews.to/3dIpRsm