Just after World War II ended, there was a rise in the use of bathroom carpeting. As a result, people started to be interested in home décor and were keen to experiment with different looks to express themselves. 
Very few homeowners enjoy the warm, soft feeling of a bathroom floor carpet entering a bathroom. Although it may not be popular for bathrooms to have carpeting because people think it is more difficult to maintain, we will cover both dos and don'ts of installing
quality rugs
in bathroom settings.
It's true that materials with a hard surface, such as ceramic or porcelain tile, stone, or vinyl, are far more suitable for sticky situations. However, the bathroom's fluffy flooring does offer certain benefits. To determine your floor's future, read on for a breakdown of the most frequent drawbacks of bathroom carpeting and its advantages.  
Why Should You Incorporate a Carpet in the Bathroom?
Stops Slipping
A bathroom floor carpet is a perfect answer to stopping you from falling over if you have poor balance or tend to be a little clumsy. Everyone has experienced a situation where they leaped out of the shower or bath or almost lost equilibrium. However, this is entirely impossible if you install carpet in your bathroom because most carpets are manufactured with synthetic fibers that provide your feet traction and prevent slipping.  
Aesthetically Alluring
You may genuinely feel pampered in the bathroom with aesthetically pleasing carpeting. A high-quality, thick-pile carpet is a relatively simple method to give your bathroom an opulent, luxurious appearance and feel, especially to prospective house guests. Additionally, having a soft carpet can increase your ability to relax since, for some individuals, the bathroom is one of the only places to unwind from the rigors of daily life.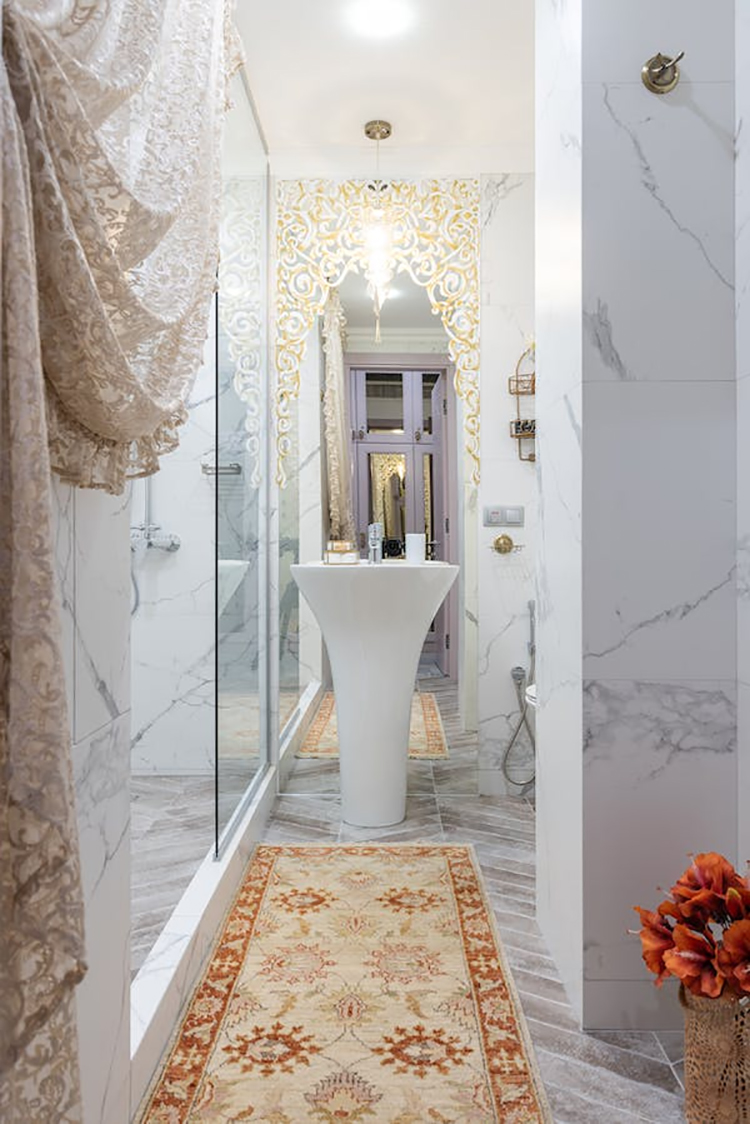 Copyright: Max Vakhtbovych on Pexels I License: CC0 Public  Domain

Warm and Comfortable
The worst thing that may happen in the morning, especially in the winter, is waking up with freezing feet. But carpets in your bathroom will give you the morning warmth you'll appreciate. Furthermore, the quality rugs feel pleasant and add to your comfort while entering and exiting the bathroom. Finally, when your naked feet feel comfortable, it may help you have a good day instead of ice-cold feet, which will undoubtedly make you feel bad.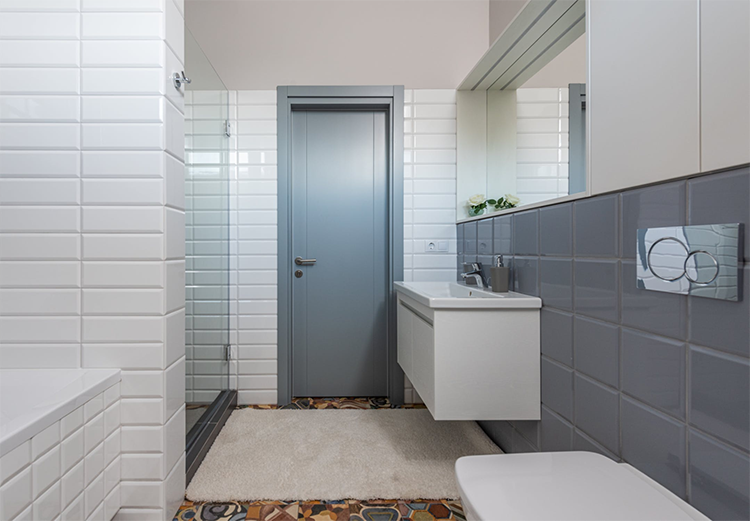 Copyright: Max Vakhtbovych on Pexels I License: CC0 Public  Domain
Drawbacks of Incorporating a Carpet in the Bathroom
Change Frequently
The bathroom carpet will inevitably become damp due to the shower's steamy mist and the water that drips off of your body. The carpet will act like a sponge, soaking up the moisture. Mold and mildew can develop and spread as a result. 
Cladosporium and Trichoderma are two types of prevalent carpet mold that can cause disease-exacerbating allergies and respiratory disorders like asthma. The Centers for Disease Control advises devoid of carpet in the bathroom. Therefore, we recommend changing the bathroom carpet frequently!  
Cleaning Can be a Challenge
Stone, tile, or vinyl can easily be cleaned after a mistaken splash or spill of liquid makeup, candle wax, or bleach-based cleaner. However, stains from falls on the carpet frequently set in; therefore, proper cleaning is necessary. Furthermore, when spot-treating carpets, universal solutions are rarely effective. Instead, you'll need to approach each type of carpet stain differently. 
For example, you might use rubbing alcohol to remove nail polish or a clothes iron to remove candle wax drips. Compared to carpets made of natural fibers like wool, synthetic carpet varieties, like polyester, are more resistant to stains and sun-related fading.  
Which Sort of Carpet is Appropriate For Use in the Bathroom?
Use a Woven Rug
Recent advancements in technology have also made it possible for homeowners to add a variety of distinctive textures to their homes with woven bath rugs. This carpeting can give your bathroom a sleek and elegant design while allowing you to quickly clean the area when necessary, despite being less fluffy than the above choices.  
Area Rugs
Area rugs and runners have become very popular as a way to cover a bigger area. They'll give your feet a warm, cushioned, non-slip surface similar to bath mats while also allowing you to
manage moisture in your house
. In addition, you can easily wash the rug in the washer and dryer, and the unsightly stains can be cleaned easily.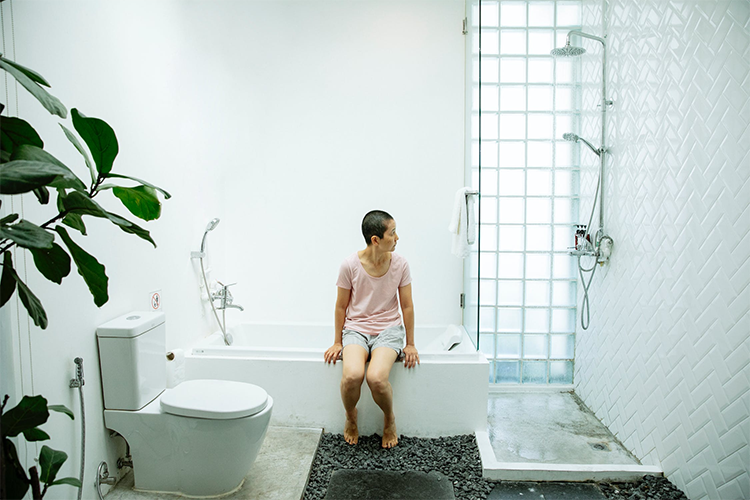 Copyright: Michelle Leman on Pexels I License: CC0 Public  Domain

We Recommend Bathroom Carpets!
People need to pay more attention to the various advantages and dos of bathroom carpeting. Adding a warm, cozy feeling for your feet can provide features comparable to vinyl or laminate flooring.
You'll feel a world of difference in your well-being just by stepping out of the shower onto a warm carpet. Indeed, a plush carpet can be a wonderful treat, so why not consider getting a bathroom carpet design today?