Simply put, YES if the toilet vanity is covered with PVC (Poly Vinyl Chloride) laminates.
PVC may be a special sort of plastic, which is widely utilized in a spread of applications. Here at Tona, we wish to use it for the manufacturing of a number of our more popular bathroom vanities. This is often because PVC offers many advantages over many other materials, like MDF, and solid wood.
PVC is extremely cost-effective, yet it's attractive. It offers a smooth surface and may be painted in any color. And that's not all – PVC offers an exceptional water-resistance of 100%! Our PVC bathroom cabinets are completely waterproof and that they have a particularly long life.
PVC vanities are making their way into the market. While we provide bathroom cabinets which are made up of all other materials, for the simplest material you merely cannot beat our PVC vanities.
Two of our PVC bathroom cabinets which are perfect for you're our Leon PVC Vanity and our Fiona PVC Vanity. Both of those base cabinets are 100% covered by PVC and that they are available at an incredibly reasonable price.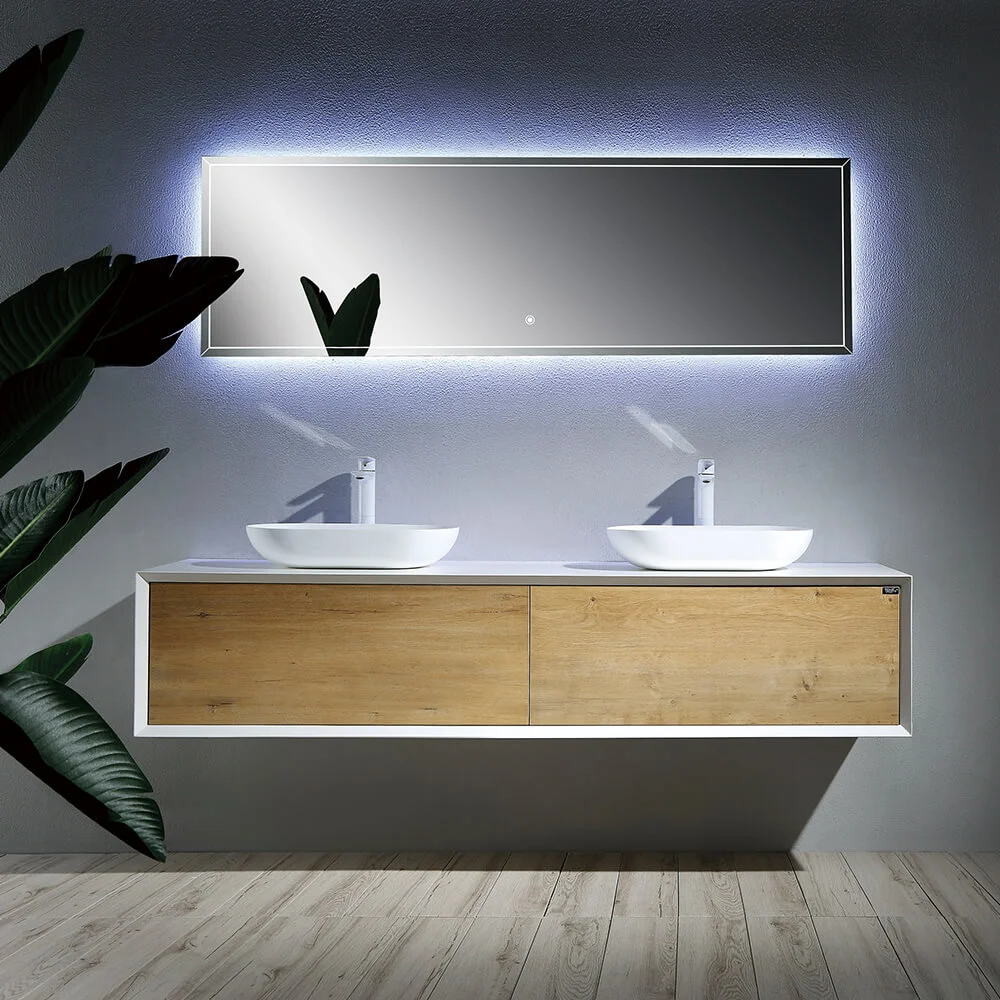 (Fiona)
How to Waterproof a Wood Top of a Sink Vanity?
A wood countertop adds warmth and texture to a bathroom, but the character of the lavatory environment, with frequent changes in humidity and temperature, can wreak havoc with wood. Combat these challenges by finishing the wood to guard it with Chinese wood oil. Tung oil has been used for hundreds of years to make an upscale finish that's waterproof and immune to things like nail enamel remover and toothpaste, making it perfect for the toilet.
Step 1. Sand the surface of the wood employing fine-grit sandpaper, starting with 180 grit and getting to 220 grit, until the surface is smooth and freed from blemishes, paint, or other finishes. Vacuum the dust from the surface of the wood and wipe it clean with a moist towel. Allow the wood to dry completely.
Step 2. Apply a coat of oil to the surface of the wood employing a lint-free cloth, like an old cotton T-shirt. Pour the oil into the material and rub the material along the grain of the wood until the whole surface has been covered, wiping away any puddles that form. Allow the oil to soak up for half an hour and wipe it with a clean cloth.
Step 3. Rub the wood surface with super-fine wire wool after the oil has been allowed to dry for twenty-four hours from the primary application. Add another layer of oil, wipe it clean after half-hour and permit it to dry for an additional 24 hours.
Step 4. Sand the surface of the wood with super-fine wire wool once more. Apply a final coat of oil, wipe it clean after half-hour and permit it to dry for twenty-four hours. Sand the surface with wire wool another time if desired, though this isn't necessary if the wood looks smooth and clean.