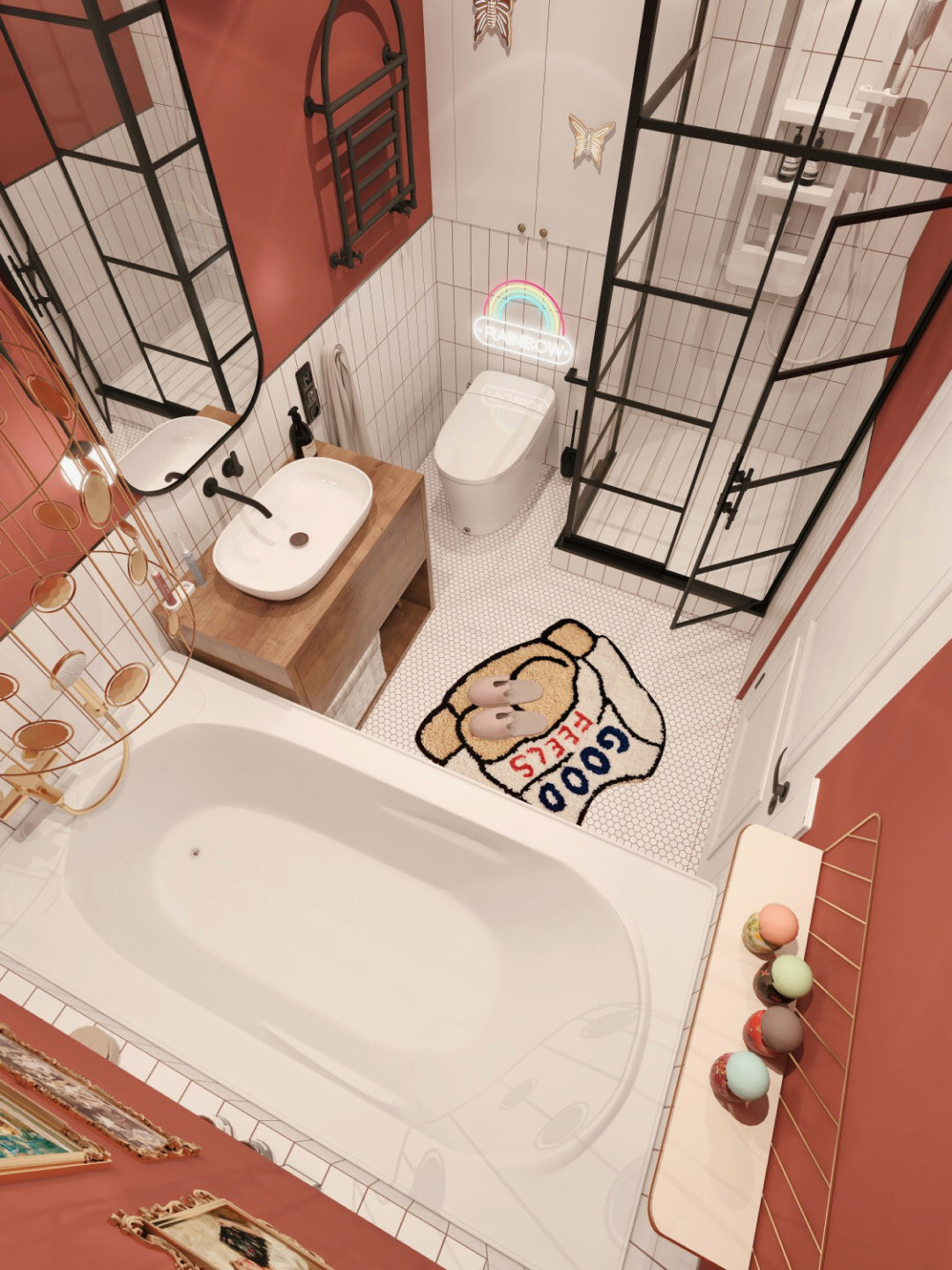 When decorating the bathroom with this retro red color in a proper way, you'll feel like you are living in a movie! Red is a relatively bold color. If it is not used well, it will be disastrous, but if it is matched well with bathroom furniture, it will be giving extra points and will send off its unique charm.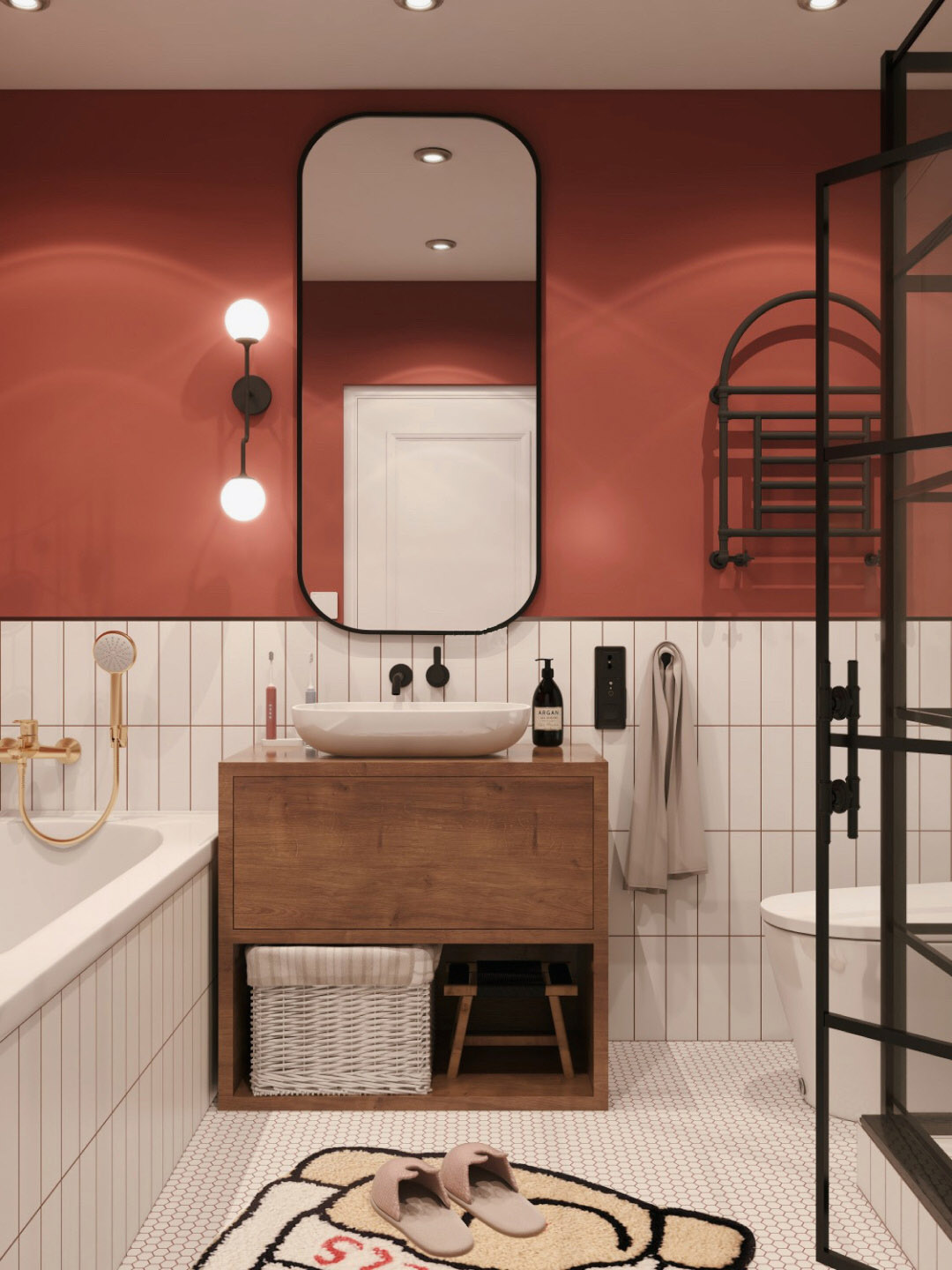 Use a large area of red waterproof paint to set the retro tone of the entire bathroom, and then apply white as the secondary color to increase the sense of brightness, but not let the depression falls on the environment. And the color transition from red to white can derive a dynamic beauty from gradual color change.
In the retro styled bathroom, the bathtub must be installed, because the bath is a typical sign that gives the feeling of a retro bathroom in the movies. The alcove bathtub, instead of freestanding tub, reduced the corners that need to be cleaned up, and gives the surroundings an elevated and steady look.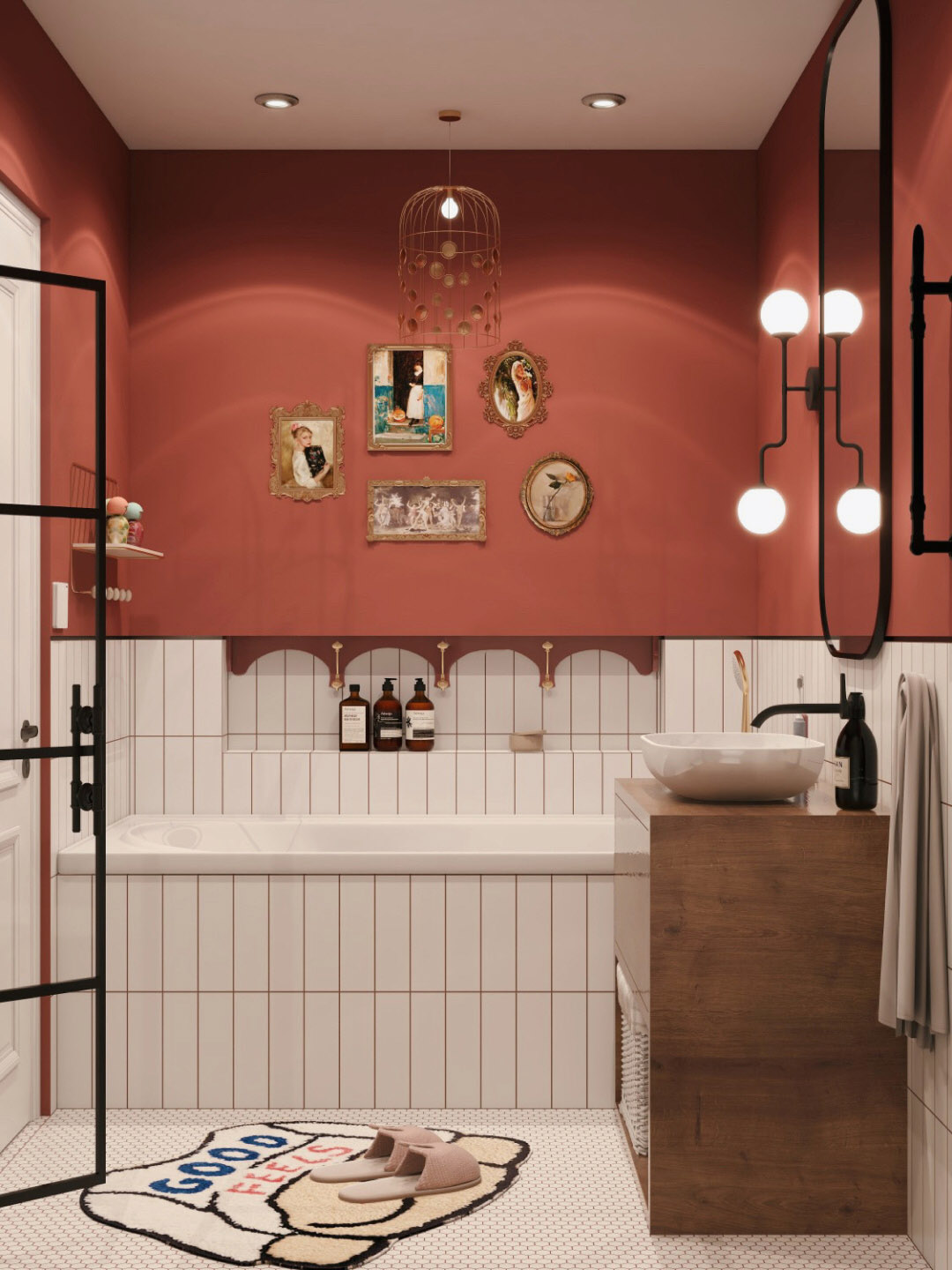 The shelf on the bathtub is the extension of the bathtub itself, and then an alcove is made on one side of the wall for storage, and the interior of the alcove is also decorated with retro details.
Most of the storage space of the entire bathroom is in the smart toilet area, and a wall-mounted storage cabinet is built above the smart toilet, which saves a lot of space.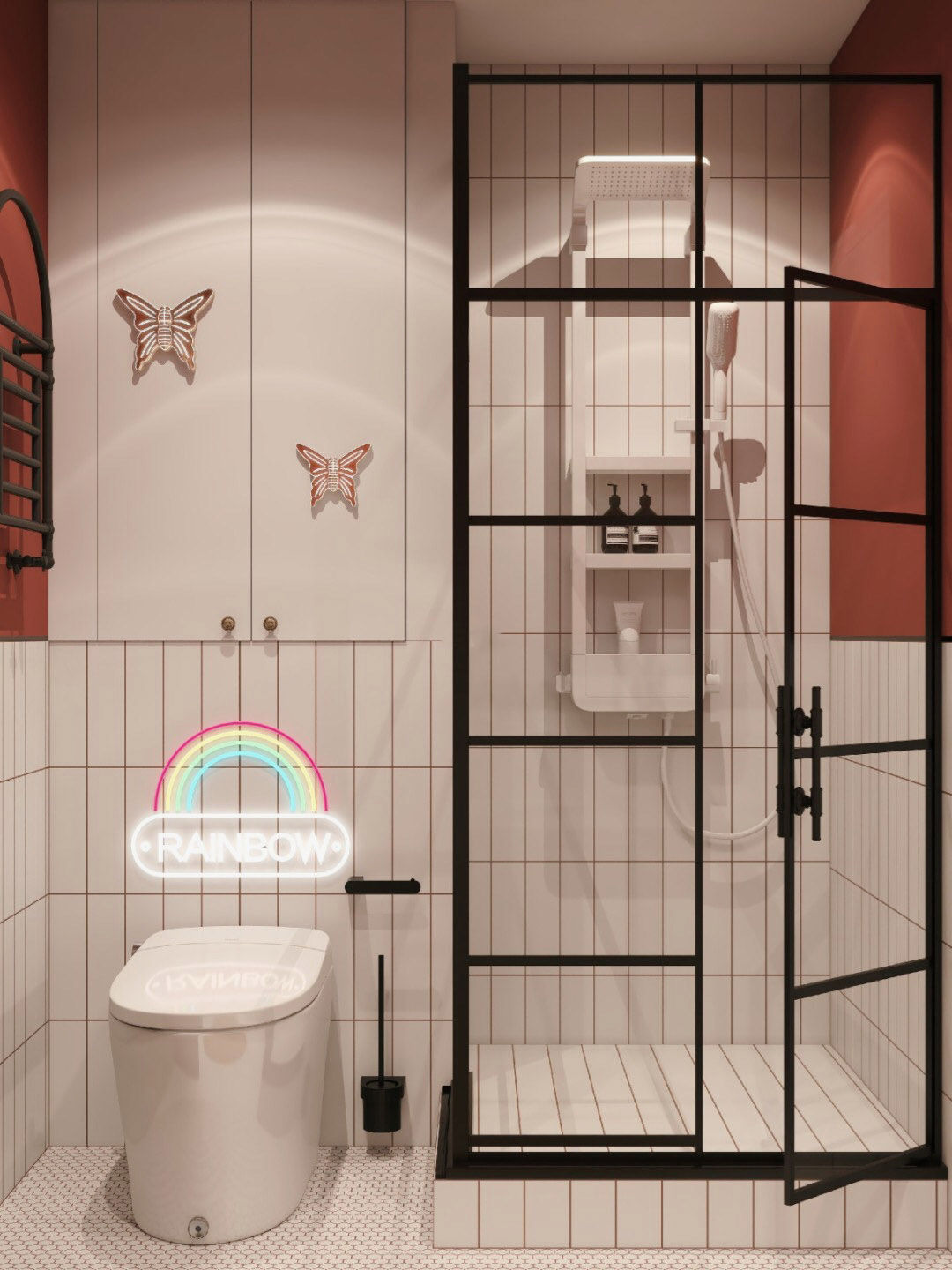 The smart toilet is placed between the bathroom cabinet and the shower room. The old-fashioned water tank toilet is chosen not only because the need to match the retro style, but because a good user experience is needed.
This exceptional smart toilet has a delicate and exquisite appearance, and thus does not give a cumbersome presence feeling. Therefore, the modern smart toilet can also be well integrated into the retro space and retain a good sense of experience.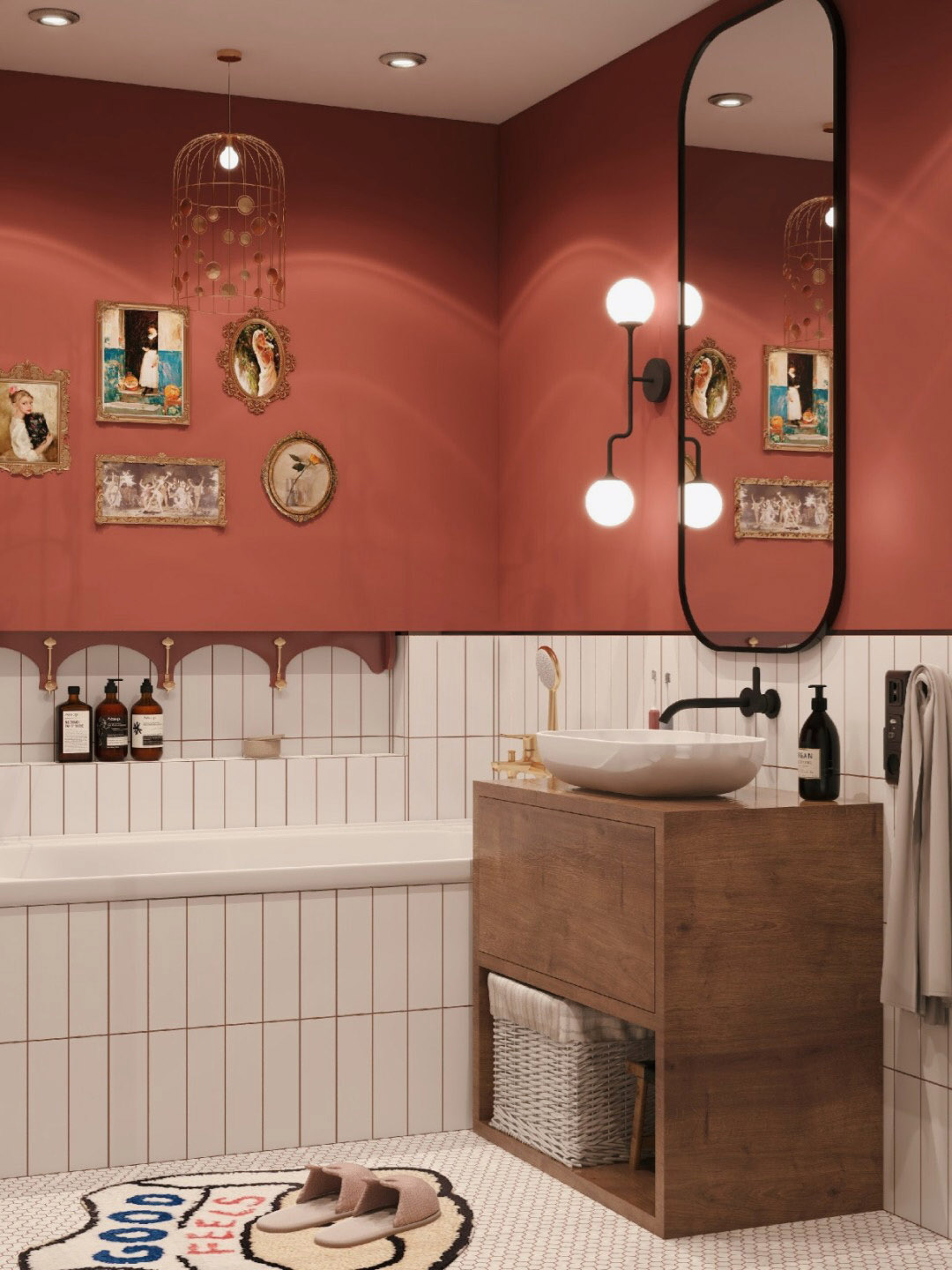 The shower room is square, and the storage inside the room mainly relies on the shower. It has three-layer storage racks, which are enough for stowing away bath essentials, and the bath will be more spacious.
The bathroom cabinet chooses the retro-style freestanding bathroom cabinet, plus the counter basin, which are full of retro feeling.
The whole bathroom is drenched in red and white color, but also has a lot of black hardware, such as black wall faucet, black shower room frame, black bathroom mirror frame, black towel rack, and various black hardware.
Black has the effect of precipitating the color of the bathroom, adding to the charm of retro, and black is the finishing touch. There are also many details of soft decoration, retro chandeliers, retro murals, these are also details that cannot be ignored.
The beauty of retro red and white can be the red walls of the Forbidden City (Beijing) meeting white snow, full of ancient beauty, or like this bathroom, with retro soft outfits, full of movie-like retro beauty.