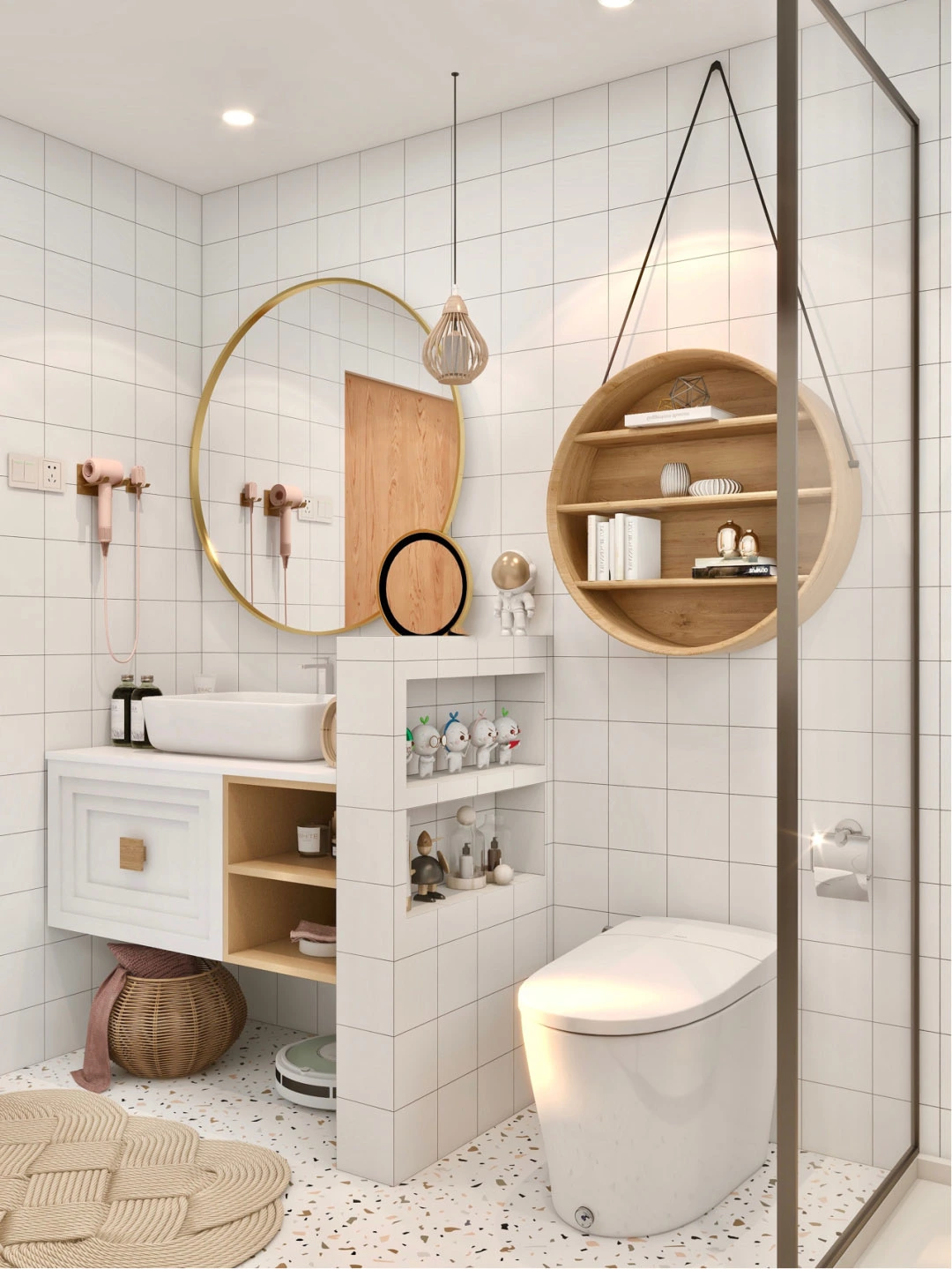 The small bathroom with white color and wooden elements looks always so clean and bright. The simple rectangular layout includes the washing area, smart toilet, and shower area. It is easy to use and clear.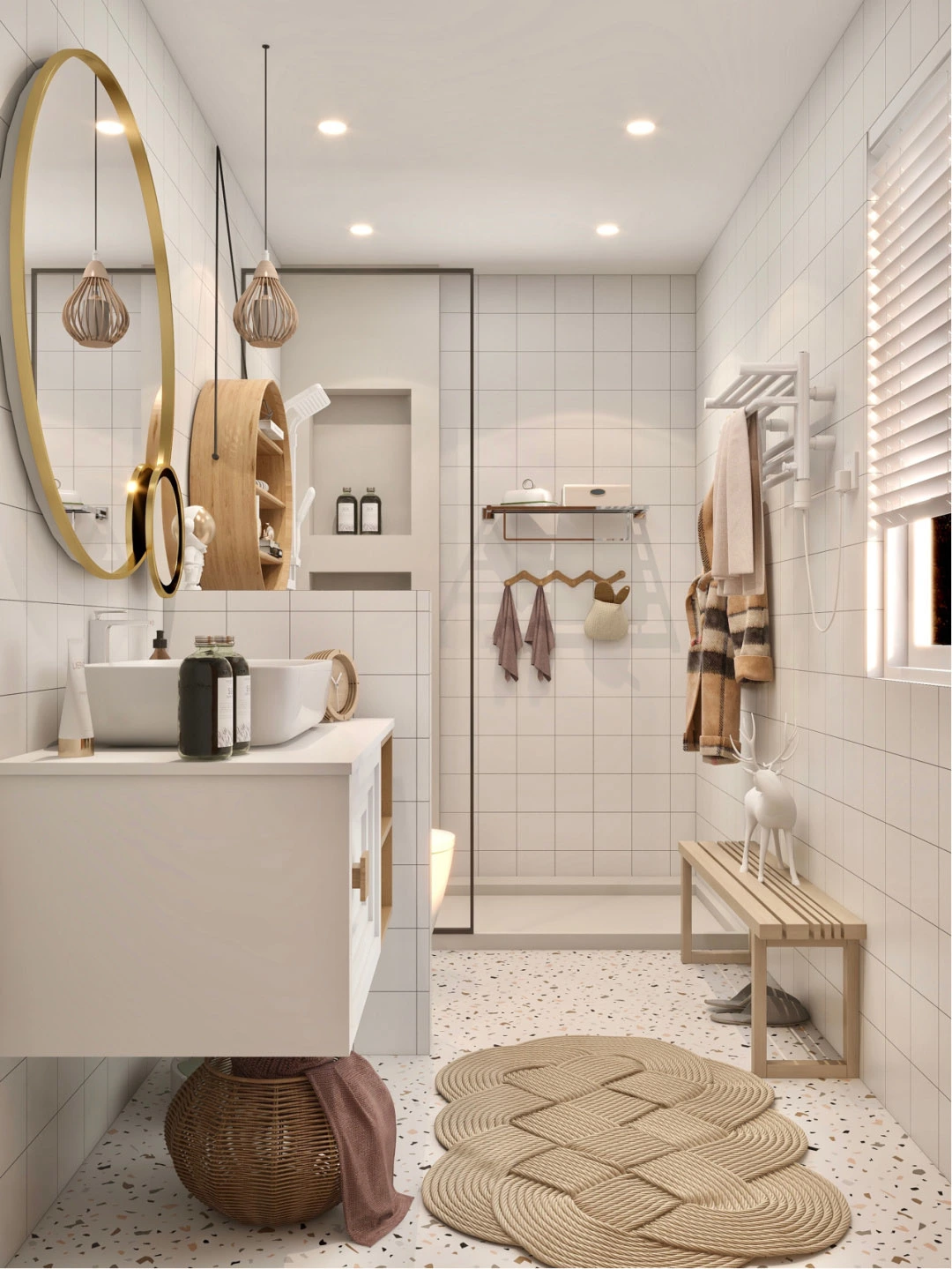 The separation of the wet and dry zones in bathrooms is becoming a popular trend in home improvement. In this case, the wet (shower) area and the dry area are separated by glass half-wall, which prevents the water from splashing around the bathroom while still not looking as invasive. The room is also designed in a way that doesn't obstruct how much light both areas receive. Open the door, you can see the whole bathroom without obstruction. And because the glass wall is transparent, it doesn't make the bathroom look cramped as well.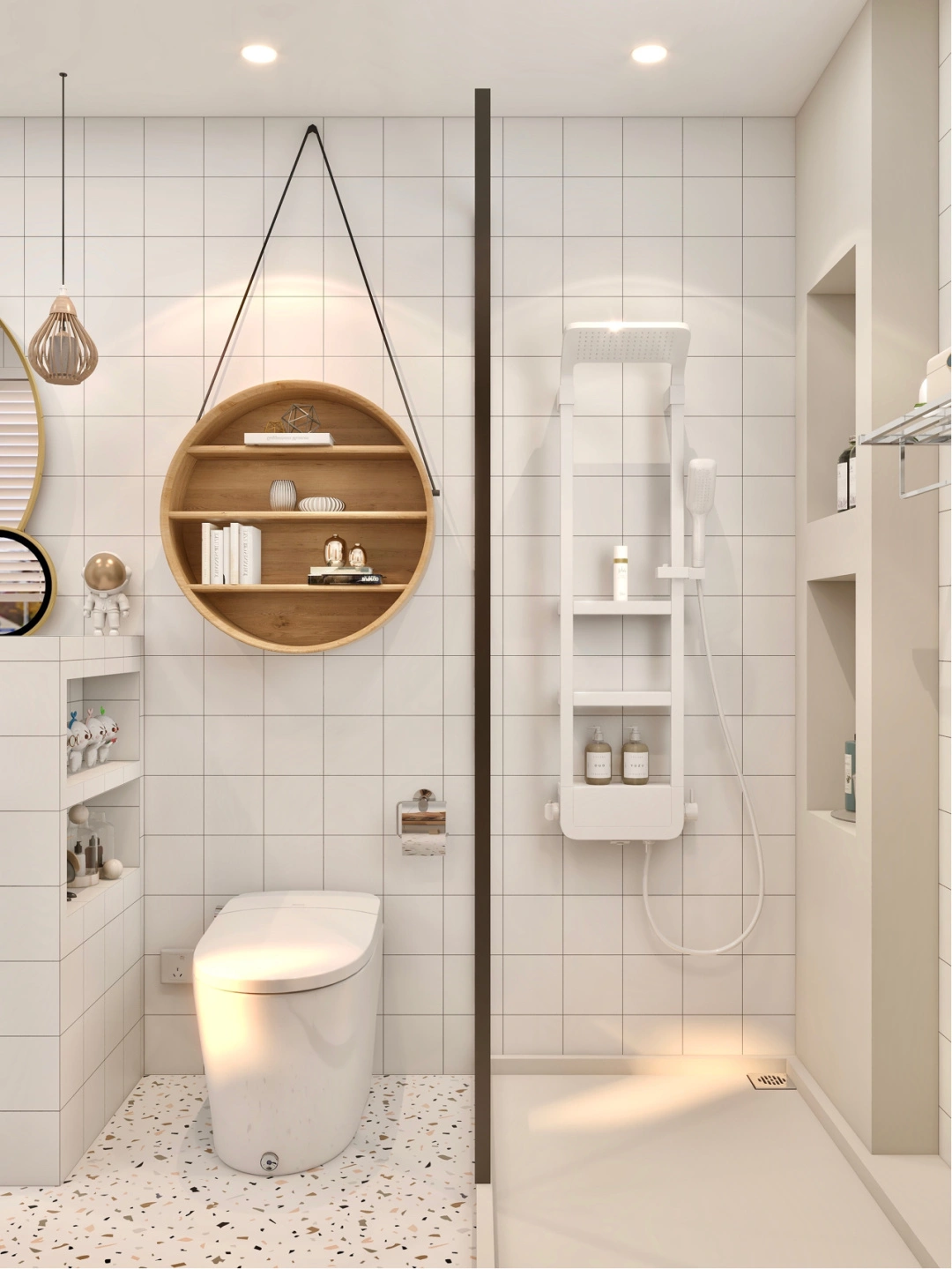 Simple white large grid tiles are more exquisite than small grid mosaic tiles. Paired with simple terrazzo tiles, it presents a clean white space as a whole, and then with wooden soft decoration, it is very bright and clean.
As the choice of sanitary ware, simple and fashionable styles are chosen.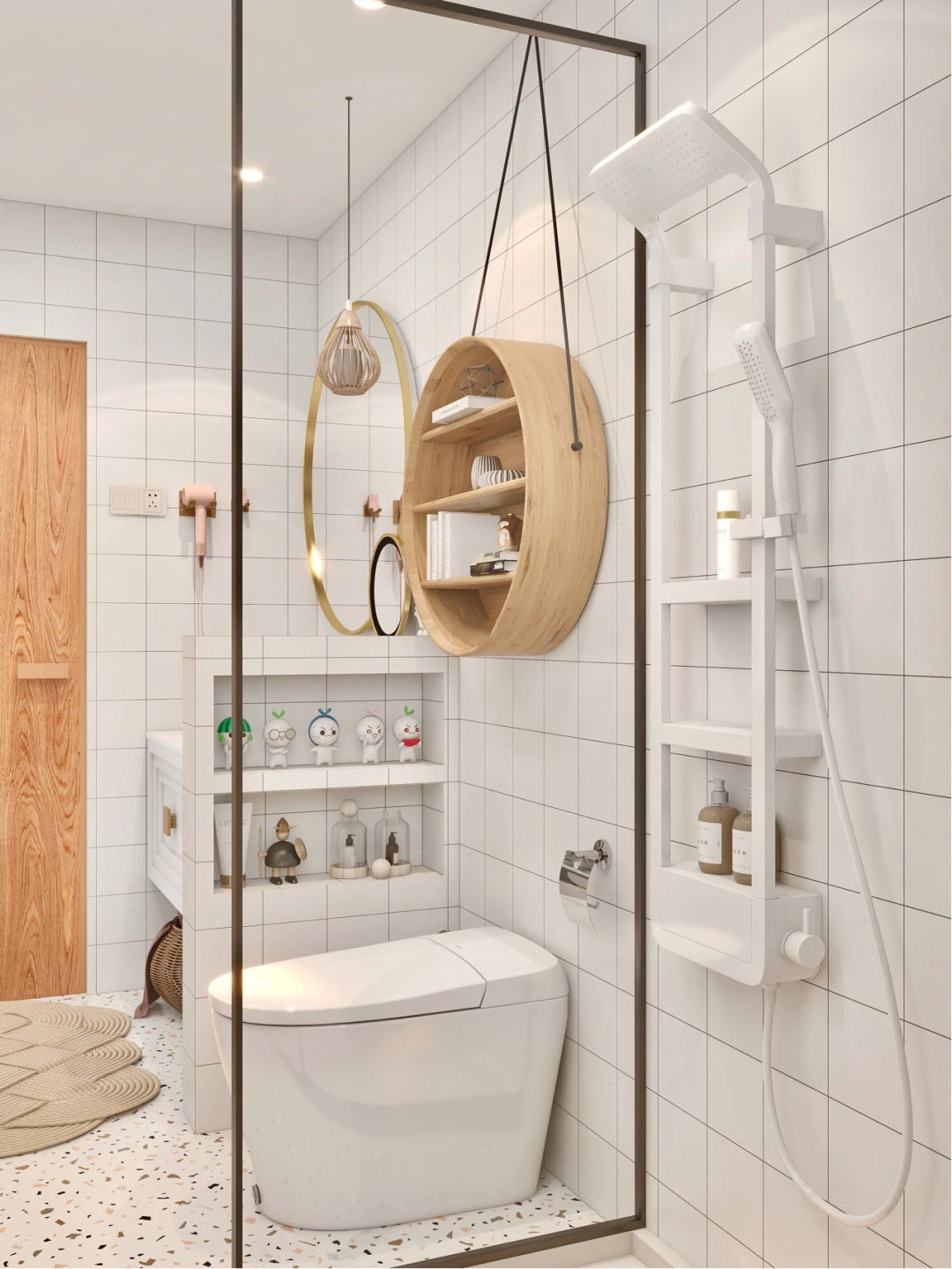 The shower has a wall hung cabinet, which makes it convenient to store bath essentials. The appearance is novel, and it is a little Nordic ins fashion. The white piano paint material looks textured and high-class.
The shower experience of using this shower is also very good. the water output and the range of the shower is large, especially the top spray shower. You can feel the hot water wraps you up, the sprinkled water is so dense. It just feels so good.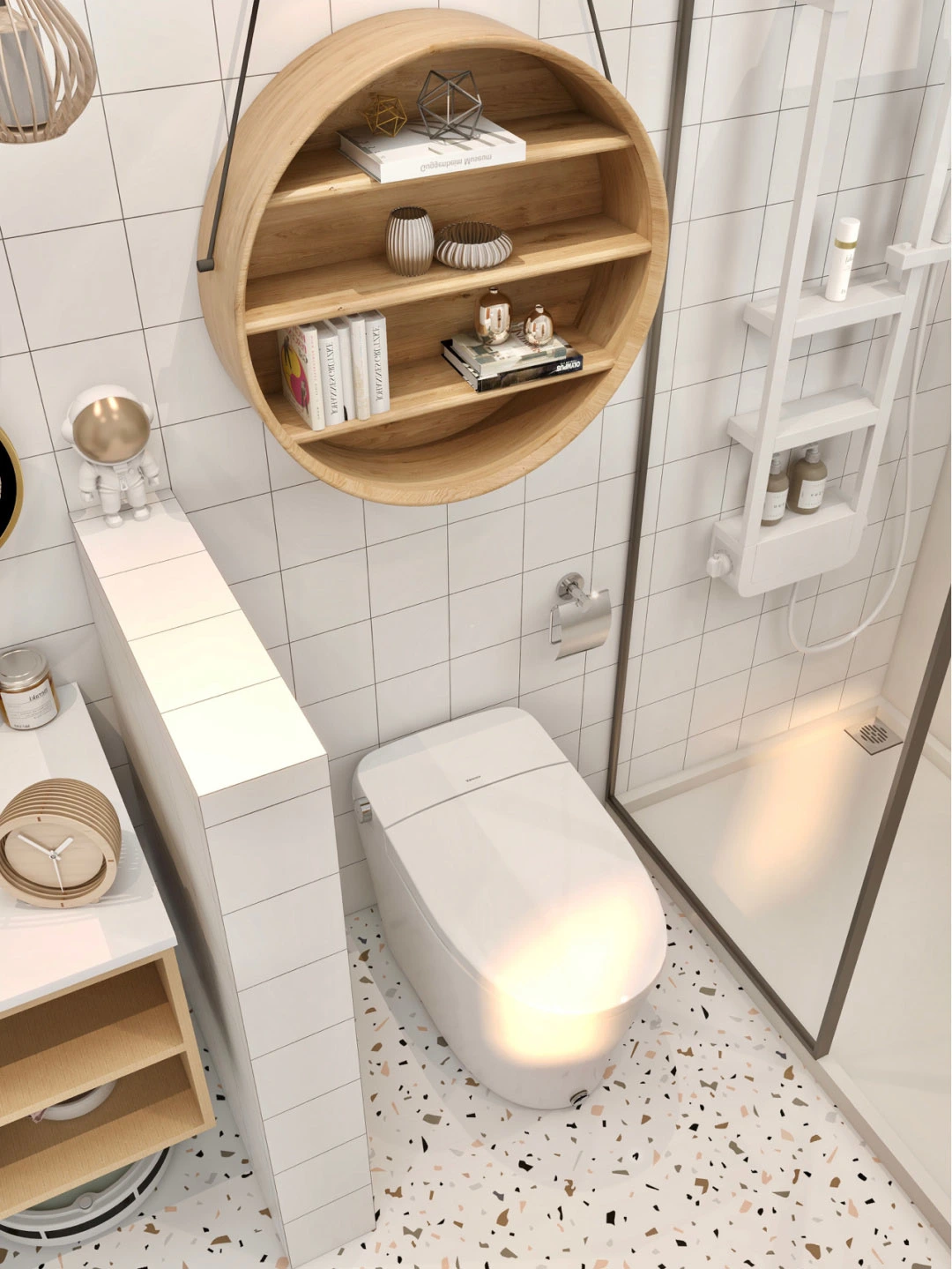 The smart toilet also has a streamlined look. The water tank is hidden. When closed, the lid is of the same height as the water tank, which looks easy on the eyes. The minimalist look is very modern, does not feel bulky, and is cost-effective with all the basic functions you need.
The bathroom cabinet is a combination of white color and wood texture. The style is simple and there are not many storages. It is enough to store bathroom essentials. In addition to a simple partition, it can also accommodate the toilet area and ​​the washing area.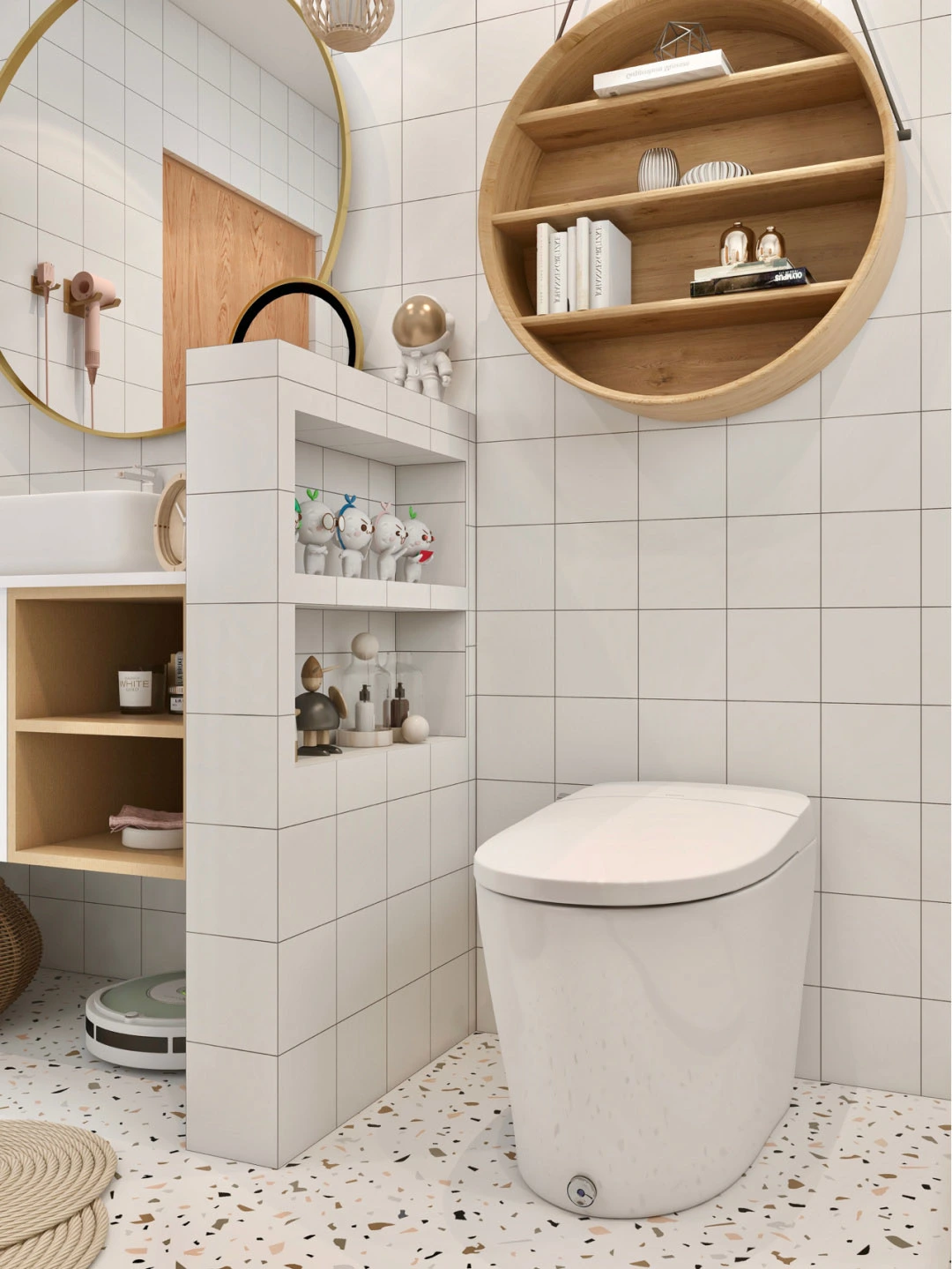 A simple and practical bathroom should have good ventilation, few colors (less than 3 at best) , bright and clean. And that would be a bathroom you will not be tired of looking at for decades.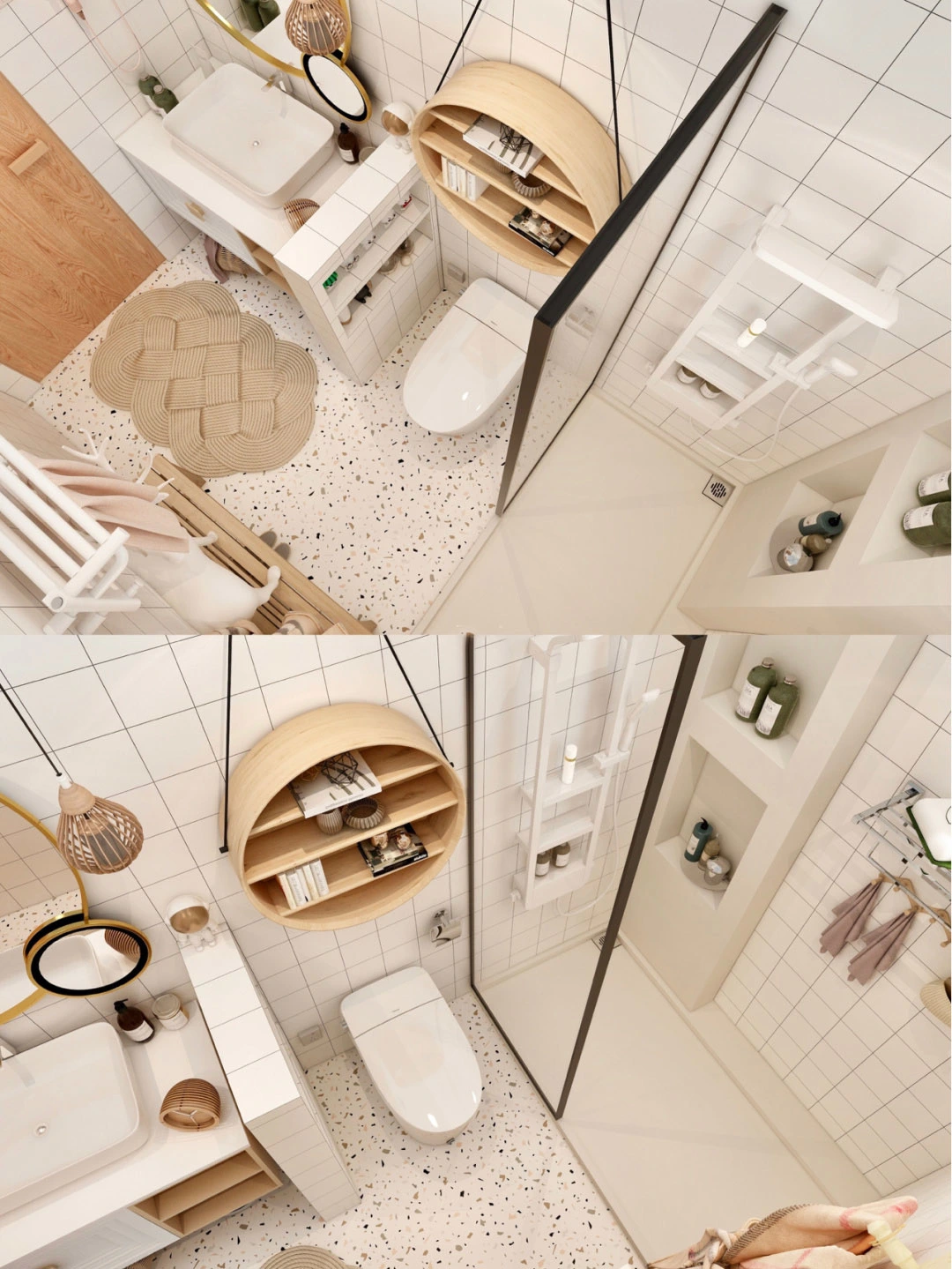 Soft decoration for reference:
Black technology:
Minimalist smart toilet
Rain shower
Electric towel rack
Robot vacuum cleaner
Round wooden storage rack
Astronaut ornaments
Wooden bench
Woven carpet
Round framed bathroom mirror
If you want to see more luxury bathroom design, please see our articles:
Luxury Designer Bathroom with Freestanding Bathtub
Light Luxury Pink Bathroom. Smart Toilet Gives You a Warm Winter