Popular bathroom designs can change rapidly. A good trend is a little bit like a whirlwind romance—it might be love at first sight, it may make your heart skip a beat, you may feel like you never want to be apart.
But then, suddenly, you realize you don't really want to look at it anymore. Before you know it, certain fixtures, countertops, or other parts of your bathroom could end up looking outdated.
Luckily, we are here to help you stay updated and avoid outdated bathroom decors. If you're planning to make a bathroom renovation, you may want to take a look at the outdated bathroom designs below.
1. Choose Big Tiles Over Small Tiles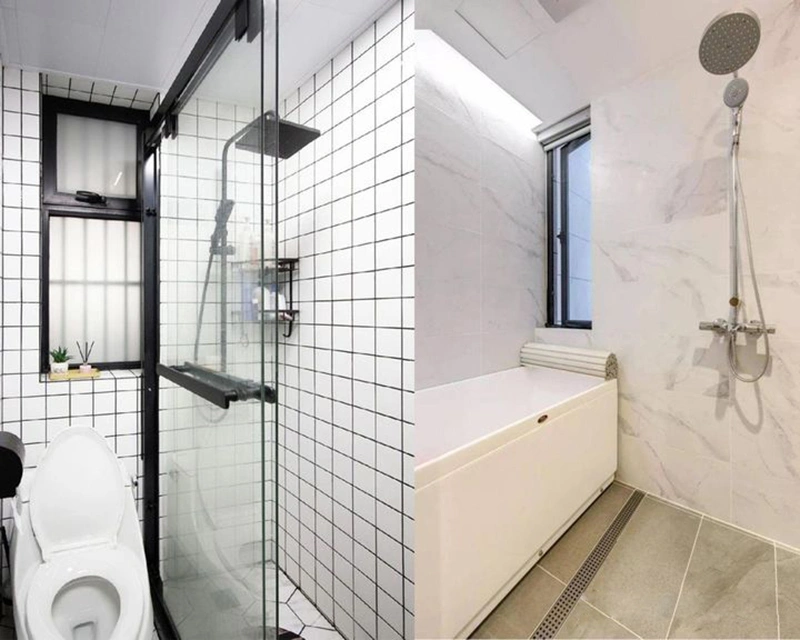 In a humid environment like the bathroom, you need to think it over before you apply small tiles since it may not be a good idea.
Why?
Because applying small tiles means there are many gaps between the tiles. When (some) gaps are not filled properly, they could be very easy to collect dirt and hard to clean.
So just choose large tiles, preferably ceramic type. The porcelain surface is easy to clean and maintain. Spray some cleaning agent, then rinse, and the tiles will be shiny as new. Not need to worry about gaps.

2. Skip the Extra Cabinet or Box. Try Shower Niche.
Actually, the wall (shower) niche has a long history. But still, the niche is better than the extra box or cabinet in a number of aspects.
(So "old" things are not necessarily outdated. It is not "old" things to be eliminated, but things that are inconvenient to use.)
The biggest advantage of the shower niche is its recessed feature, which utilizes the untapped wall space in many bathrooms.
The shower niche ages with the room, much slower than extra storage containers like plastic boxes.
Task lighting could be installed in the niche to create a glamorous ambiance.
Freestanding vanity may look gorgeous, but it could be hard to clean the area under the cabinet.
Floating vanities, however, not only create a contemporary appearance but are attention-grabbing. One of the major advantages of floating vanities is that they create a larger opening in the bathroom so it's less compact.
The cleaning is quick and easy. You won't have to bend over and shove your dustpan underneath the vanity. There aren't any awkward corners or dust bunnies so cleaning is quite simple.
If you pair a floating vanity with a monochromatic wall or sink, you will create a minimalistic look. This also will draw attention to other areas of the bathroom such as a freestanding tub.

4. Skip Aluminum Door. Try Semi-Transparent Changhong Glass.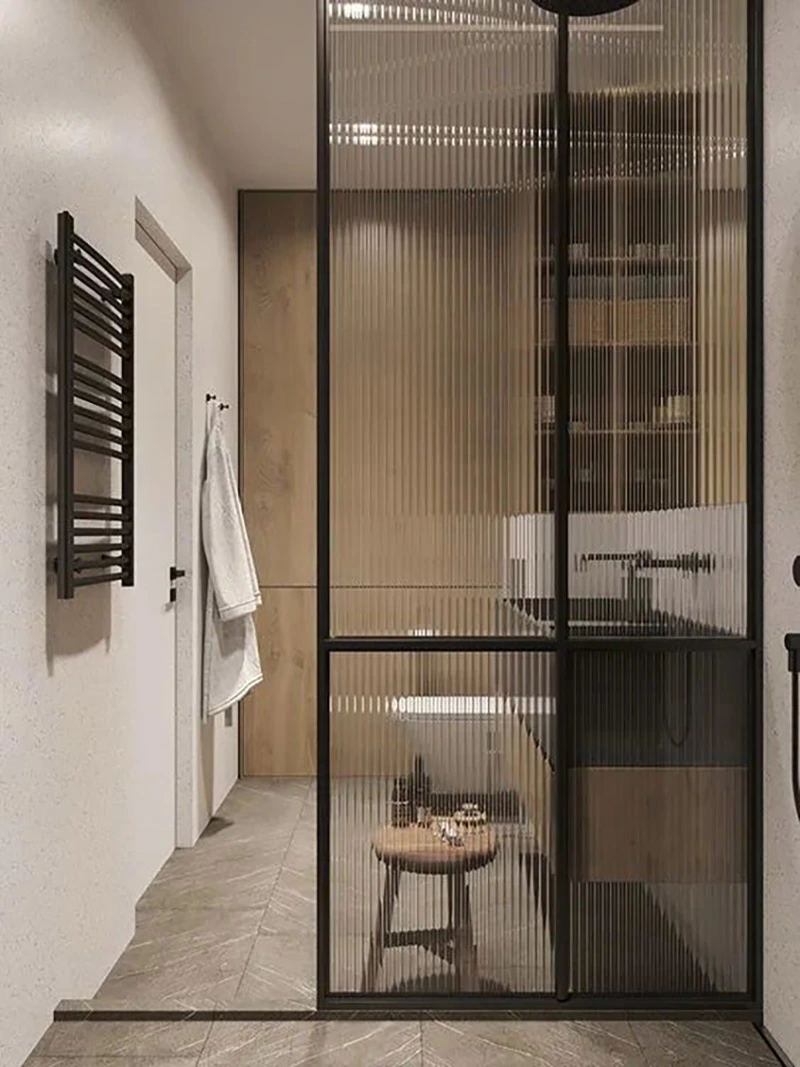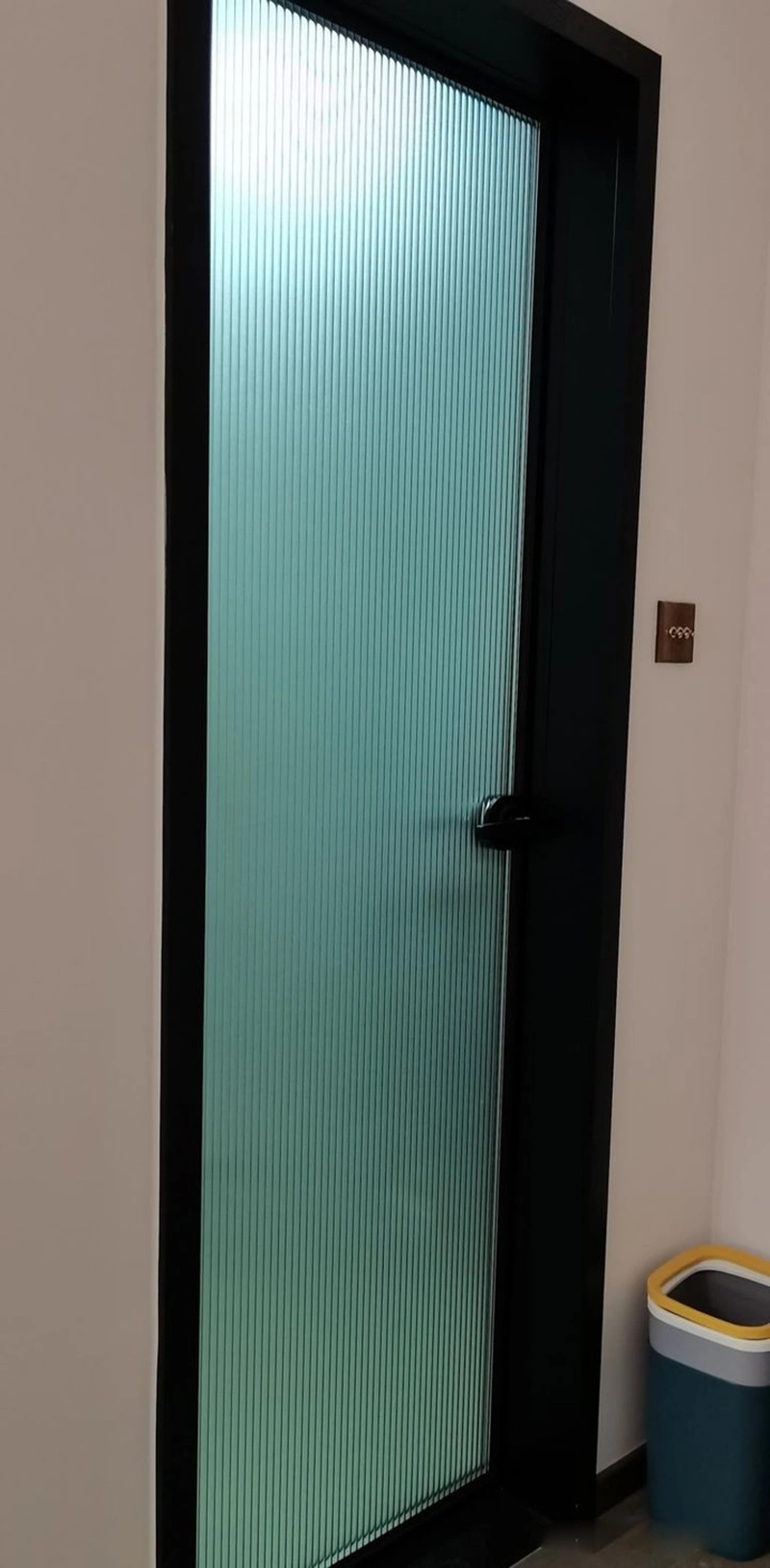 In the past, most people have been choosing waterproof and corrosion-resistant aluminum alloy doors or solid wood doors. They are good, but the glass doors are even better, with longer life and better looking.
Try the trending Changhong glass for a change. (Changhong glass is actually a kind of patterned glass, not the [Changhong brand] glass that you have heard of. Don't make a joke.)
The embossed glass means that before the glass is tempered, a patterned roller is used to press patterns on one or both sides of the glass to make a pattern on one or both sides patterned glass.
Privacy protection: Because the Changhong glass surface has uneven patterns, it has the characteristics of light transmission and non-perspective, so it can effectively block external sight.
Enhanced daylighting: Although there are patterns on the surface of the glass, it will not affect the light entering at all, and it can also have a certain enhanced effect.
5. Replace Ordinary Mirror with LED Mirror
The ordinary mirror is practical, yes, and the LED mirror is even more so.
LED mirror provides backlit soft light, which doesn't dazzle your eyes.
Plus, the LED mirror usually comes with an auto defogging function. So you can still see yourself clearly after taking a hot shower.
Read more:
7 Bathroom Design Tips for Your Modern Bathroom
11 Bathroom Layout Ideas You Can Use Right Away
15 Small Bathroom Vanities Under 22 Inches